Woman Hears Radio Host Slating New Neighbor Live On-Air, Turns Out It's About Her
Sabina Hunsicker, 23, was listening to her radio host neighbor's show when she heard him talking about her, or more specifically how he doesn't want to be friends with her.
After being left upset by the broadcast, Hunsicker decided to share what he said to TikTok, writing: "Me finding out my neighbor is a radio host."
"I have a new neighbor and all she wants to do is talk, talk, talk," said Justin, from Chicago's WKQX's Brian, Ali and Justin show. "That's not what this is. I live here."
"You know what's so funny, she literally said that," he added on-air, in regard to her getting the wrong neighbor. "She said, 'I was so excited, I just moved here from Philly, I was excited to move into the building, get to know my neighbors, and then I got you.'"
"Yeah, my bad girl, don't talk to me," he said.
Hunsicker simply filmed herself listening to the quick sentences about her and hit upload. What she didn't expect was to gain over 10 million views, with comments rolling in about the radio host. Users dubbed him a "walking red flag" and criticized his on-air actions.
Despite Hunsicker not mentioning her neighbor's name or radio show, it didn't take long for TikTok to track him down and according to the host himself, contact his radio station and advertisers.
The video can also be seen here.
Justin took to WKQX to tell his side of the story just one day later, and even called Sabina in for a live chat. "This morning I woke up with almost 1,000 notifications, and it's everybody calling me ugly," he said during the radio episode completely dedicated to the viral post.
"I found out last night around 11 p.m., my neighbor with a huge TikTok following made this TikTok video," he said before playing it out loud for listeners. "I'm getting called the worst kind of names, they're contacting my advertisers."
For Justin, the choice to not be friends with his new neighbor was partly due to the fact he doesn't enjoy small talk after long hours at work, but also out of respect for his girlfriend, he said. "I'm 34, she's 23 and hot. I have a girlfriend, I think there should be a line there," he explained. Hunsicker later confirmed that she also has a boyfriend and didn't mean anything by making friends.
"Am I the jerk?" he asked listeners who dialed in to give their views. Every caller agreed with the hosts that Justin was not the "jerk" but "maybe he could have packaged it better."
That was until Hunsicker dialed in straight from her apartment and agreed that she'd moved to the building hoping to make friends who could show her around Chicago, only to be told: "This isn't a sitcom, this isn't Friends," by Justin.
"You wanted nothing to do with me and that made me want to talk to you more honestly. So I just kept bothering you, because I was honestly just bored," she admitted.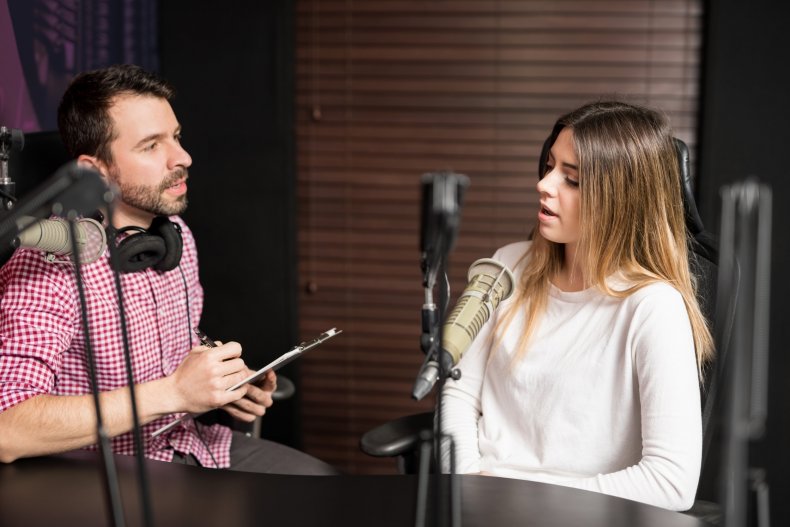 Justin recounted one anecdote of Hunsicker asking for his help to carry a delivery upstairs, which he claimed was a "set up to make small talk" that she denied, saying that it really was just a heavy desk.
According to the radio host, he did apologize for being dry with his new neighbor, after discovering that his humor can come across as rudeness at times.
Justin however did claim that he "could tell immediately that not a lot of people tell you no because you're attractive," but Hunsicker denied this played any part in her mission to make friends.
"I think you're kind of the jerk for making that post on TikTok," said Justin, before joking that he actually "likes her a lot now" after she insulted him.
The on-air tussle didn't seem to deter Hunsicker though, who jokingly vowed to see him when he gets home. She did apologize after the clip went viral and offered to delete it, and according to Justin offered to swap numbers, but instead he simply requested she make a part two with more information.
She did exactly that. "I heard him talking about me on the radio but he never said my name. So me making that TikTok was blowing my own spot up," she said. "The only people who knew it was about me in the beginning were me and him, that's it and then it blew up and you guys were sending him hate which he doesn't deserve."
"He was just talking about how he didn't wanna be friends with me which is fine, you don't have to be friends with me Justin. I heard what you said about me and I was upset about it, so I made a video and that's it, it's really not that deep."
Despite the neighbors seemingly coming to an amicable conclusion, TikTok viewers were not sold and immediately discouraged Hunsicker from apologizing. "Why is he allowed to bash you publicly but you aren't allowed to bash him?" asked one user.
It would seem that neither a city-wide radio show or a TikTok account with 100k followers is the best place to talk about your neighbor without them finding out—who knew?
Newsweek has contacted Hunsicker and Justin for comment.