Family's Goth Christmas Photo Takes Internet by Storm—'Santa Not Satan'
It's got all the features of a regular family Christmas photo—a grotto, Santa, presents....and costumes inspired by Norwegian death metal.
This family photo has been taking over the internet, with impressed viewers dubbing it the "coolest" one taken. 30-year-old Lexis Baker and her family visited Santa last week, surprisingly dressed in all black and with death metal face paint.
Baker and her boyfriend Rhett, 32, stood side by side with Santa, death staring into the lens, while 4-year-old Charlie sat on Santa's lap—in her own rock attire, looking just as displeased.
Like a scene directly from Addams Family Values, the not-so-festive image has spread across social media, gaining likes on both TikTok and Reddit alike. Baker shared the video of their casual holiday outing, followed by a trip to Chuck E. Cheese in their costumes, to TikTok last week and has gained over 3 million views since. A repost of the image to Reddit gained over 105,000 votes.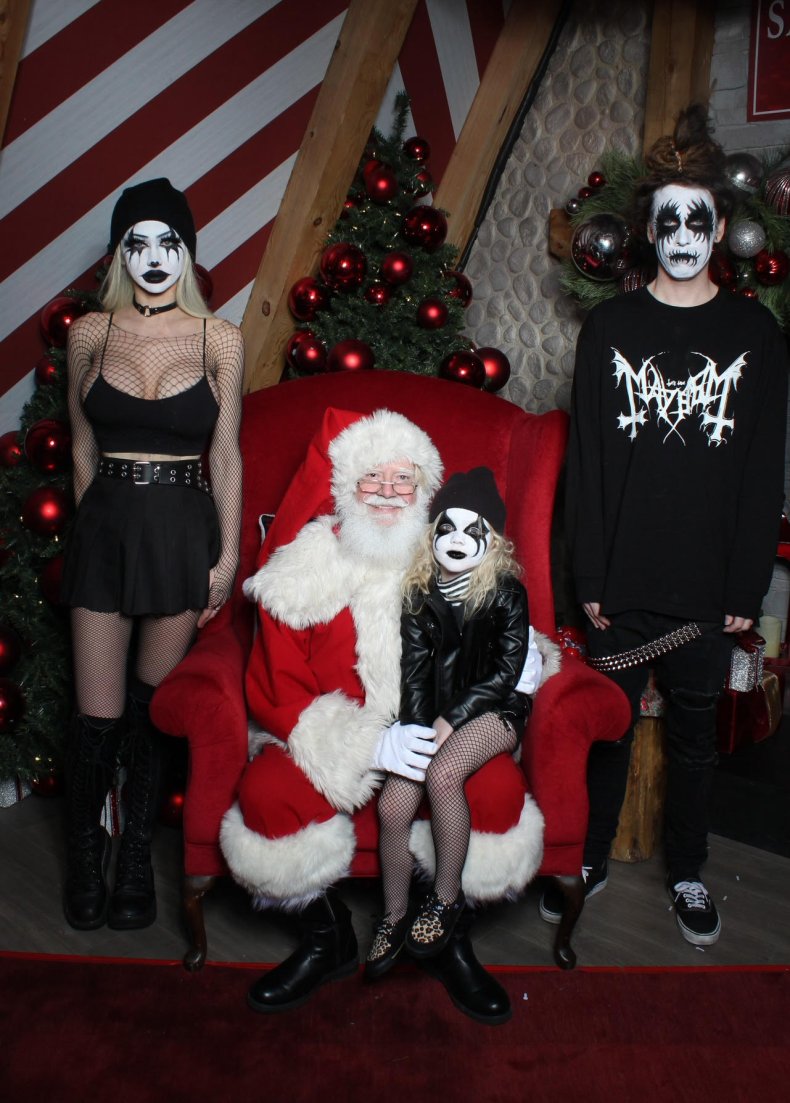 "Santa just treated us like any other family, he was super sweet. The cameraman was like 17-years-old and before he took the picture he said 'everyone smiles...or not,'" Baker told Newsweek.
"Honestly it was my boyfriend's idea. He said the only thing he wanted for Christmas was for us to take pictures with Santa the way he wanted."
"There is nothing better than high contrast," said Rhett. "Take the concept of good old family Xmas and mix it with good old church burning Norwegian death metal and I had a feeling you might get a funny picture. Corpse paint has been in the metal scene since Alice Cooper and so many other old metal bands but I was definitely inspired by the band Mayhem the most."
It might not have been her idea, but Baker said daughter Charlie is just as into the costumes: "My daughter loves dressing up and was really excited to dress up like that because she kind of likes weird dark stuff for some reason. She actually took a nap right before, so me and my mom had to finish her makeup when she was sleeping because the place taking Santa photos was about to close."
"There was not much to make for my costume, just some Halloween face paint, and a bunch of Lexis' eye liner," explained Rhett. "I did my make up and Lexis did hers, and Lexis and her mom kinda both helped on Charlie's. Lexis came up with her own and Charlie's costume."
According to comments left by staff, they had to convince the grotto to even allow them in, but due to being near to closing and not the costumes, as some would expect.
The video can also be seen here.
"I've gotten a lot of negative feedback honestly, but it was just meant to be a fun family thing for us and a cool memory to look back at," said Baker.
Despite receiving some backlash to the image, more have been celebrating it with users rushing to praise the unique Christmas moment. "You guys are hands down the coolest fam ever," commented one TikTok user.
"If my family isn't like this, I don't want it," added another.
"When you realize the sign says 'photos with Santa' not Satan," joked a Reddit user.
"The first one looks like it could be an album cover," noted a TikTok viewer.
Update 12/22/2021, 5:20 a.m. ET: This article was updated to include comments and information from Rhett.