Watch Rescue Pit Bull's Impressive Ability to Pout When Told No—'Theatrics'
Pets are part of the family so it makes sense for owners to celebrate their furry friends' birthdays.
Some owners may opt for a pet-friendly cake while others throw a party with plenty of gifts—like Belle, 27, who owns a rescued pit bull named Hera.
The special education teacher recently shared a TikTok video of Hera ahead of her 10th birthday party. But it wasn't a joyous moment for the pooch, who can be seen sulking as she sits near a pile of her presents.
The on-screen text explains why, saying: "When mom won't let you open your birthday presents until your guests arrive so you display your biggest pout."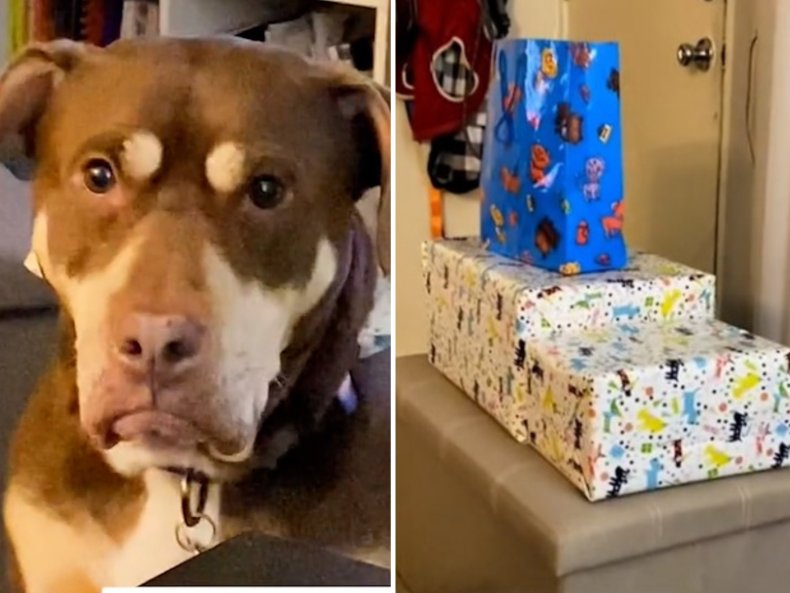 Newsweek spoke to Belle, from Virginia, and she said: "Before the party started, I brought out Hera's presents and she kept going over and sniffing and pawing at them because she could smell the treats and I told her a few times 'no you have to wait' because she would've opened them up immediately!
"A few minutes before the party began I looked over and saw her longing for the presents with the absolute biggest pout on her face. I couldn't help but laugh.
"I was impressed by the theatrics but I also felt so bad that I let her open a gift before everyone arrived!"
Belle, who doesn't wish to reveal her surname, isn't the only "paw-rent" who makes a big deal out of their pet's birthday. In fact, Statista revealed just under two-thirds of pet owners aged between 30 and 44 in the United States stated that they buy gifts for their pets for birthdays or holidays.
Newsweek has previously shared a unicorn-themed party for a pit bull mix and the moment a boxer tucks into a custom-made birthday cake.
But it isn't all fun and games as not all pet parties go to plan. A Shih Tzu named Wilson recently celebrated his birthday but none of his doggy pals turned up. In contrast, Layla the Labrador's party descended into chaos when her owner attempted to get a group picture.
The viral clip of Hera has racked up 459,400 views and more than 86,000 likes since it was shared on March 5. TikTok users are impressed to say the least.
One user said: "It's a really good pout."
"Oh my goodness, I can't, I would've given them to her. That pout is too good," commented another.
Another user said: "And the award for best dramatic effect goes to Hera, [cue] dramatic music."
Do you have funny and adorable videos or pictures of your pet you want to share? Send them to life@newsweek.com with some details about your best friend and they could appear in our Pet of the Week lineup.