Signs You're Wasting Your Time With Someone, According to a Dating Expert
A dating expert has revealed the top five signs that indicate your relationship has reached a dead end.
In a viral TikTok clip, Kimberly Chapman, 29, highlights five reasons that signal you are wasting your time with someone. This includes unwillingness to move the relationship forward and refusing to introduce you to their family and friends.
The video racked up 2.2 million views and more than 132,000 likes. Newsweek spoke to dating coach Chapman. She urges people to call it a day if their efforts aren't reciprocated.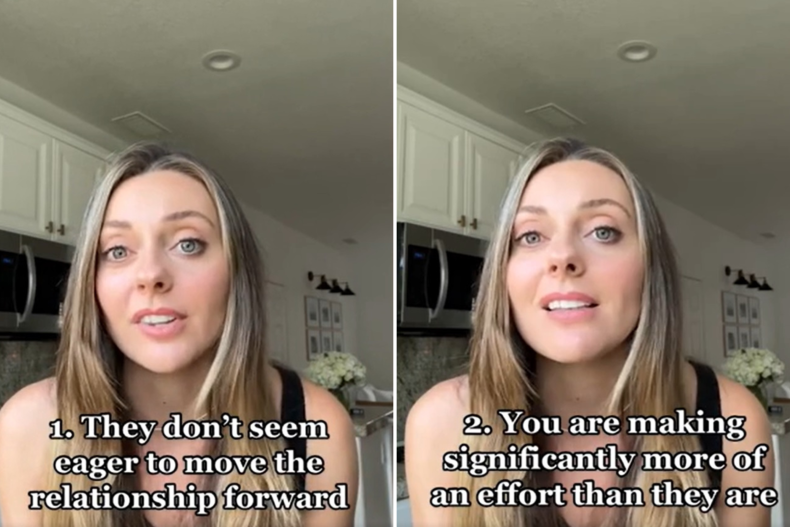 In 2019, Pew Research Center surveyed 4,860 U.S. adults, and 53 percent stated that it is difficult to find someone who is looking for the same type of relationship as they are.
The results also found that 56 percent of women and 35 percent of men struggled to find someone who met their expectations.
These days, people are behaving like a couple but without the label. This is known as a 'situationship'. TikTok users will be familiar with the term as the hashtag has been viewed more than 2 billion times.
Chapman, from Orange County, California, said: "Situationships are so common because people fear communicating what they really want in the early stages of dating.
"My clients tell me that, even though their intention is to end up in a committed relationship, they're willing to keep things casual in the beginning so they don't scare off the other person.
"The problem is that, without having these direct conversations upfront, people assume they're on the same page until it becomes clear they're not," Chapman added.
5 Signs You're Wasting Your Time With Someone
In the viral clip shared more than 2,800 times, Chapman said that the following points mean you are wasting your time with someone.
They don't seem eager to move the relationship forward
You are making significantly more of an effort than they are
They've stopped getting to know you on a deeper level
They don't involve you in their life
Chapman said: "If the person you're involved with has made it clear through inconsistent actions and words that they aren't interested in growing the relationship, it's time to walk away."
The dating and relationship expert urges people to avoid pursuing a 'situationship' with someone who isn't "equally as interested" as this could damage one's mental health.
"Due to a lack of clear communication, your mind creates narratives on what could be happening," Chapman said. "You drive yourself crazy trying to dissect what every action means, and it becomes all-consuming. It's easy for self-esteem to plummet when you're consumed by thoughts of 'What am I doing wrong?' or 'Why am I not enough?'
"It's also confusing when you're given occasional signs of interest and then it's taken away in the blink of an eye. People end up on an emotional rollercoaster where the highs feel encouraging and the lows feel heartbreaking," Chapman added.
More than 700 people have commented on TikTok, and many are referring to a 'situationship'.
One user wrote: "I'll be back in a few months after this situationship doesn't work out looking for an "I told you so"."
"I give a man three months to decide what he really wants... if he says I'm not ready BYE boo!" commented another.
Another person posted: "See, I'm a 'yep' for all five, and I know it. But my problem is I won't walk away from him because I love him."
Have you noticed any red flags that made you end a relationship? Let us know via life@newsweek.com. We can ask experts for advice, and your story could be featured on Newsweek.