Is Zoe LaVerne Pregnant? TikTok Star Announces She is Expecting With Boyfriend Dawson Day
Zoe LaVerne, a 19-year-old TikTok star with 17.9 million followers, has announced that she is expecting a baby with her 20-year-old boyfriend Dawson Day.
LaVerne announced her pregnancy on TikTok with a video showing two positive pregnancy tests, backed by the song "Godspeed" by James Blake. The TikTok star captioned her video: "surprise!! I'm so excited."
The video has been viewed more than 1.5 million times and liked more than 220,000 since it was posted five hours ago.
On Instagram, LaVerne shared a photo of herself and Day and said: "you are going to be such a great daddy!! i love you so much! thank you for changing my life so much and making me the happiest girl on earth."
LaVerne wished Day a happy two-month anniversary in an Instagram post on January 13, 2020.
On her Instagram Stories, LaVerne also told her 2.7 million followers: "Really excited to have y'all watch my baby grow."
However, the TikTok star has had to defend herself and clarify that the father is her boyfriend, Day, and not Connor Joyce, a 13-year-old fan who LaVerne admitted to and apologized for kissing and "catching feelings" for late last year.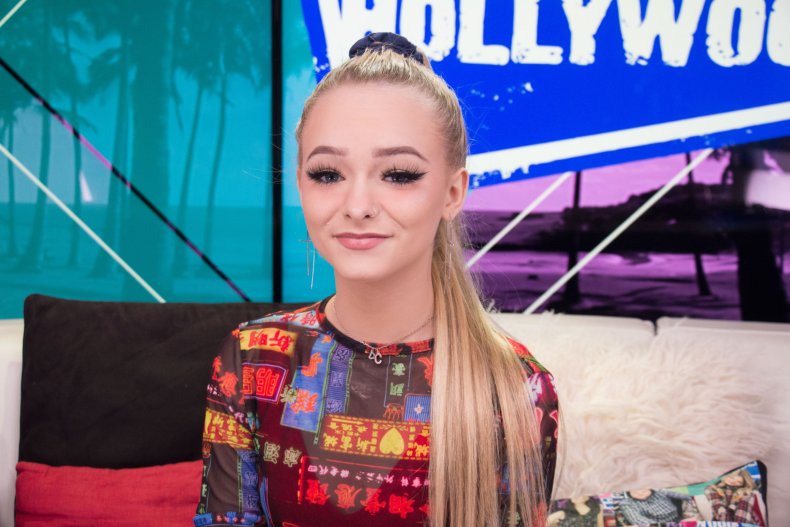 "This is the father of my child. Stop saying otherwise. How would that even make any kind of sense?" said LaVerne on her Instagram Stories, "Connor is 13. Nothing else happened besides a kiss. Stay in your own business!!"
Day also came to LaVerne's defense and shared a photo of the couple on Instagram and said: "Well... we're expecting! we couldn't be happier. & for the idiots talking s*** I am the father. Zoe and Connor didn't do anything to have a baby. That's impossible.
"And if you have nothing nice to say, don't say anything at all. That's disgusting and a real low blow to talk s*** [about] an unborn child. It's sickening. Please send positive vibes only!"
Amid the backlash on Twitter, LaVerne switched off comments on her latest TikTok video and limited comments on her Instagram post, and also went on to say: "The amount of people that have the guts to talk s*** about an unborn child is so upsetting and heartbreaking.
"Really shows the generation we are in... and how a lot of you weren't raised right!!"
LaVerne also offered to prove that the pregnancy tests were real by taking one on Instagram Live.
LaVerne was reacting to the negative response her pregnancy announcement has elicited, with a lot of the backlash related to her alleged relationship with Joyce. Twitter user Isabella said: "Bye I feel so bad for that child."
Another Twitter user said: "Imagine having to clarify that a 13-year-old is not the father of your child. Why is Zoe LaVerne not in jail yet??"
The controversy surrounding the alleged relationship between LaVerne and Joyce is the latest in a long line of scandals that the TikTok star has faced since joining the app when it was still Musical.ly in 2016.
LaVerne's previous relationship with TikTok star Cody Orlove, who has 6.9 million followers, drew backlash on multiple occasions as the couple faced numerous breakups, amid allegations of cheating, sexual harassment, and abuse. Orlove accused LaVerne of sexually harassing him, while LaVerne claimed that Orlove hit her.
In July 2020, LaVerne was criticized for crying about the fact that TikTok star Charli D'Amelio—who is the most followed user on the app with 108 million followers—was about to surpass her follower count. In a leaked video, LaVerne called D'Amelio a "b****" and claimed that she herself was the star of TikTok.
A few months later, in November 2020, more audio leaked of LaVerne talking about D'Amelio, in which she said: "If you're gonna defend a f****** stinky ass w****, don't f****** ring me in the car. I'm not gonna sit in there, and act like I like Charli D'Amelio, okay?"
D'Amelio tagged LaVerne in the post and asked if it was her and LaVerne later apologized.