'Do You Not Live Here?' Watch Strangers Hilariously Try to Enter Wrong Home
Two young people have provided laughs online in what has been described as the "funniest conversation" people have heard, after realizing the house that they were attempting to enter wasn't either of theirs.
Ring doorbell cameras are often purchased with the intent of improving home safety, but they've also found a surprising benefit: capturing entertaining moments.
Sophie Sciascia's Ring doorbell in Calgary, Alberta has entertained millions online after capturing the moment two strangers approached her house, wrongly assuming it was one of theirs.
According to University of Calgary student Sciascia, the girl in the viral video had accidentally wrongly entered her address into the Uber app, ending up at a completely different house 20 minutes away, unbeknownst to her companion when they reached the door.
The young woman in the clip identified herself online as @brynnisugly, explaining that she was intoxicated at the time but made it home safely in the end.
Unluckily for the pair, it added a major inconvenience to their night. Luckily for the internet, the ensuing hilarity was documented completely.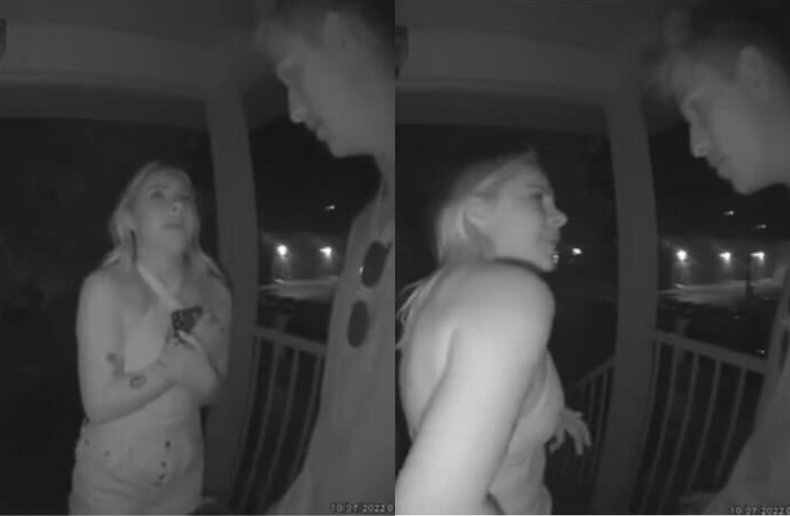 "My roommates and I found it absolutely hilarious and we were so confused as to how they ended up at our house," Sciascia told Newsweek. In two days since being uploaded, the hilarious clip has gained six million views.
The video showed the two young people, seemingly intoxicated, approaching the house in the dark. Her companion asked her for the key, only for her to reply in a confused state: "Why would I have the key?"
"Do you not live here?" he said, prompting a rapid "no" from the young woman. "What the f**k are we doing here?" he responded.
The pair, both equally confused, back and forth with utterances of disbelief, littered with "are you serious" and "are you joking."
"Let's get off this random person's porch," he instructed, as they both walked off into the distance. "This isn't your place? What? Where do you live?" he could be heard saying, meeting silence. "This is where you don't hold back the words here," he said.
Sciascia told Newsweek that she managed to track down the young woman and figure it all out in the end, thanks to another mistake.
"The girl accidentally left her purse on our lawn so through her ID we found her Instagram and contacted her to let her know she can come to pick it up," she said.
"She was so sweet and lovely when she picked it up and said that she had just moved houses and accidentally put her address into the Uber wrong and they were both just so confused."
Sciascia shared the hilarious moment to TikTok, writing: "Me when I don't know why these random people are trying to get into my house, but they ALSO don't know why they're trying to get into my house," with a popular TikTok audio.
The reactions online found their bewilderment equally as hilarious as Sciascia, with one user writing: "This is actually the funniest conversation i've EVER HEARD."
"It was honestly the funniest incident ever and I'm so grateful for my Ring camera now," she said.
Newsweek has contacted @brynnisugly for comment.