TikTok Trend Has People Wrapping Gifts to Look Like Something Completely Different
Ever wanted to confuse your family about what you got them for Christmas? Is giving your family sweaters becoming a predictable holiday ritual? This TikTok trend can help you keep them guessing, where content creators show off present wrapping skills that make the gift look like something totally different. In videos featuring Louis Prima's rendition of "Pennies From Heaven," TikTokkers get creative with how they conceal their presents. They construct chairs, tables, and even a car (you read that right)!
It's impressive, and this writer is now contemplating how she can wrap the rest of her family's gifts this way.
In one video, a girl wraps some clothes, and it looks like a small chair when covered in paper. It appears that the wrapping paper tube was used in order to create the chair's legs. The big reveal comes at "shoobie doobie" of the song, and other users have recreated this clever prank.
In another video, a cutting board is sculpted from wrapping paper and cardboard tubing to look like a scooter.
One TikTokker turned a long-sleeved shirt into a harp, complete with the chords. The attention to detail is incredible.
"I LIVE FOR THESE" one person commented. Another asked the TikTokker for a instructional how-to video, but it's probably better off that the TikToks keep folks guessing.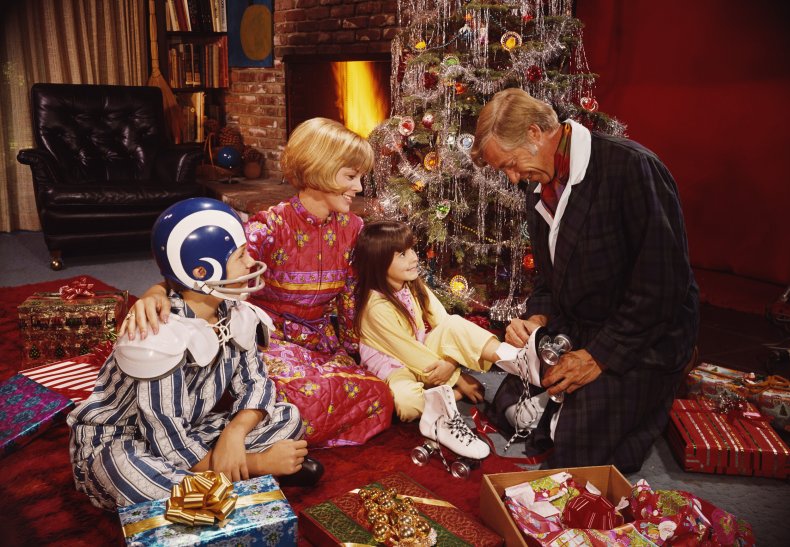 This user had a couple pairs of sweatpants and a winter coat to wrap up, so they turned them into a miniature table and two chairs.
Another poster took a boxed Apple Watch and turned it into an entire stepladder. "Wrapping paper costs more than the gift itself," one person said. "Still upset that I finished wrapping all my presents before this trend started," another chimed in. Which, relatable.
Someone else turned a simple sweater gift into an entire picnic table. "MA'AM THIS FEELS ILLEGAL," one person wrote about the deception." "It just gets crazier with every video," another added. Don't try to sit on this one!
This TikToker took a candle and turned to into what appears to be a wrapped-up person. "I can barely even wrap as is and there are people turning candles into a whole person?!?" one Twitter user commented.
Perhaps the best TikTok Christmas gift transformation was this user's creation. He was gifting a Subway gift card, and went very out of his way to make a full-sized car, complete with actual tires. "This is getting out of hand," one person commented. Another asked for a video of the gift card recipient unwrapping the cardboard box car.
Hopefully the next TikTok trend is everyone opening up these expertly disguised gifts.