TikTok Users Troll Trump's Voter Fraud Hotline in Viral Videos
Anti-Trump TikTok and Twitter users have attempted to disrupt the Republican-run voter fraud hotline, by phoning in with bogus, farcical accounts.
Before the votes were counted, and president-elect Joe Biden was announced the winner of the 2020 U.S. election, President Donald Trump made unsubstantiated claims about vote-rigging and fraud and continues to refute the result announced on Saturday.
On Friday, Trump's attorney Rudy W. Giuliani posted information about a voting fraud hotline on Twitter, which some claim is a scrambling attempt to get supporters to help build a case. "#STOPtheSTEAL Tell us what you are seeing. Report a case: http://djt45.co/stopfraud Call: (888) 503-3526," wrote the former New York City mayor.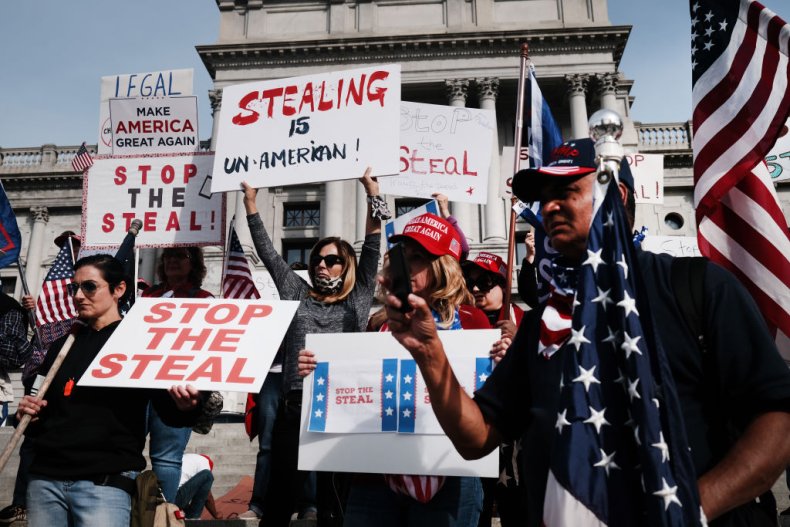 On Saturday, Eric Trump similarly tweeted: "Help stop voter suppression, irregularities, and fraud," his post read, followed by: "Tell us what you are seeing" with a link leading to a "Voter Fraud Issue Report Form," and a phone number.
Social media users responded with posts about their prank phone calls: "I'm don't want to tell anyone what to do, but if you felt like calling this number and, say, reporting the Hamburglar," said Twitter user Alex Hirsch, the creator of Disney Channel series Gravity Falls. "I can confirm from personal experience that it would be very funny."
Hirsch called the campaign staff at the "Trump National War Room," and said he "saw a man walk into this building, he had a black hat, black mask, striped shirt and a red tie, and I believe there were hamburgers in his bag and he was saying 'robble, robble!' as he was exiting the building, like a burglar. You know I think he's probably Antifa. Can I speak with Rudy W. Giuliani?" The operator hangs up the call.
Another video plays the audio of a hoax call: "Hi, I'd like to report a case of voter fraud," said the prankster. "Yeah, what state is this in?" said the operator. "It's in Philadelphia," said the caller. "I saw a man with a sack with a dollar sign on it run into a voting booth, and stuff a bunch of stuff in the voting booth and he ran out and the only reason he stopped is because he ran in to some quick drying cement."
Another user phones in to report another fake claim of Hamburgler voter fraud. "He had this like duffel bag and inside were like a bung of hamburgers, he kept saying over and over 'robble, robble!'" said the caller, before the operator shut him down. "We keep hearing about the Hamburglar," said the operator.
One TikTok user, who called herself Mary, said to Trump's voter fraud line: "I saw people were literally spreading poop all over their ballots."
One TikTok user references the song "The Devil Went Down to Georgia" by the Charlie Daniels Band. "I was in line to vote and, like, there was this guy there, and I don't know that this is considered fraud or anything, but he was there and he challenged me to a fiddle competition," she said. "And I dunno, he had like red skin and horns."
Trump has never said he would accept defeat in the 2020 election. In August the president said: "The only way we're going to lose this election is if the election is rigged."
Social media users on the TikTok platform have taunted Trump before by collectively reserving tickets to his rally in Tulsa, Oklahoma in June. After the stunt, the Bank of Oklahoma Center was filled to around only 30 percent capacity, with 6200 people attending in a stadium with 19,000 seats.
Ahead of the 2016 election, Trump said he may pursue legal action if the results were not in his favor.
"I will totally accept the results of this great and historic presidential election, if I win," he said.
"Of course, I would accept a clear election result, but I would also reserve my right to contest or file a legal challenge in the case of a questionable result."
Newsweek has contacted the Trump campaign for further comment on voter fraud hotline pranks.