TikTok User Shares Genius Hack to Get Free McDonald's French Fries
McDonald's hacks are nothing new in the world of fast food fandom but one avid customer may have just stumbled upon one of the best yet.
It comes courtesy of TikTok user Orlando Johnson, who recently took to the social media platform to share what he discovered during a recent trip to the Golden Arches.
In a video posted under the username itsosoprodigy, he revealed his genius "hack" for getting free refills on french fries at McDonald's.
A popular accompaniment to any meal served at the restaurant chain, what makes his discovery all the more impressive is the simplicity of it.
All they had to do was ask for them.
In the clip, which has now been viewed more than 4.3 million times on TikTok and can be viewed here, Johnson filmed one of his friends going up to the counter to request a refill of his fries.
To Johnson's amazement, a member of staff does exactly that, with his visibly delighted friend returning to their table carrying a carton overflowing with McDonald's french fries.
The comments section accompanying the video has been flooded with messages from fast food fans in the hours and days since.
Big_fat_david wrote: "I need to try that."
Thecosmicjester commented: "This makes me happy."
Mr.cleant meanwhile declared it an "infinite food glitch."
User_1234567891011121319 praised Johnson and his friend for having the nerve to try it, writing "If you don't ask you'll never get it."
Jayyo250 was also desperate to try it out, announcing: "Ima go with my bro's and see if they will try cause I won't lol."
Another TikTok user, Socalcarspotting, even tried to convince Johnson to take the post down so others didn't find out.
"Delete this cuz I don't want other people finding out about this," they wrote.
The hack made perfect sense to eddieanderson20 given the amount of food wasted at fast-food restaurants.
"So many fries they make are thrown out daily, why not," he said.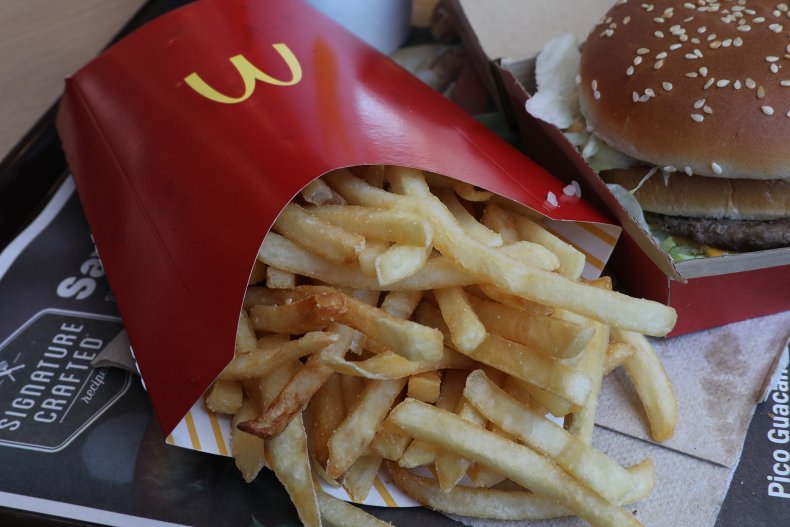 Others were simply left in awe with juliaanderson1234 writing "That's the fullest I have ever seen them fill those fries."
Several people even claimed that it is actually McDonald's policy to offer refills to customers purchasing large-size fries.
"Turns out they have to do this," Mcdonalds_histoian1955 said. "If you read the fine print, a large fries gets unlimited refills."
Thelifechannel1 backed up that suggestion, writing "It's policy to do this" but offered little in the way of evidence.
At least one user, smdmdjikhnnn, remained unconvinced that the hack would even work, commenting: "I tried this once and the manager told me to leave the store."
Speaking to Newsweek, Johnson explained how they stumbled upon the hack.
"Me and my friend was sitting there after eating our fries and was just kind of like 'I wonder if they'll do it if we ask' and that's how that happened we both were surprised they said yes," he said.
He said he's been surprised by how much his video has blown up on TikTok.
"I am kind of surprised because this was one of the videos I thought would get some attention but not as much as it's gotten," he said.
Johnson also confirmed that the free fries refills were not a one-off event either.
"So far it has worked every time with fries but we are going to a bunch of different restaurants and locations testing it out."
Eager to test out the theory at other restaurants, Johnson has since visited Raising Cane's Chicken Fingers and Wendy's to see if they operate the same free fry-refills policy.
In videos shared to his Tiktok account, he discovered, to his delight, that both restaurants provided him with additional helpings of the popular side dish, adding further weight to the theory that it is, in fact, a policy for some fast-food restaurants.
Update 07/26/21, 5:00 a.m. ET: This article was updated with comments from Orlando Johnson.