Video of Asthma Patient Treated in Hospital Parking Lot Due to Bed Shortages Goes Viral
A now-privatized viral video of a Eureka, California woman claiming to have been treated in a hospital parking lot as a consequence of bed shortages has been viewed over two million times.
Sophia Santana shared the video to TikTok on September 9, appearing to show her receiving treatment for asthma in the form of an nebulizer. What is different however is where she's apparently receiving it—the ambulance bay of a hospital parking lot.
"The hospital has no beds," she wrote. "I am straight up in a parking lot."
In the viral video, which had been viewed over two million times, Santana can be heard laughing at the situation to herself, while using the nebulizer. She had suffered a severe asthma attack, leaving her unable to talk, "super anxious and out of it," and barely able to move.
"My cousins brought me to the hospital around 11 p.m. or 12 a.m. I'm a little fuzzy on the time but they told us that nobody could come in with me and essentially that there weren't any empty beds so they'd do their best," she told Newsweek.
"I heard the nurse refer to the fact that they have no beds which is why I used that phrasing — eventually though after a few hours I'm not exactly sure how long because I was out of it and couldn't breathe lol a nurse put me in a wheelchair and wheeled my out to the ambulance bay and hooked me up to a breathing treatment."
"She gave me a bunch of heated blankets and a little hand warmer pad she was the sweetest thing, but they had to leave me there just being watched by a security camera and I thought it was so absurdly funny and I was also at this point so sleep deprived I couldn't stop laughing at how absurd it all was," said Santana.
"She was like, 'you're on camera, so flap your arms if you need something.' Random hospital staff kept coming out and being like, 'what are you doing?' and then just going back inside. I think she forgot about me because my breathing treatment was done and I kind of had to sit out there for like an hour," she claimed in a TikTok video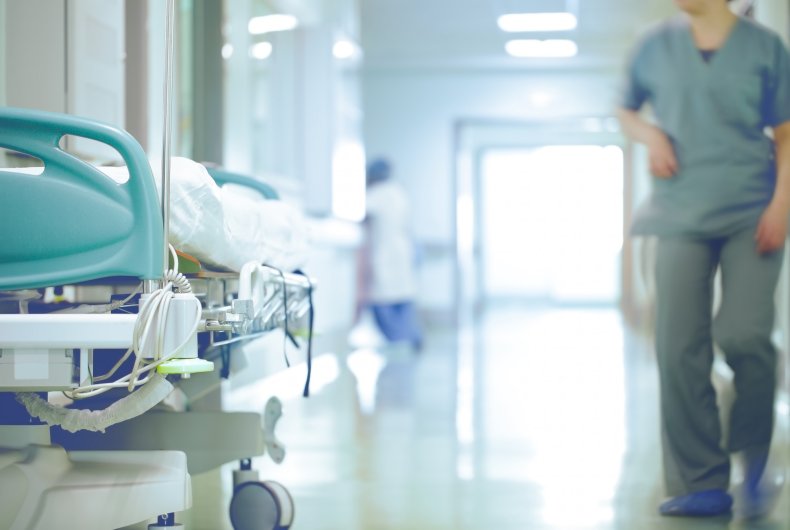 In California, COVID cases have recently risen thanks to the Delta variant. September 12 recorded 9,045 cases and September 11 saw 6,875 positive patients in California hospitals. This is compared to July 1. Which has only 1,071 positive hospital patients.
As of September 11, the state has 1,562 available ICU beds and reports over the recent weeks have found that some California hospitals are running out of beds, despite the state's high vaccination rates.
Gavin Newsom announced on August 31 that more than 80 percent of Californians 12 and older have received at least one dose of the vaccine, making it one of the highest rates in the US.
The hospital in Eureka were unable to confirm or deny individual cases, but provided the following statement to Newsweek: "Due to the fact that Emergency Rooms across the country are critically impacted by the surge of patients with COVID-19, there are times when the provision of urgent or emergency care may be delivered in an alternate setting to meet patient needs. As Providence has seen over the last year and a half, the situation is a stark reminder of the importance of getting vaccinated to fight COVID-19."
In relation to the viral video, it's important to note that the CDC recommends Aerosol Generating Procedures, like nebulizers, "should take place in an airborne infection isolation room (AIIR), if possible" due to the risk of COVID spread imposed by the machine.
As pointed out by viewers, the parking lot was likely far more isolated than alternatives inside the hospital including a lobby or shared room.
"I don't remember exactly what was said about Why I was out there I just remember them mentioning there weren't beds and really not enough staff. After the treatment finished the nurse found me a little side room to lay in and I fell asleep in a chair and eventually the doctor came in and woke me up and talked to me for awhile and then they gave me the discharge papers. Then the receptionist came up to ask for my info to send me the bill, but the staff were super sweet and did their best with a bad situation in my opinion," claimed Santana.
For many, the video with almost three million views has highlighted the struggles healthcare environments are still facing so far into the pandemic.
"We have been treating people out of their cars because we are so overfilled. We are trying out best," commented TikTok user and ER nurse @jamiefreakin.
UPDATE 9/1/421 at 3:21 a.m. ET: This article was updated to include comments from Sophia Santana and the California hospital