College Professor's Hilarious Zoom Entrance Viewed Over 19M Times
One Michigan college professor has taken his classes to the next level to make remote learning a little more enjoyable.
In July, assistant professor Ryan Ball, from the University of Michigan's Ross School of Business, went viral after a student posted his unconventional lecture entrance. Ball entered the lesson to the tune of "Let's Get Ready To Rumble" with his face masked as a stock image of a potato.
The teacher, named Dr. Po Tato on the Zoom call, entered the lesson dancing around the screen as a floating potato with sparklers.
It might not be the type of thing they tell you about during the induction days, but Ball's entrance struck a chord with student Amelia Charamand-Quelas, who shared the recording to her TikTok account.
The video became an overnight sensation, racking up hundreds of thousands of views. Charamand-Quelas, however, swiftly deleted the clip as she had not previously asked her teacher for permission, intending for the video to be only seen by her family.
However, after discovering its existence, Ball actually requested she reupload it and even sent over better footage for a second video. The TikTok did even better the second time around and it now has an impressive 19 million views.
"I would go back to school for him," commented one TikTok user.
Ball told Newsweek on a Zoom call, with an image of a potato on-screen of course, that it was actually the third time he'd done it. After googling April Fools' Day pranks to do on Zoom he read about a parent whose kid had accidentally set them as a potato for serious calls.
"I can't let up pass up a good opportunity," he said. "I don't think I've ever laughed so hard in my life. And then I did it once again in the spring for my class, but they are shorter classes. This class I taught in the summer just now, they're like two and a half hour classes about twice as long per class. And there are three of them. So I didn't know how to prevent the first section from telling the other two sections before the class started. So I decided to do it during a review session where most people would be in attendance in one section."
"Plus, it was at the end of a long day. And quite frankly, I was tired. So you got to have some fun," he added.
Ball's potato trick certainly worked in spreading that fun to more than just his class, and he told Newsweek that the reaction was just as good in real life as it was online. "I did go back and look at the gallery view of the students, about 40 students. That first video in which I was playing that "you all ready for this," it was great, because leading up to that before I came out as a potato, everybody was dancing and it was really fun to see. So I know they had a positive reaction to it, but I couldn't tell at the time I just took it on faith that they were having a good time."
Charamand-Quelas shared a second similar clip to her account soon after, gaining over 26 million views and again starring Ball as the comedic relief in the form of Dr. Po Tato. This time, he checked in on his "family," who had all been baked, before "getting serious" with an exam review, all as a floating potato.
In a follow-up video, Ball hosted an entire exam review as a potato. "I'm gonna miss virtual," he noted.
Big brands even weighed in on the series, applauding Ball for his hilarious efforts. "Syllabus week stays wild," wrote Target's TikTok account.
"Truly Michael Scott energy," noted TV series The Office's official account.
Even the very thing that made this entire saga possible entered the chat—Zoom. "They just won at Zoom," wrote the company.
In fact, Ball has become somewhat of a local celebrity, gaining huge reactions in real life when revealing that he is the man behind the potato.
"I was out to dinner last night. And I was doing something on TikTok... I was sitting at the bar eating dinner, and the bartender came along, saw the potato video and she was like 'oh my God, did you hear about that thing? That was so funny. Blah, blah, blah,' and I'm like, 'So funny. Funny thing is, that's me.' She's like, 'what?'"
But no matter how much internet clout Ball gets for his potato stunt, it's still not enough to get the most important seal from approval—a follow from his daughter. "So I saw my daughter's name, she's 13. So I clicked follow. Two minutes later, I got a message saying 'denied.' She's like, 'no.'"
Newsweek has contacted Amelia Charamand-Quelas for comment.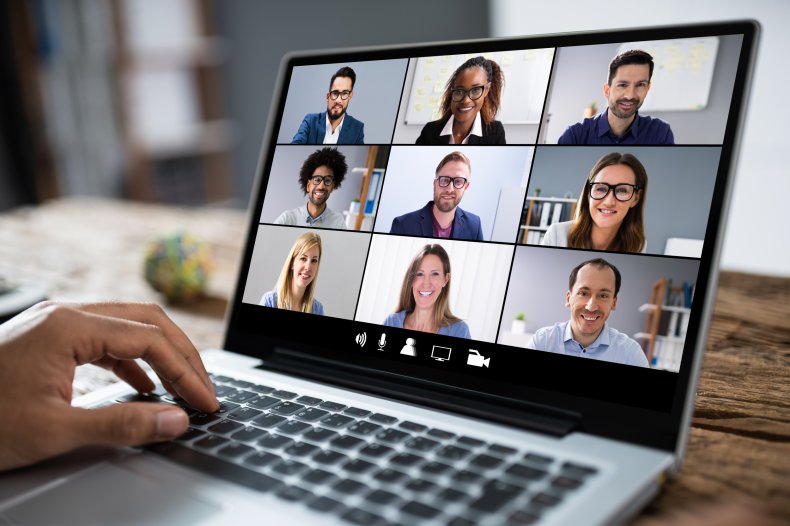 Update 8/25/21, 11:52 a.m. ET: This article was updated to include comment from Ryan Ball.