TikTok Video of Man Painting Stranger on NYC Subway Watched 2 Million Times
A TikTok video of a man painting a stranger on a New York City Subway has been watched millions of times.
Artist Devon Rodriguez shared the video two days ago in which he can be seen drawing a quick painting of a stranger who is sitting opposite him in a subway carriage.
The woman, who is wearing a face mask and has her head down as she types on her phone, does not appear to notice he is painting her.
Once he finishes the painting, he can be seen standing up and walking towards her before saying: "Excuse me, miss. I did this painting of you. You can take it home. It's a gift. Happy Friday."
The woman can be seen with a slightly shocked expression on her face, before saying: "I don't know what to say. That's like the nicest thing anyone has ever done."
She then mumbles: "Can I like take you out... I don't know what to say" and he replies: "It's just a random act of kindness."
The woman can then be seen starting to well up with tears, saying: "I'm sorry. I'm like overwhelmed."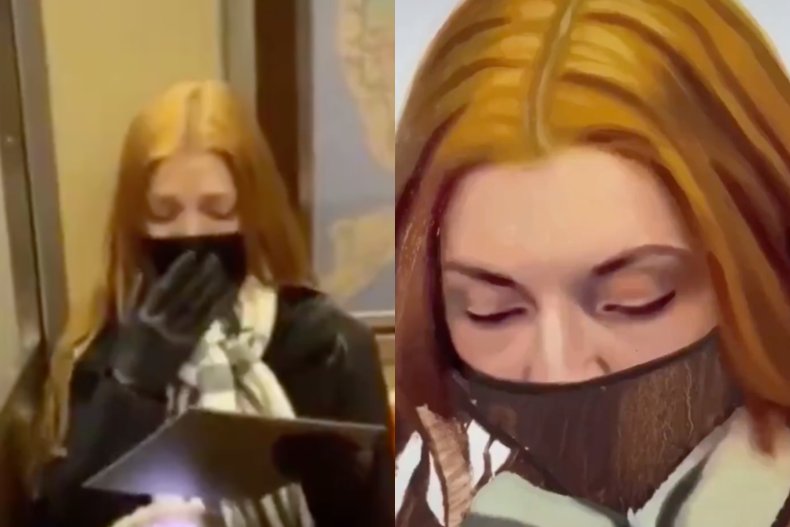 The clip has been watched more than 800,000 times on Instagram, at least two million times on Twitter and has been liked 5.5 million times on TikTok.
While many people marveled at Rodriguez's skill, some criticized the painting as "creepy," sparking a bit of a debate over whether or not it was OK for the man to paint her without her permission.
One Twitter user wrote: "Nice but kinda creepy at the same time, painting someone without their knowing." Another said: "To be honest, if there was some guy on the tube painting me I think I'd be freaked out rather than happy..."
Others doubted the authenticity of the painting with one tweeting: "That doesn't seem possible. That would take at least an hour or more and how is the camera filming while painting and is he just holding a phone in her face while handing her the painting for her reaction?"
But the woman, whose name on TikTok is Emily Katherine, made a statement of her own after the experience. In a video, which also saw thousands of likes, she expresses how much she appreciated the gesture.
Emily said: "So I keep getting tagged in this video and asked if it's me. Yes it's me. I saw the painting and honestly, it was so nice. I really appreciate art and I think artists are underappreciated. So this was really one of the nicest things anyone has ever done for me. I think art is the best form of flattery."
Responders to online commenters who pointed out that she seemed to try and ask him out, she said: "So yeah maybe I was asking him out. It's 2021. Women are allowed to do that now guys. I don't know why you think that's like weird. So yeah. I thought this was really cool."