Vizsla's Concerned Reaction to Her 'Fussy' Human Brother Melts Hearts
Bringing up a dog won't fully prepare people for parenthood, but it certainly helps. For one couple, their vizsla is more than happy to step in to help look after their newborn.
In a viral TikTok clip shared by @ellie_treece, the dog, Reyna, seems to be "concerned because Henry is fussy."
Reyna appears to be ready and waiting for a heads-up from the poster's partner, who looks as if he is in the middle of changing Henry, their baby.
The clip has racked up 134,300 views and 13,900 likes since it was shared on February 11.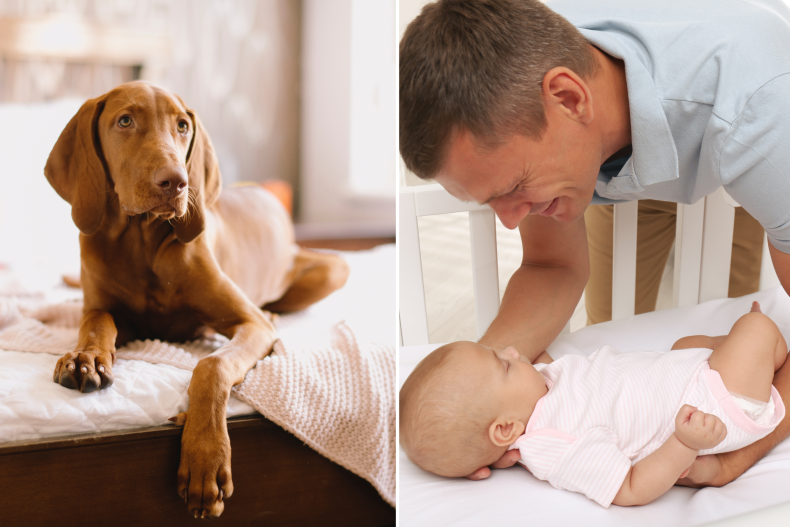 The red-coated dog breed is described as "versatile" by the American Kennel Club. While a vizsla is "built for long days in the field," the dogs also make great family pets. They are good with children and love their owners, according to the AKC.
Introducing Your Dog to Your New Baby
For a pet, a new family member is going to get some getting used to, and it is important to make the introduction slowly to ensure that everyone, including the dog, is at ease.
The AKC has the following tips for pet parents:
Stay calm. Canines are smart and can read your body language, so it is vital to be relaxed when the two meet to ensure your dog is on the same vibe.
Take it slow. Your fur baby and real baby aren't going to be best friends overnight, and that is OK.
Ensure your dog has somewhere to go that is off-limits to the children, such as a crate or its own enclosure.
In the video, Reyna is described as "so expressive" by her owner, and the dog's reaction has delighted hundreds of TikTok users.
One commenter said: "Reyna was told it takes a village to raise a child she is the village."
"Ready for dad to tag her in at any moment lol," said another user, whose comment has received 299 likes.
"She wants to take over so bad!" said another.
Another joked: "Reyna is the bonus grandparent."
It seems Reyna isn't the only dog to become attached to its owner's newborn. Recently, Newsweek wrote about a chihuahua who is "convinced" his owner's baby is his own.
While Reyna's reaction is entertaining to watch, parents should never leave their children unattended with their pets.
Newsweek could not verify the details of the case and reached out to @ellie_treece for comment.
Do you have funny and adorable videos or pictures of your pet you want to share? Send them to life@newsweek.com with some details about your best friend and they could appear in our Pet of the Week lineup.