In 2018, Brittney Prehn's life changed forever. Walking to a campsite at the Country Thunder Festival in Wisconsin, a bolt of lightning struck the cellphone she was talking on. Entering the right side of her head and traveling through her head, the lightning nearly killed her.
Prehn survived the strike and has been sharing her ongoing recovery journey online ever since. On March 7, she posted an update video that has now received more than 9 million views.
It was captioned: "I just need to keep reminding myself how far I have come since 2018! It has not been easy but I am truly blessed."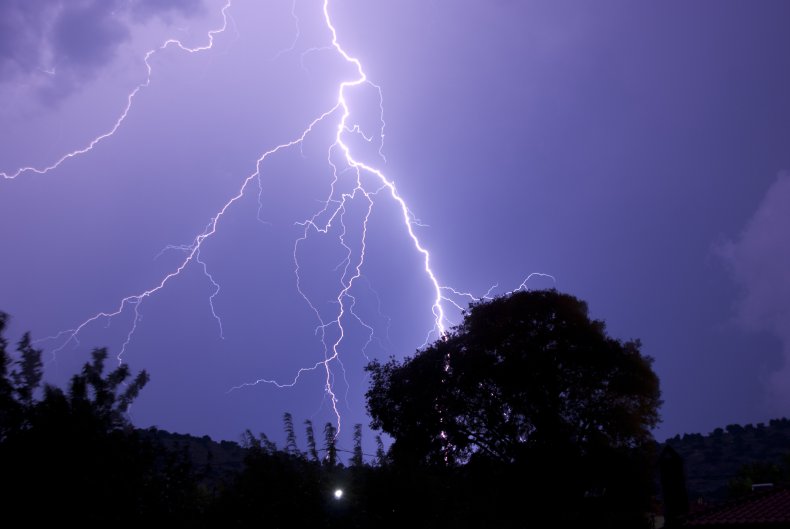 In the video, Prehn shared clips from the site where she was struck, pictures of the burned clothes she was wearing, and images of her recovery, from being in a hospital bed to taking steps again with her great Dane Dozer by her side.
Lightning naturally occurs when warm air is mixed with colder air masses, resulting in an atmospheric disturbance that causes an instantaneous release of energy.
With an estimated 50 occurrences per second and 20 percent resulting in ground strikes, it is impossible to know how many of these strikes result in death or injury. A recent paper produced by OSF St Francis Med Center EM Residency, the University of Louisville, and the University of Illinois-Peoria estimated approximately 24,000 fatalities and ten times as many injuries annually due to lightning.
The research said: "Though likely underestimated, in the United States there are approximately 400 lightning injuries and 40 deaths annually. Most deaths occur within one hour of injury and are due to fatal arrhythmia or respiratory failure."
Prehn baffled medical experts with her miraculous recovery and continues to share her story and recovery journey online.
In an interview with Fox 6 Milwaukee in 2019, Prehn said: "I'm determined to find out what that reason is I'm here, and I'm not going to take that for granted."
"What an inspiring story," said one commenter on TikTok. Another viewer wrote: "You are a true warrior! God bless you and your family."
"You survived a lightning strike," said one comment: "You are amazing!"
Another commenter shared their link to the incident and wrote: "Country Thunder? I'm a 911 operator and was working that night. You amaze me! Keep that strength always," and another commenter claimed to be the deputy who found Prehn that night saying she had made an "amazing recovery."
Newsweek has reached out to Brittney Prehn for comment.