TikToker Confronts Group Using Nazi Flag to Protest COVID-19 Vaccine
As vaccine mandates continue to be introduced around the country, protesters against the vaccine are taking to the streets to have their voices heard.
Earlier this week, TikTok user @imnotcryingsshutup, whose first name is Kelley, posted a video of an anti-vaccine protest in her neighborhood in Salt Lake City. In the video, which has been viewed over 82,000 times, Kelley stops her car when she notices the group and particularly the flag being waved on the side of the road.
"These people look so stupid that I need to see it with my own eyes up close," she says in the video.
Kelley told Newsweek in an email that she was surprised to see the "offensive" demonstration since Salt Lake City is a "very liberal" city.
The protesters are seen holding a large Nazi flag where the swastika is constructed with the images of a vaccine syringe. She approaches the protesters and from off-camera viewers can hear the voice of another person questioning the group's use of the flag.
"Why is it a Nazi flag?" the voice yells in the background.
Another voice shortly after can be heard saying: "It's not the government's role to force me what to eat, what to drink, what to smoke."
The comparison to Nazi Germany from anti-vaccine protesters is not a new one. In July, the Associated Press reported on a march of over 100,000 people in France protesting vaccine mandates. Some wore yellow stars, evoking images of the stars that the Nazis forced Jewish people to wear during the Holocaust. Others carried signs referring to Auschwitz or South Africa's apartheid regime as a comparison to how they felt treated by the French government's enforcement of COVID-19 mandates, the AP reported.
"I didn't post this to get 'views' or 'followers', I had both of those things before posting this video," Kelley told Newsweek. "I feel like anyone who cares about others would stop and say something about an offensive flag like that. It's not okay and especially in today's age, we need to spread more love and compassion."
According to the footage, Kelley chimes in and asks one of the protesters if they consider themselves pro-life.
"I like living," the voice responds.
"Would you consider yourself pro-life and then anti-vaccine, that's kind of an oxymoron, don't you think?" Kelley asks.
"No, that's what Big-Pharma has taught us over the years," the protester says, who never appears on camera.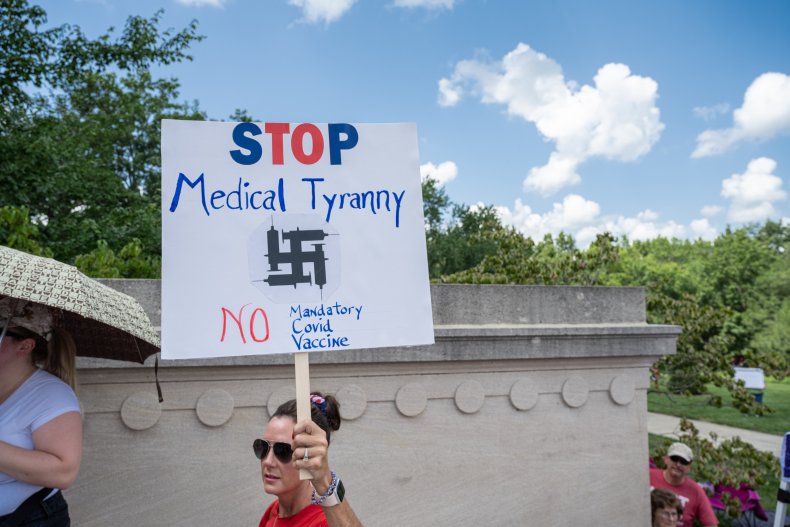 The protester then discusses other diseases such as polio and cholera. They say the reason no one in the U.S. dies of cholera is not because of a vaccine but rather because "we don't defecate in our water anymore."
Kelley asks the protester if they studied science in college or was an expert or doctor of any kind.
"I try to educate myself," they responded and then encouraged Kelley to do research on YouTube.
Toward the end of Kelley's video, another voice from off-camera asks: "Are you intentionally trying to be provocative?"
"Of course. Just like everybody — if you want to be heard, you can't just sit there and hide."
On Monday in New York, a protest against vaccine mandates that started at the New York City Department of Education's (DOE) headquarters turned unruly, Newsweek previously reported.
The department recently mandated all employees to receive a COVID vaccine, though it is estimated that up to 8,000 have refused and will be left without a job. After reaching Manhattan and arriving at Union Square, video captured participants flipping the tent of a mobile COVID-19 testing unit.
As of October 5, 186.1 million people in the United States are fully vaccinated according to the CDC — which is 65 percent of the U.S. population.
Updated 10/06/2021, 9:42 a.m. ET, to include the location of the demonstration as well as a comment from Kelley.