TikToker Confronts Man Ripping Down Flyers for 'Stop Asian Hate' Rally
On Sunday, a youth-organized march and rally took to the streets of Mountain View, California to protest hate crimes committed against members of the Asian American and Pacific Islander (AAPI) community.
However, one TikTok user, known on the app as RayahSunshine, claimed to see a man taking down flyers advertising the event, as documented in her now-viral post.
"So this guy right here ripped off these flyers," RayahSunshine says, along with an on-screen caption that reads, "I caught a racist in the act, ripping down flyers for the Stop Asian Hate rally today."
Flipping her camera, she films inside a nearby trash can to show the discarded flyers. "See, right there," she says. "What a jerk."
Deciding to confront the alleged wrongdoer, she approaches him as he is getting into the passenger seat of a car.
"You really should be ashamed of yourself, ripping off those flyers," she says. "I saw you."
"What?" responds the man.
"You should be ashamed of yourself," she repeats. "I saw you rip those flyers off of there."
"Who are you?" asks the man, arguing back. He appears to reprimand her for "telling other people what to do."
"You should've left your hands off of those," RayahSunshine says. "Those aren't your flyers. Go to hell."
"Stop telling other people what to do," the man appears to say again, pointing his finger at her.
The conflict continues."F*** you," RayahSunshine says to the man. "You have hate in your heart."
At this point, the man is inside the car, and an unnamed woman begins driving them away.
RayahSunshine offers him a warning, telling him to "wait until this goes viral." Meanwhile, the man appears to make mocking faces at the camera.
"So sad to see this happen in my community," reads the on-screen text.
At the end of the video, RayahSunshine highlights the flyers that the man reportedly took down. They feature an illustration of Pak Ho, a man who was murdered in Oakland on March 11. It also includes information on where and when to meet, as well as the instructions, "Bring signs, bring flowers."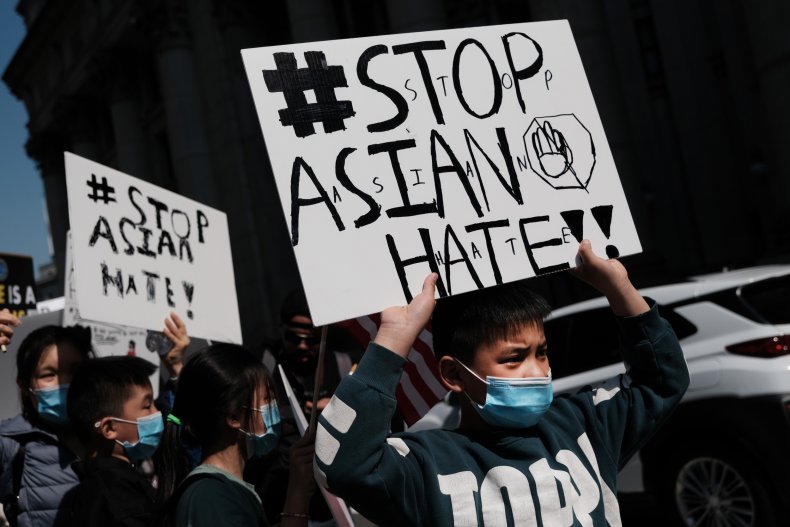 RayahSunshine's video has been viewed over 65,000 times and counting. Thousands of commenters have shared messages of support, and many have thanked her for speaking out.
"Not everyone has the courage to confront this type of offense! Thanks for caring and speaking up!" wrote user @johnli40.
"Thank you for confronting him," echoed @lecarpsicle. "It helps to have allies, that's when progress happens."