Mother of two, Brittany Bright, is defending her decision to hire a "postpartum nighttime doula" to help take care of her newborn son.
Commenters on Bright's initial TikTok posted in November were quick to offer their two cents about the mother's decision to receive help in this capacity. While some criticized the decision, saying Bright will "miss bonding time" with her son, others applauded the decision saying it showed "a mother investing in herself so she can be the best mother possible for her son." The video has been viewed over 6 million times.
A common term for caretakers hired to help overnight is a night or baby nurse which "can be the difference between joy and despair during the first few weeks of new parenthood," said pregnancy advice website whattoexpect.com.
A night nurse typically works overnight and helps with many aspects of baby care from feeding to bathing to "encouraging regular sleep habits" while the parents try to rest.
Bright explained in an email to Newsweek that while many people thought she was mislabeling her "nighttime doula," she said what's different in her case is that a "doula" cares for more than just the baby, they also help care for the mother.
Bright explained in a follow up video that she hired her doula for "three phases," which all in all will cost her $5,700. She said pricing will depend on location, services needed and if insurance or medicaid will help offset the costs.
Bright said their doula began working with them while she was still pregnant: attending doctor's appointments and being on call for her if there was anything that came up. The second phase was sibling care, which meant the doula came and took care of their first child when it was time to go to the hospital for the birth of their son. The last phase is postpartum where the doula is there for the family day or night, at $27 per hour.
Bright told Newsweek in an email that for the postpartum phase her doula was hired for 12 weeks but explained that the contract covered a certain amount of hours so by the time they had used them all up, their son, Maddox was 11 weeks old.
In the initial video that went viral, Bright showed her nighttime routine getting her son prepped for the doula's arrival—which only happened two nights a week. Around 7:30 p.m., she started by making sure her son was clean and prepped overnight bottles. Around 8:00 p.m., she said, the doula arrived and at which point she "retreats to her bedroom." From 8 p.m. to 6 a.m. she was "free of all children."
In one follow-up video, Bright explained that she decided to hire a postpartum doula after her experience with postpartum depression after her first son was born. She said while she had "all the support in the world," there were times where her family was not equipped to deal with the depression she was experiencing.
Bright responded to a few supportive comments with videos shining more light on her experience with a nighttime doula, though decided to respond to one comment that was critical of her decision.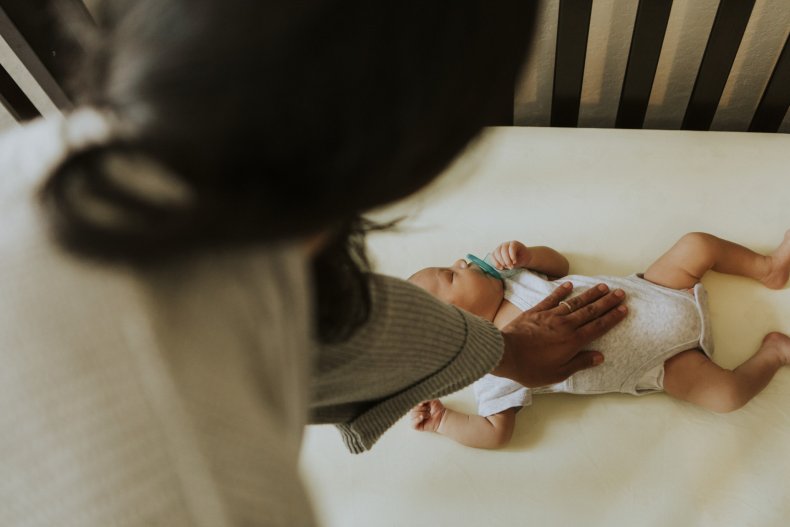 "I have no family in here. [J]ust me and my husband. I went through hell mentally but still could take care of my kids without others. [T]hat's your job," the comment read.
"I am not going to defend who I am as a mother because I know who I am as a mom, and everyone around me knows who I am as a mom," Bright said. "This video is actually for other moms."
"Motherhood is not rooted in struggle, it's not a competition to see who struggles the most and what makes them a better mother," Bright continued.
She said while the narrative is that "mental health matters" and that "it takes a village" to raise a child, when someone follows through on that narrative it's viewed as "controversial."
"I'm proud of myself for asking for help," she said.
Bright told Newsweek that for the most part, she's enjoyed the reaction to the videos.
"A lot of people think that I'm offended or upset by the backlash, but I'm not," she said. "I've been on social media for a long time, and I'm used to seeing people make up false narratives [and] quickly judge before they know the full story—so it's nothing personal against me, that's just how people are."
She said the positive responses, however, have been overwhelming—"in a good way."
"It started a much needed, long overdue conversation about how Black women should prioritize our mental, physical, and emotional health in postpartum, just due to the fact that we're three to five times more likely to die from pregnancy, childbirth and maternal-related complications," she said.