TikToker Leaves 'Surprises' for 'Creepy Manager' Giving Tours of Her Apartment in Viral Clip
A woman took to TikTok this week to call out her "creepy apartment manager" for giving tours of her home without permission. Beyond calling him out, TikToker @trashy_taylor showed what she did to hopefully dissuade the surprise visits.
In the video, which has now been viewed over 218,000 times, she showed the various props set up around the apartment varying from a large container of insect killer to a recipe for a "revenge spell."
Earlier this year another TikToker went viral for "sabotaging" her own landlord's apartment showings. As previously reported by Newsweek, @cornchipsandcorgis began sharing footage of her living situation after learning of her landlord's plan to raise rent.
In both the initial video and the follow-up, @cornchipsandcorgis took her followers through her home showing everything from cracked walls to moldy door frames.
At the start of @trashy_taylor's video, she showed a screenshot of a text message seemingly from the apartment manager that says "...looks like I may stop by tomorrow around 9-9:30am, we had a guy ask for a quick showing of your place. see you later!"
In text written over the screenshot she wrote, "our creepy apartment manager always gives tours of our apartment without our permission."
In the comments the TikToker responded to people asking for more details about the last-minute visit.
"Are they giving you 24 hours? Most states that's all they have to give," one commenter wrote to which the TikToker responded "nope."
In another comment the TikToker explained that she is not set to move out until the end of July.
Another commenter pointed out that the text shown was giving the tenants a head's up.
"It's just annoying and the tenants last year were[sic] able to say if they could do tours or not at their apt but we didnt[sic] get that choice at all," @trashy_taylor responded.
"He has never gotten permission if it was okay he just says she is going to show up and its[sic] usually the next day," she continued.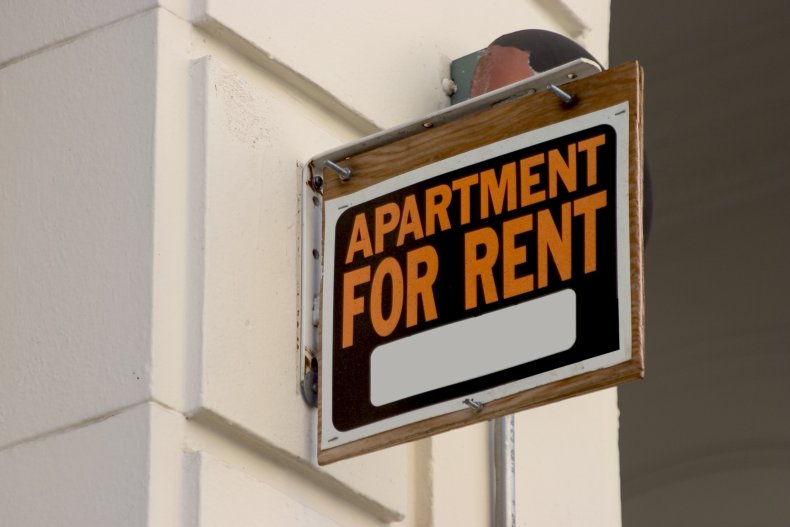 According to Apartments.com, though laws vary state to state about how much notice a landlord needs to give a tenant before entering the property, a common requirement is 24 hours.
As the video progresses, the TikToker showed all the props she left out for the apartment manager to see while giving the tour. In addition to the insect killer, she also printed out a recipe for homemade cockroach bait and hung it on her freezer as well as a letter to pest control.
She also decided to leave some personal hygiene products out on the counter of the bathroom as well as a note that read "Pick up hemorrhoid cream" on the mirror.
"I don't have hemorrhoids," she wrote in text over the video.
At the end she showed footage of her researching and printing out the recipe to a spell that she appeared to leave out as well.
Newsweek reached out to @trashy_taylor for comment.