TikToker Shows Off Outfits to Get Out of Jury Duty in Video with 2.1 Million Views
Jury duty is often seen as an inconvenient task that requires the participation of millions of Americans. One TikToker filmed a video that has since garnered more than 2 million views of her trying on various outfits that would dismiss her from jury duty. A subsequent video showed that it worked and she was sent home.
"Hey besties, I have jury duty in the morning. Just found out I literally have to show up," said Mia Graves, who goes by the username @miagravess. "I've pushed it off twice, and I do not want to go."
Her goal was to put an outfit together that would send her home.
Option one's theme was described as, "menace to society."
An oversized shirt had the words "I love shoes, booze and boys with tattoos" printed across the front. She paired it with biker shorts, pink Crocs accessorized with Jibbitz and a matching pink claw clip.
"I think that just screams that I have terrible judgment and shouldn't be a juror," Graves said.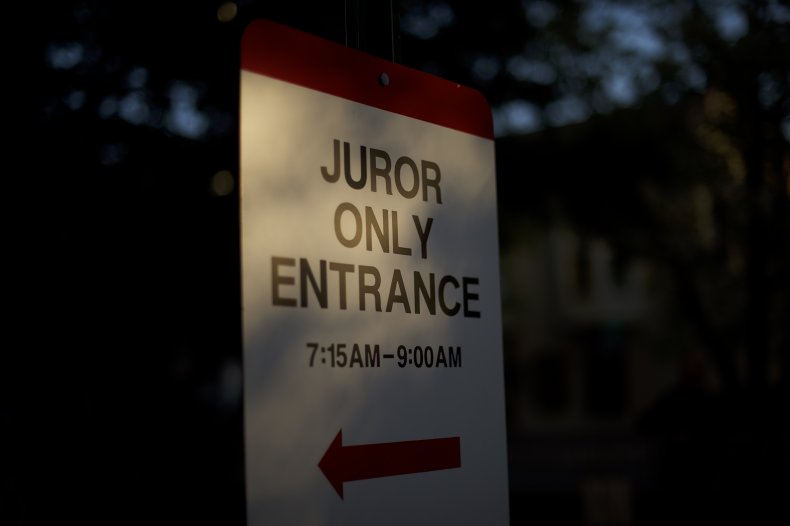 The goal of the second outfit was to be a "walking distraction." A lowcut red top was paired with denim shorts and cowboy boots. She said she would adopt a southern accent if she decided to choose that outfit and toyed with the idea of adding a blue cowboy hat.
"I think this kind of screams 'She should not make any decision for America, at all, even though she represents it well,'" Graves said with a laugh.
The third option was inspired by Elle Woods with the intent to intimidate people. She wore a blazer, black pants and a white blouse.
The final option was described as disheveled, featuring a fraternity top, leggings and slippers.
"The idea is that I do not look like I want to be here," she said.
She ended the video laughing, asking for people to comment on which outfit she should wear for jury duty.
Fellow TikTok users shared their opinions on the outfits.
"I am a paralegal and if you walked in during my jury selection I would CACKLE...so good job on the outfits," one commenter wrote.
Another viewer suggested that Graves replace her claw clip with a chip clip.
"The way you sat and thought all these out and explained has me screaminggggg," said another viewer.
She later explained in a comment that the reason she didn't want to sit on jury duty was that it was her last week at work and she was in the midst of a move.
Evidently, her strategy worked and her follow-up video, which has 3.5 million views, shows Graves walking with, "When you get sent home from jury duty besties the plan worked" written over the video.
She decided to go with her first option and her caption stated that the judge told her that she was free to go.
Ironically, Graves told Newsweek she is currently in school and hopes to pursue a career in law. She said although she wanted to participate in jury duty, she did not have the time to dedicate to it this week.
Graves said she typically FaceTimes her friends when choosing an outfit, but since going to school and getting older, it has been difficult to hop on a call. She didn't expect her video to go viral and almost deleted it when it was at 35 views. At the advice of her friend, Graves left it on her page.
She received many comments telling her that the video was disrespectful, but Graves' intent was to make others laugh about an otherwise mundane task.
"Part of adulthood is dealing with minor inconveniences," she told Newsweek.
Having the judge send her home was the cherry on top for Graves, though, with a laugh, she said she hopes no one took her video as legal advice.
Updated 09/1/2021, 5:29 p.m. ET: This story has been updated with comments from Mia Graves, who goes by the username @miagravess.