TikToker Airlifted to Hospital After Stepping on Venomous Snake
A British TikToker has revealed how he was bitten by a snake on an Australian beach as he retrieved his crashed drone.
Benjamin Cramp and his partner were visiting Fraser Island in the northeastern state of Queensland when he ran into the unfriendly local.
As he explains in his viral video, the couple had rented a truck to visit the beach. They set up camp overnight and woke early aiming to film the sunrise.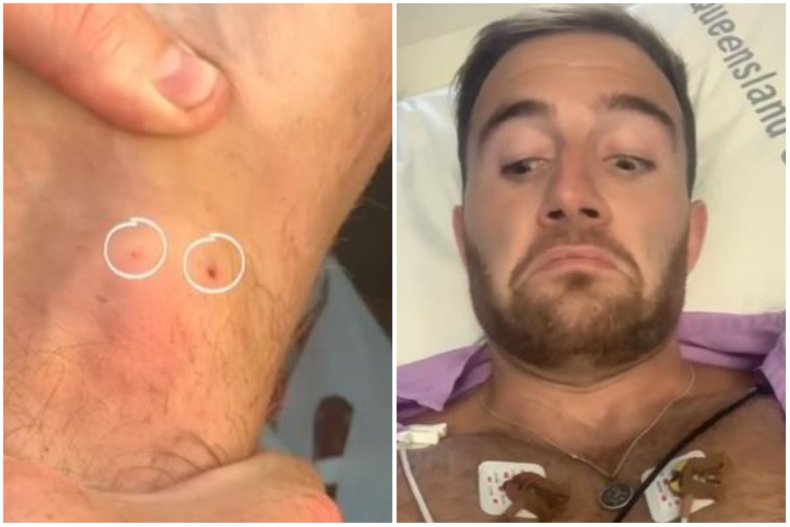 While recording, Cramp crashed his drone into a tree—and had to climb up the grass-covered dunes to retrieve it.
Walking back to the truck, Cramp said: "I stood on something dark, and I felt something hit my ankle. I got back to the truck and saw the fang marks and then it sort of sunk in what had happened.
"We had no signal, but these legends [other visitors to the island] bandaged me up and rushed me down the beach. As soon as we reached signal, they sent the helicopter in."
Cramp continued: "They checked out the bite and then took off immediately. Not too bad, though. I got a free helicopter sightseeing tour of Fraser Island."
His video, which can be seen at the top of this article, has been watched more than 4 million times in four days on TikTok.
Many of the Australians who commented on the clip pointed out that Cramp had not followed "snake safety" procedures.
A user called Peppa Pig said: "From an Aussie, don't walk in the bushes."
ThatAustralian added: "On flights to Australia, they should play a video on how to survive Australia."
Ms. Aquarian posted: "Better story than my snake bite. Mine came out of a dishwasher."
The Queensland Department of Environment and Science explains on its website that there are 12 "potentially dangerous" species of snake in the state, but bites are rare. It says: "If you see a snake, the best way to avoid being bitten is simply to leave the snake alone."
The department also recommends wearing boots and trousers, rather than sandals and shorts, when bushwalking and adds: "Be aware of where you are placing your feet. Do not put hands or feet in or under logs, rocks, hollows, crevices or debris without checking first that there is no snake there."
Health authorities in Australia say any snake bite should be treated as potentially venomous and the person bitten should seek emergency medical help.
The government website Health Direct recommends these first aid steps:
Get the person away from the snake.
Ensure they rest and help them remain calm.
Call 000 and ask for an ambulance.
Apply a pressure immobilization bandage.
Don't wash the bite area—venom left on the skin can help identify the snake.
It adds: "If you can't use a pressure immobilization bandage because the bite is on the trunk or stomach, apply constant, firm pressure. Do not apply a tourniquet, cut the wound or attempt to suck the venom out."