TikToker Tracks Down Stolen Christmas Inflatables in Video Viewed Over 8M Times
A TikToker went viral after chronicling their attempt to find their stolen Christmas inflatables after they put AirTags on them that pinged their location.
Nyssa, who goes by @latoxicanys on TikTok, posted the video on Tuesday which received more than 8.2 million views.
"Putting these bad boys on my Christmas inflatables because my neighbors were stolen over the weekend," the text read over a photo of newly purchased AirTags.
According to Nyssa, the three large inflatables that sat in her front yard were stolen from her yard at approximately 2 a.m. Nyssa said that since she put Apple AirTags on all of the inflatables she was able to track the location of the stolen decorations.
An AirTag is an accessory made by Apple that can attach to any belonging and track its location. Commonly, AirTags are attached to car keys, cell phones, wallets, and other important belongings.
The AirTag pings its location using Bluetooth technology and sends an exact location to the Find My app on their phone or computer. Utilizing nearby iPhones, the Bluetooth technology is able to ping an exact location that shows up on the app.
"We went to the address of the trackers and called the cops," Nyssa explained in the video.
She also explained in the now-viral video that the cops were unable to do anything about the stolen inflatables. She also said that when she got to the location of the inflatables, she said she found a ton of other large Christmas inflatables around the apartment complex.
"These are all stolen inflatables we came across," Nyssa claimed.
More than 11,500 users commented on the video, many of them telling Nyssa to just steal her inflatables back without involving the police.
"First mistake was calling the police," one comment said which received more than 147,400 likes. "Just pull up and get your belongings."
Nyssa replied to the comment with an update video and said that she was able to retrieve her large Grinch inflatable.
"Grinch is back. Put trackers on yalls inflatables," the on-screen text read.
Another top comment on Nyssa's video mentioned that her security cameras most likely picked up the thief walking up to the front yard.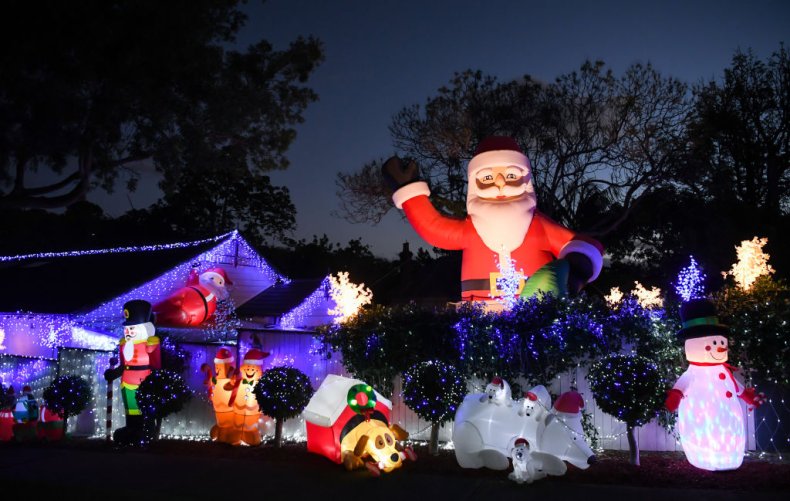 Nyssa replied with the security footage with the caption "footage of the tweakers stealin from my yard."
The video showed two individuals walking into her front yard and grabbing the inflatables. The video ended before the two thieves left the front yard with the stolen inflatables.
In the comments section, many users questioned why the police were unable to do anything about the stolen decorations. But Nyssa explained that when they arrived at the scene, the people wouldn't open their door.
"They couldn't just go busting down their door," Nyssa mentioned in the comments.
Newsweek reached out to Nyssa for comment but did not hear back in time for publication.