TikToker Urges People to Get Vaccinated in Final Video, Dies of COVID Days Later
In her final TikTok video, recorded from her hospital bed, 31-year-old Alexandra Blankenbiller told people she had contracted COVID-19 and wasn't vaccinated. She urged viewers to get vaccinated. Nine days later, she died of the illness.
Blankenbiller, a Florida-based TikTok creator with over 15,600 followers, posted her final video on August 15.
"I don't have a lot of energy for talking, so I'm going to try to make this quick," she begins, speaking in a faint voice and wearing a hospital gown. She explained that she didn't get vaccinated, though she says she's not "anti-vax."
"I was just trying to do my research," she continued. "I was scared, and I wanted me and my family to do it all at the same time. And as I'm sure you guys know, it's hard to get everyone to agree on something if people feel differently."
"So I do think it was a mistake," she continued. "I shouldn't have waited. I think if you're even 70 percent sure that you want the vaccine, go get it. Don't wait. Go get it. Because hopefully, if you get it, then you won't end up in the hospital, like me."
Blankenbiller, her mother and two sisters actually scheduled a time to go and get vaccinated together, her sister Cristina Blankenbiller told WebMD. However, Alexandra Blankenbiller fell sick with the virus before her scheduled appointment.
When Blankenbiller first went to the hospital on the morning of August 13, she recorded a video of herself looking concerned. In the video, she remains silent and looks off into the distance as she hears a woman screaming inside another hospital room.
The screen overlay text on the video simply reads, "Well f**k". As of September 7, the video has been viewed 5.1 million times. It is by far her most-watched video.
"I've been here since for early Friday morning," she said in a video dated August 14, "and all I've been hearing are the moans and screams of people in pain, people, I'm assuming they have lost people that they love, because I know what that's like personally, and what that sounds like."
In the video, she includes an image of a TikTok commenter who wrote her, "Sounds like a kidney stone. Fear mongerer."
By August 24, she had died.
Her Twitter bio referred to herself as a writer, actor and a "Badass Big Girl." She was a member of the Jax Treblemakers, a local a cappella group. She also helped work on local films.
"Alexandra Blankenbiller was one of the most loving, genuine, talented, and hilarious people I have ever had the pleasure of knowing," her friend Ashley Louise wrote in a public August 24 Facebook post.
"My heart is in pieces," Louise's post continued. "Please pray for her family and friends. And go get your damn shot."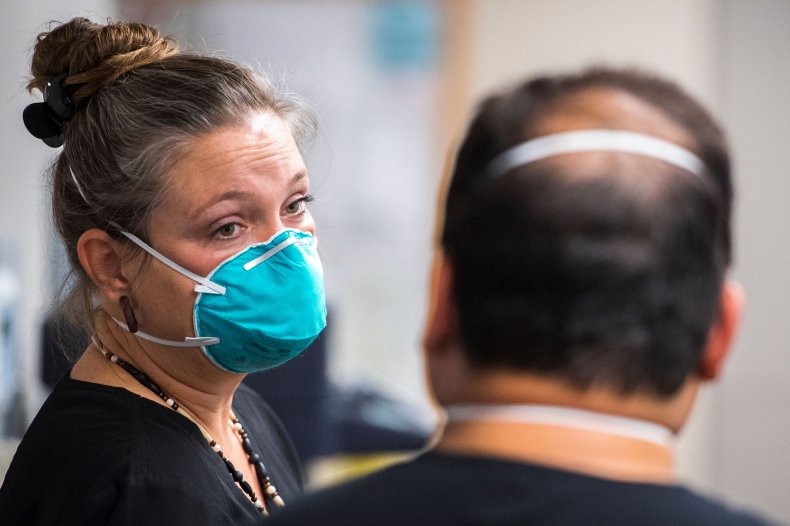 From August 27 to September 2, 621 people between the ages of 30 and 39 died of COVID-19 in Florida.
The state's COVID-19 deaths have risen sharply. The state's previous highest daily toll of deaths was 272 on January 22. Since the start of July, the state has broken that record 13 times, according to The New York Times. The state's new highest daily toll of deaths was 1,338 deaths on September 2.
As of September 2, Florida is ranked 20th among U.S. states with the highest vaccination rates. Nearly 53.4 percent of its eligible population has been fully vaccinated.
People adverse to receiving the vaccine often fear negative health effects, feel suspicious of medical authorities or haven't had their concerns addressed by them, Heidi Larson, director of the Vaccine Confidence Project at the London School of Hygiene and Tropical Medicine, told Nature.com.