TikToker Who Accidentally Swallowed AirPod Shares Aftermath in Viral Video
A woman's video explaining how she accidentally swallowed one of her Apple AirPod Pro earbuds recently went viral, garnering more than 2 million views.
The user, who goes by iamcarliiib on TikTok, shared a video that showed herself crying to the camera as she explained that was holding one of her earbuds and an ibuprofen painkiller. She said she meant to put the earbud in its case nearby but put the wrong object into her mouth.
"I threw something back and took my water bottle, took a sip then realized it wasn't ibuprofen," she said through tears. "I tried puking it up and it won't come out and I'm f*****g losing my mind."
The TikToker posted a few follow-up videos after the original video. She showed a screenshot of a notification she received that stated an earbud was moving with her even after she disconnected the AirPods from her phone.
Not long after she swallowed the earbud, iamcarliiib said she had an X-ray that revealed it was passed out of her system.
"I had a feeling it had, I just wanted to make sure," she said.
Verywell Health published an article about swallowing foreign objects. The piece stated that while it is not uncommon to accidentally swallow a foreign object, there are some objects that may cause harm to the body.
If an individual did not see for themselves whether they swallowed an object, they may experience a number of different symptoms, including difficulty swallowing, vomiting or drooling and stomach pain. The type of object that adults most commonly swallow, as reported by Verywell Health are bones from food and dentures.
When someone swallows a foreign object, the outlet writes the individual should seek medical attention. Conducting X-rays or CT scans will give doctors a clearer idea of where the object is and if it poses a risk to the individual.
"Most of the time, adults can be observed to see if the foreign body will pass on its own (and in 80 percent to 90 percent of cases, it will)," the piece stated. "However some cases will require medical intervention."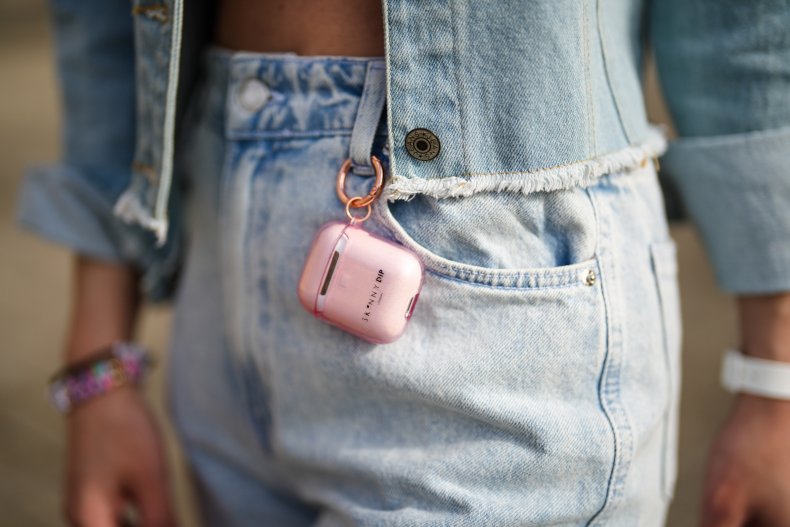 Many of the commenters were hooked and were curious to learn how iamcarliiib managed to swallow the earbud, pointing out the size difference between it and the painkiller. Some joked about the situation and suggested that she play some music.
"I'm absolutely gonna turn the volume to max and have the dopest internal speaker of all time," a viewer wrote.
"My throat barely allows me to swallow a pill let alone an AirPod omg," another commenter wrote.
A few people wrote their grandparents have had mishaps in swallowing foreign objects.
"My grandpa has eaten like four hearing aids because he puts them in cups when he goes to take showers lol and he's lived!" a TikTok viewer said.
Newsweek reached out to iamcarliiib for further comment but did not hear back in time for publication.