TikToker Who Helped Find Gabby Petito's Body Describes Encounter with Brian Laundrie
Jessica Schultz, the TikToker who helped legal authorities find Gabby Petito's body, has described her encounter with Brian Laundrie, Petito's fiancé. Laundrie and Petito were travelling cross country when Petito initially disappeared.
In a TikTok video, Schultz said she saw Laundrie parking his white 2012 Ford Transit van on August 26 at Spread Creek, a creek in Wyoming's Grand Teton National Park. Schultz and her friends were camping in the area from August 22 to August 29.
"I'm 100 percent certain that I did see [Laundrie] parking his van," Schultz said. "He was very kinda awkward and confused, and it was just him. There was no Gabby."
Schultz said that she initially drove around Laundrie's van while trying to pass his vehicle in a one-lane roadway within the park.
"He made me drive out of the road to go around him, so I thought was just really weird," she continued.
She said she took particular notice of Laundrie's vehicle because she is a fellow Van-lifer. A van-lifer is someone who lives in their van, either part- or full-time. They often convert their vans into tiny residences with beds, toilets, kitchens and other comfortable amenities.
Laundrie's vehicle also stood out, she said, because it wasn't parked in one of the usual spots designated for long-stay vehicles.
"His van was not in a real spot, so I figured they'd get booted by the people that patrol the area," she said in a follow-up TikTok video. "But the van was there for several days and nights, and it did not get booted."
"The weirdest part about it was that there was no indication that there was anybody actually at the van," she added. "Usually, small van people have their doors open, they're outside on a hammock or something. But we didn't see any signs of actual life at the van."
Schultz later told FBI that she had seen Laundrie in the area. Her tip led to the discovery of Petito's body.
Schultz said an FBI agent called her hours before authorities announced that they had found human remains in Spread Creek. Those remains were later declared as Petito's.
The TikToker said that the agent told her, "I've talked to hundreds of people, but you guys are the ones that really tipped us off to the right place, so thank you."
She said that while she felt "triumphant" about helping locate Petito's body, "It's not something you like to be right about."
"It's been emotionally exhausting for sure," she said, according to Radar Online.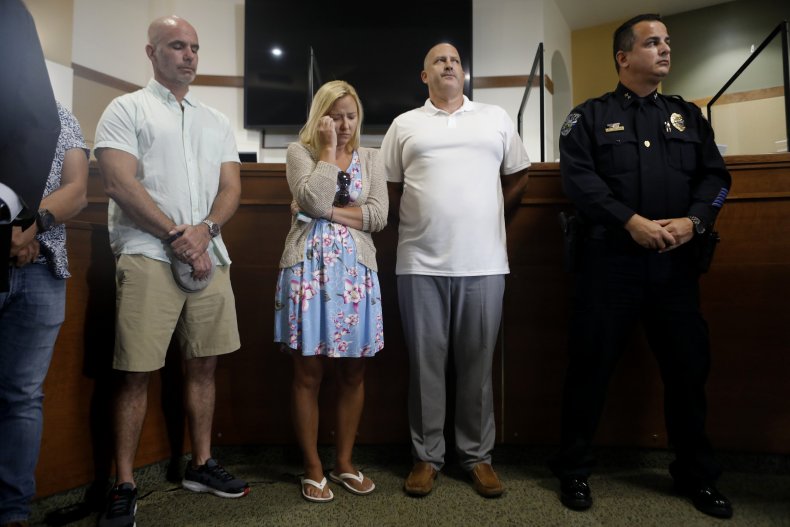 Laundrie is a person of interest sought by police in the matter of Petito's disappearance and death.
Petito's family reported her as missing on September 11 after Laundrie returned home from a weeks-long road trip in the couple's van without her, on September 1. The last time the family heard from Petito, she and Laundrie had been visiting Grand Teton National Park in Wyoming.
Her body was discovered on September 19. Two days later, the FBI ruled her death a homicide following an autopsy.
A major search is underway for Laundrie, who hasn't been seen since September 14. His parents told police that he had said he was going hiking in the 24,500-acre Carlton wildlife reserve near the family's Sarasota County home. Laundrie is considered a "person of interest" in the case but hasn't been charged with any crimes.
Newsweek contacted the FBI for comment.