'Til Death Do Us Part: Can 'Life Partners' Reinvent the Romantic Comedy?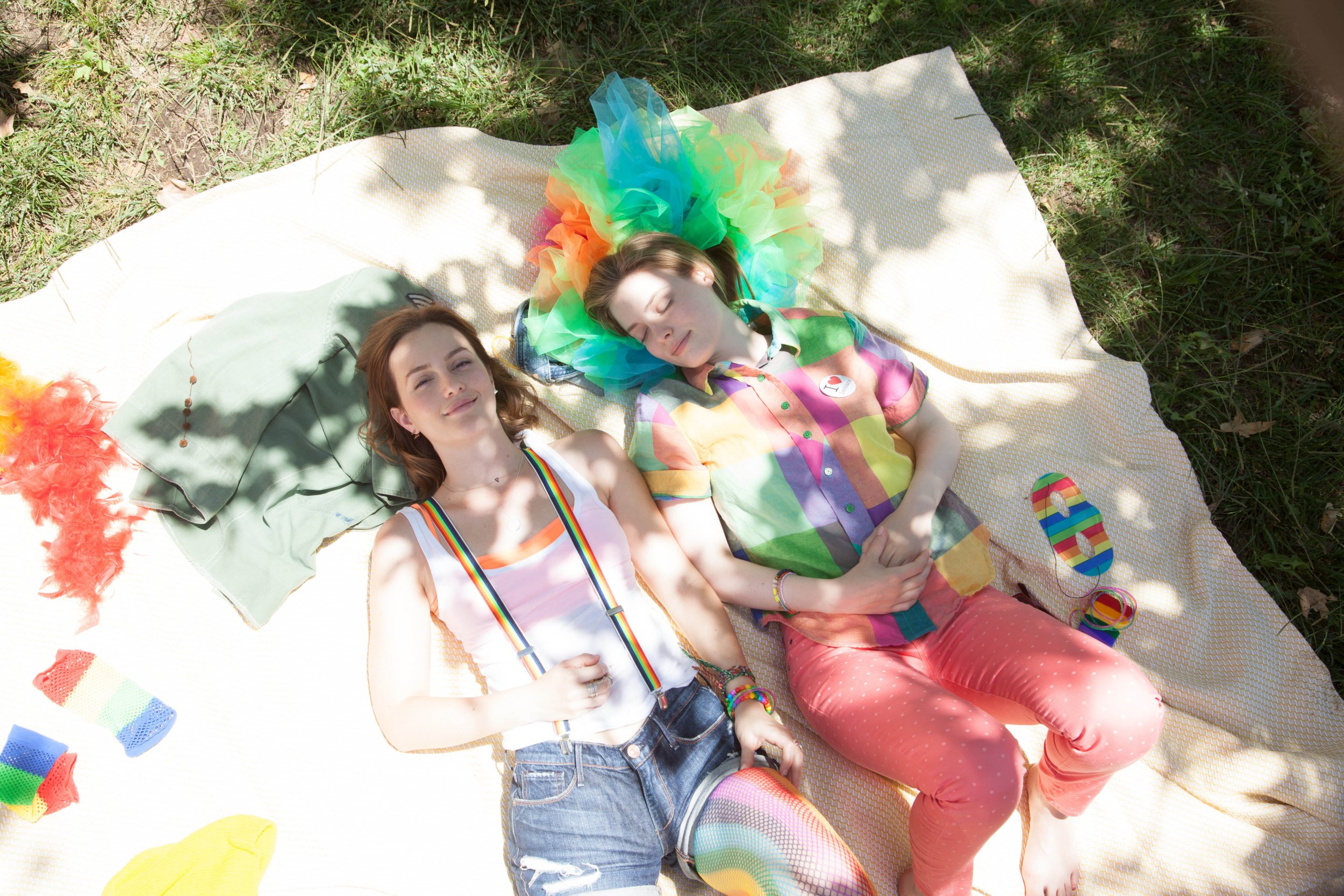 Romantic comedies are often laden with lazy character tropes—the woman bemoaning being forever alone, the ambitious woman who still yearns to be validated by a man—and unrealistic portrayals of relationships. It is a popular genre, though, and with a little reinvention it can be a space to tell true, gritty, messy stories about love. I am interested in more romantic comedies—written by women—that accurately portray how women act in a relationship. There is also a dearth of romantic comedies (written by gay writers) that examine the intricacies of gay relationships. Above all, there is a dire need for romantic comedies where the man does not wedge himself romantically between two female friends, or spark jealousy between them, or an awkward love triangle.
This is where the new film Life Partners comes in. The indie romantic comedy, written by writing partners Susanna Fogel and Joni Lefkowitz, is the story of two best friends, the headstrong Paige (Gillian Jacobs) and the bohemian Sasha (Leighton Meester), who are each other's spiritual and emotional life partners. As best friends, they act the way one might with a spouse, with the passive-aggressiveness and unconditional love that comes with it (Paige even has Sasha labeled in her phone as "Husband"). But Life Partners, which released in select theaters on December 5 and is currently available on VOD, is a case study of the intensity and intimacy between two women who have committed to each other, and how their friendship frays when one of them finds a romantic partner.
Paige identifies as straight and Sasha does as a lesbian, but their sexualities are almost an afterthought. There is no coming out narrative for Sasha, or soul-searching of her sexuality, or realizing she's secretly in love with her best friend. That's not to say Life Partners isn't about identity, but it isn't questioning who we are and why we befriend people either. "I hate everyone but you—we're screwed," Sasha sighs at the beginning, as the two browse through potential suitors and suitoresses on Tinder while lounging around in bed.
Adam Brody, Meester's real-life partner, plays the Big Lebowski-loving Tim, whom Paige meets on Tinder and eventually becomes engaged to (refreshingly, the film shows the frustrations of making a genuine connection with someone over a smartphone dating app). Tim doesn't function as a romantic accessory inLife Partners, nor is he the focus of Sasha and Paige's relationship. He isn't part of a romantic triangle either, and is instead the catalyst that forces the two of them to grow up. Paige learns to admit that she is wrong, and Sasha stops dating self-centered jerks while re-evaluating the dream of her former self to be a musician.
Brody tells me over breakfast that the inspiration for his Tim character came from his real-life brother, "a biochemist hippie in Cincinnati, very anti anything modern, very counterculture." When he tells me that it was liberating to play someone with terrible facial hair, I get the sense that it was refreshing, too, to not be typecast as the sarcastic fellow reminiscent of his breakout Seth Cohen role on The O.C. The film is also a leap for Meester, who played the leading role of Blair Waldorf on the drama series Gossip Girl, but she nails the sardonic, troubled Sasha in a way that makes me reflect on specific people I've known in the past.
The real tension driving Life Partners is classic: how hard it is to navigate change and grow up. Both Sasha and Paige are pushing thirty, which is the time society has deemed we must get our shit together and start to settle, career-wise and romantically. Throughout the film, Sasha grapples with her antiquated dream of "making it" in the music biz (whatever that means anymore) and is still supported by her baby boomer parents, while the stubborn Paige is a lawyer, and predictably, can never see the other side of the argument.
Life Partners began as a one-act play that Fogel and Lefkowitz wrote back in 2011. Fogel, who directed the film, said in an interview with Newsweek that a pact underlied the then-strongly political piece: two best friends, one of them identifying as lesbian and the other as straight, strike up an agreement that neither of them will get married until gay marriage is legalized. Fogel and Lefkowitz, a straight-identifying and lesbian-identifying pair of best friends, respectively, said the two conceptualized the idea after discussing the awkwardness that might happen if Fogel were to get married and Lefkowitz, the obvious choice for the Maid of Honor, wouldn't be able to.
The pair workshopped the first draft at the Sundance lab, and read with the likes of Kristen Bell and Lizzy Caplan, who were both at one point attached to the film. They settled on Gillian Jacobs, who they had had a relationship with in a previous project for HBO, for the role of Paige. Fogel, who is an unabashed Gossip Girl fan, cast Meester as Sasha upon meeting her, because she thought "it would be really exciting to cast the same actress who played Waldorf as a tomboy lesbian, and do a really good job at it."
Coincidentally, the rough cut of Life Partners showed the day the Defense of Marriage Act (DOMA) was overturned by the Supreme Court, on June 26, 2013. The cast and crew—almost entirely women, many of them lesbians—celebrated. But Fogel says it also presented a problem: They had already made a movie, and this caused the central plot point, the marriage pact between the two friends, to be obsolete. So then they edited out the political narrative underlying the film. The world of Life Partners is a post-DOMA one, a period piece where the pair don't have to fight against political inequalities that prevent gay marriage, and instead opens with Pride, the ultimate celebration of union.
Life Partners is part of a crop of contemporary films and television comedies, including Sandra Bullock–Melissa McCarthy buddy comedy The Heat and the Amy Poehler–produced Broad City among them, that are hyper-real: just two women, often identifying as queer, understanding themselves and their relationship by getting into trouble, or falling in love, and just being human. The two don't solely talk about boys, don't do crazy diets, don't pick fights. It feels real and genuine.
Gillian Jacobs tellsNewsweek that the landscape for comedy right now is the strongest it's ever been. "I'm feeling pretty good right now. I've met so many women—Aidy Bryant and Kate McKinnon, who is the bee's knees, Tig Notaro, who is an incredible performer. I'm really excited to say that I can say that I have a long list of women who are killing it at comedy," she says. Meester echoes this when we chat later, saying: "I've seen a handful recently that are totally new crop of awesome, cool complex female characters. I only want to make films where a woman can stand up alone and that the end all be all isn't within a man or a woman."
By focusing on the friendship between two women, Life Partners rejects the trend of bro-y male comedies popularized by the Frat Pack, and depicts the necessary difference between male and female friendships. "It's typical of a lot of female friendships that you can be extremely supportive and close and loving, and at the same time, co-dependent, sort of insecure is a big part of it," Meester says. It's true: female friendships have a vulnerability and intimacy that male friendships often don't, which the film brings out in Sasha and Paige's relationship. It's less about eros, erotic love, and more about philia, brotherly (in this case, sisterly) love. Life Partners premiered at Tribeca Film Festival this past spring, where Brody says the film "killed it—every joke hit!" and also at Outfest, a leading queer film festival that occurs annually in Los Angeles.
Fogel says that the indie world remains the primary space to make these kinds of freeing films, depicting real stories of love that analyze the complexity of female friendships and relationships. The space is widening to tell these kinds of stories, and the star-studded casting of this film in particular is helping bring these voices into more of a mainstream light. Life Partners might not be life-changing. But you will laugh, and you will think, and it will cause you to squeeze your life partner/best friend that much more in a bear hug. That's something to celebrate.