Tillerson Spent $12 Million for Private Consultants After Promising to Cut Back State Funding
Former Secretary of State Rex Tillerson reportedly spent roughly $12 million on private consultants on a project intended to make the country's diplomatic arm more efficient during his 13 months in office.
The project was titled the "Redesign" of the State Department. Tillerson obtained the funds by upping the final total of a previously agreed to federal contract with consulting and auditing firm Deloitte to $265 million, according to documents obtained by Politico.
Whether or not the project will continue under Tillerson's replacement, CIA Director Mike Pompeo, who has yet to be confirmed by the U.S. Senate, is unclear.
One of the main goals was to "implement a plan to restructure bureaus and offices and their reporting chain to improve efficiency," one of the documents read.
Tillerson's hiring of private consultants—as many as 90 of them—and using taxpayers' funds to do so heavily clashed with President Donald Trump's trimming of the department's budget and his overall goal of cutting government spending.
The president's federal budget proposal in February called for the State Department and the U.S. Agency for International Diplomacy's budget in 2019 to be cut to $39.3 billion, and Trump has repeatedly faced criticism for failing to properly staff some of the department's highest-ranking positions.
The consultants reportedly held meetings with high-up State officials and even prepared presentations and analyzed data, according to the report. And one former State official claimed Tillerson and his aides had "disdain" toward civil servants and other experienced officials who very much wanted to see reforms put in place.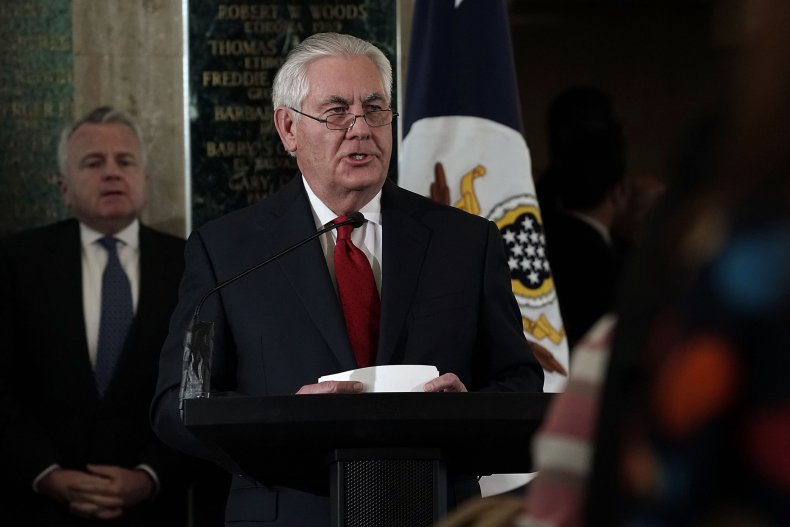 "I believe we must look into how taxpayer money was spent on this botched project and will continue to call for the committee to examine these issues in open hearings in the near future," Senator Bob Menendez of New Jersey, the ranking on Democrat on the Senate Foreign Relations Committee, told Politico in a statement.
The former head of ExxonMobil issued his farewell on March 22, just weeks after Trump had dismissed from his post.
"This can be a very mean-spirited town," Tillerson said. "But you don't have to choose to participate in that."