Tillerson Is 'Doomed' and Has 'Ruined' the State Department, Republican Says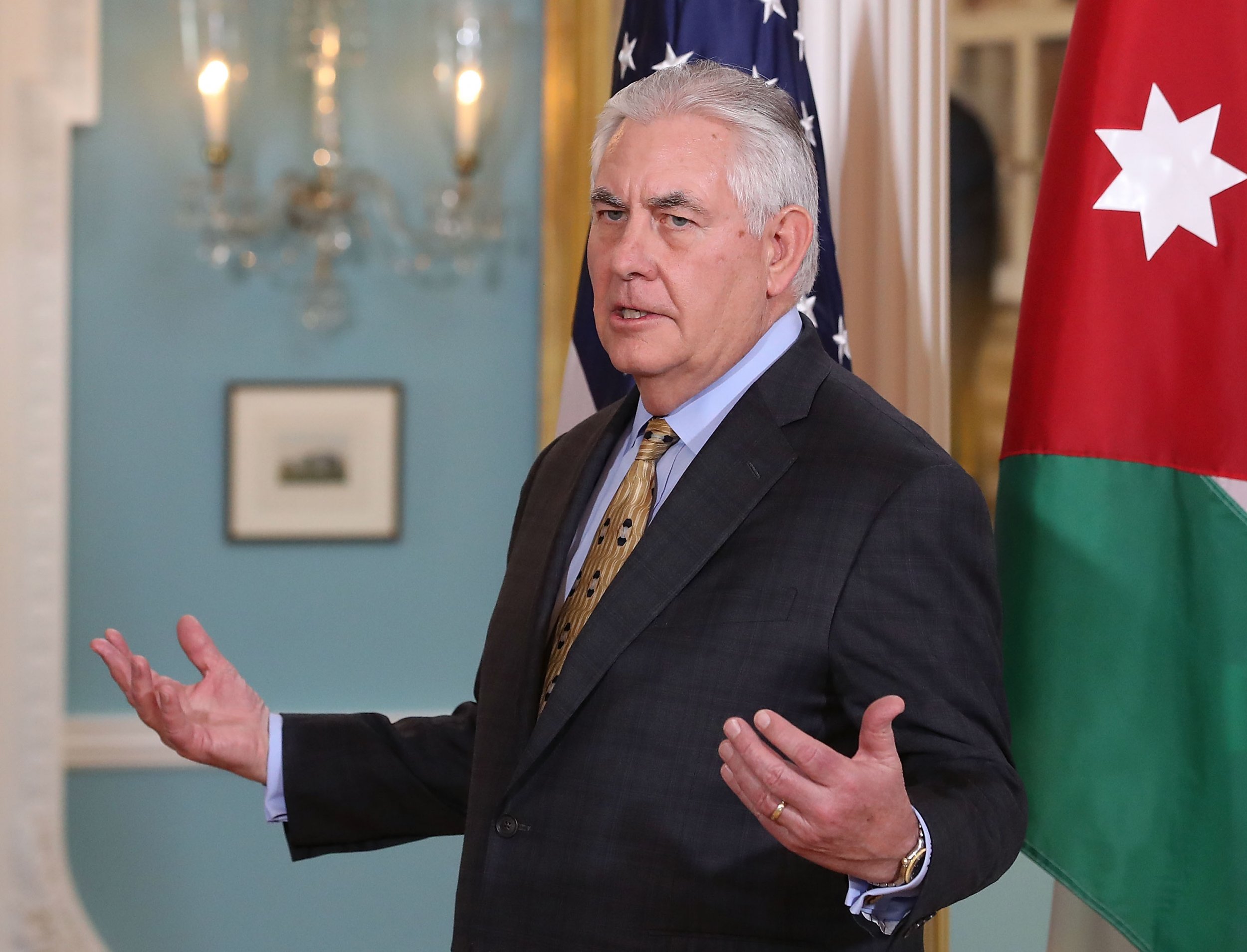 However long his tenure as the nation's top diplomat might last, Secretary of State Rex Tillerson's future was described as "doomed" by a Republican who said he had "ruined" the State Department, according to a report published Wednesday morning.
Tillerson is nearly one year past his confirmation by the Senate and a tumultuous first lap with President Donald Trump's administration. The former Exxon Mobil chief has reportedly clashed with Trump several times over the past year and is said to have called the president a "moron" at one point, which Tillerson has never fully denied.
Still, Tillerson has persisted, traveling around the world representing the country despite media reports indicating an early exit was likely. Just two months ago, reports said Trump was planning to replace him with CIA Director Mike Pompeo.
While Tillerson remains at the department, one Republican with "extensive" foreign policy experience told Politico it's highly unlikely he will last at State.
"Doomed. He will never have a close relationship with Trump, and he has ruined the building," the unnamed Republican was quoted as saying.
In taking the reins, Tillerson has seen a number of career diplomats and officials leave the department, prompting criticism of his work and the country's diplomatic efforts.
Undersecretary of State for Public Diplomacy and Public Affairs Steve Goldstein pushed back on any talk of Tillerson leaving his post early. The rumors were made by "people who wanted to create avenues through which there would be an opening for secretary of state," he said.
Tillerson himself said recently that he fully intends to stay on, and, of late, he has not had a public spat with Trump.
The pair's relationship reportedly frayed last summer and reached a boiling point after Trump's heavily politicized speech before the Boy Scouts of America, according to NBC News. The tension required Vice President Mike Pence to step in and speak with Tillerson about how to work with Trump.
Trump has often been criticized for undercutting Tillerson's work, perhaps most notably when it comes to negotiations with North Korea.
"I told Rex Tillerson, our wonderful Secretary of State, that he is wasting his time trying to negotiate with Little Rocket Man," the president tweeted on October 1, referring to the country's leader, Kim Jong Un.
He followed up: "Save your energy Rex, we'll do what has to be done!"