Tillerson Says State Department Cuts Will Be Fine Because U.S. Will Solve More Wars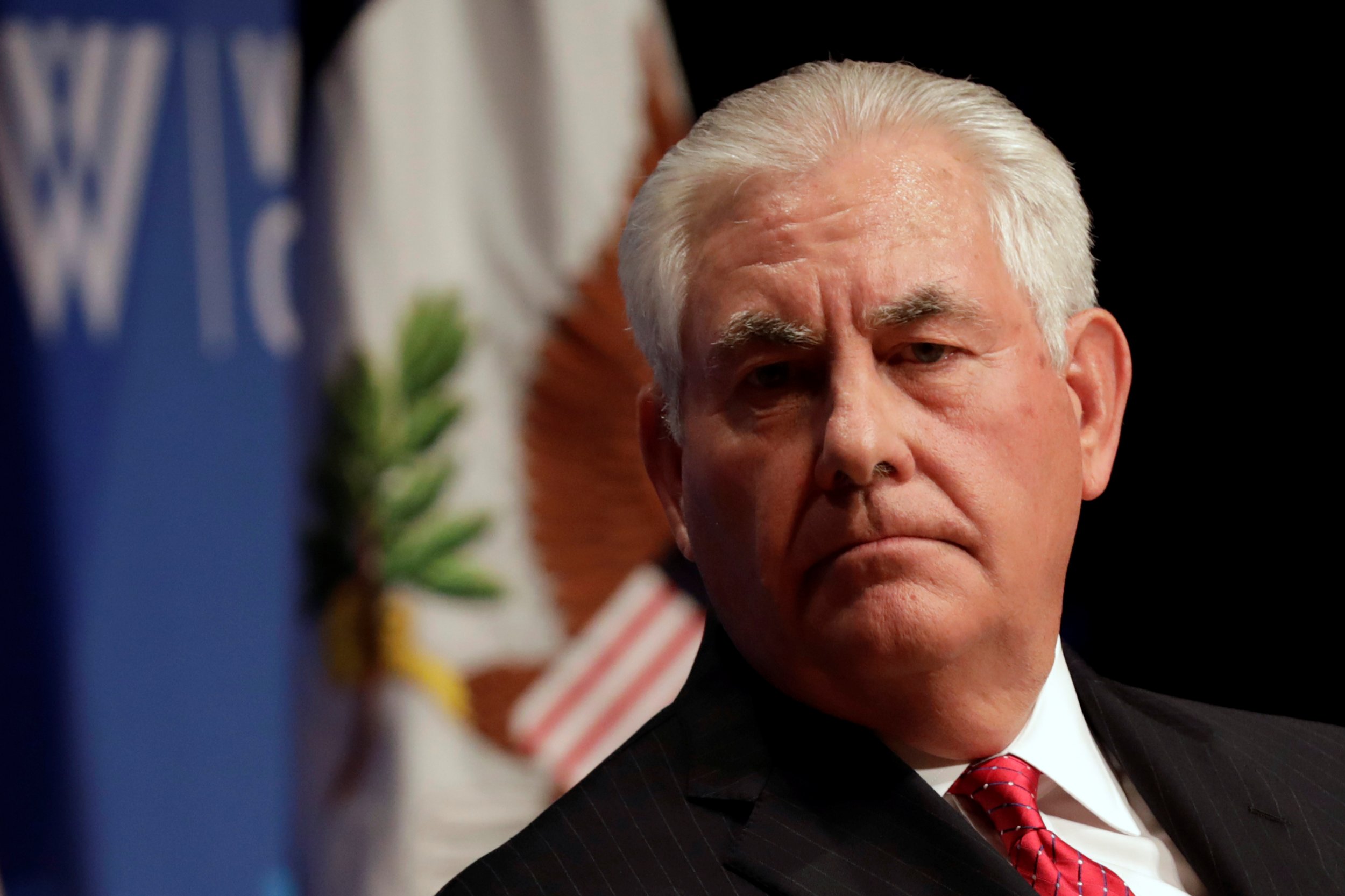 Rex Tillerson has defended the Trump administration's cuts to the State Department by saying that the U.S. expects to solve global conflicts, effectively saving the country money.
Speaking before news broke that North Korea had tested another ballistic missile—its most far reaching yet—Tillerson said that solving wars abroad would mean America would not need to provide as much support to its international allies.
"[It] is reflective of an expectation that we're going to have success in some of these conflict areas of getting these conflicts resolved and moving to a different place in terms of the kind of support that we have to give them," he said.
Tillerson spoke at Washington's Wilson Center late Tuesday, addressing the conflict in Syria, America's ramping up of the conflict in Afghanistan, negotiating with Russia over territory it seized in Ukraine, and Iran's support for terrorism.
He also addressed nuclear tensions with North Korea, which claimed early Wednesday it has successfully tested an advanced intercontinental ballistic missile that could reach most of the U.S.
Contrary to what senior members of Congress and career diplomats have argued, Tillerson said his "redesign" of the department—which will cut an estimated 2,300 U.S. diplomats and civil servants—will make it more efficient at its job of advancing America's interests around the world.
On Tuesday it was reported that the woman in charge of the reorganization quit after just three months on the job.
After he was briefed on the reorganization efforts early this month, Republican Senator Bob Corker, Chairman of the Senate Committee on Foreign Relations, said the plan is "very unsatisfactory."
Read more: Rex Tillerson's key State Department hire just quit after three months on the job
Tillerson said the state department budget ballooned to a high of almost $55 billion in 2016 "for some good reasons" but that this is "just not sustainable." Early this year he said 2015's smaller budget of $47.4 billion is more acceptable.
Former diplomats and foreign policy experts argue that Tillerson's plan to reduce the number of diplomats and completely overhaul the department in anticipation of multiple conflicts being resolved is naive.
"Just when I think my capacity for surprise exhausted [...]: Rex Tillerson justifying reductions in State Dept $/personnel in part from expectation US is going to succeed in getting some conflicts resolved. Really? Which? N Korea? Ukraine? S China Sea? Yemen? Israel-Pal?" wrote Richard N. Haass, president of the Council on Foreign Relations think tank.
"I was initially dumbfounded," wrote Laura Kennedy, a former deputy assistant secretary of state in the George W. Bush administration, on Twitter. "Reverse is the case: Undermining State Dept undermines chances of achieving any of these so far mythical successes."
On Tuesday two former senior U.S. diplomats, Nicholas Burns and Ryan Crocker, wrote in an opinion piece in The New York Times arguing that American diplomacy is being dismantled "just when we need it most."
Democrats on the House Foreign Relations Committee wrote to Tillerson last week complaining of "the exodus of more than 100 senior Foreign Service officers from the State Department since January."
Tillerson dismissed complaints from diplomats that the department is losing talent as he continues a hiring freeze across the department and career diplomats decide to leave.
Early this month Ambassador Barbara Stephenson, president of the American Foreign Service Association, warned the State Department has lost 60 percent of its career ambassadors since January.
"We went from six to two; it was a 60 percent reduction. It sounded like the sky was falling," Tillerson said Tuesday. Stephenson also pointed out that applications to serve in the foreign service are down sharply.
The rapid loss of foreign officers has weakened the U.S. and is having a "tangible effect on the capacity of the United States to shape world events," Stephenson urged.