Tillerson, Mattis, and Kelly Are Only Thing Saving U.S. "From Chaos," Says Republican Senator Bob Corker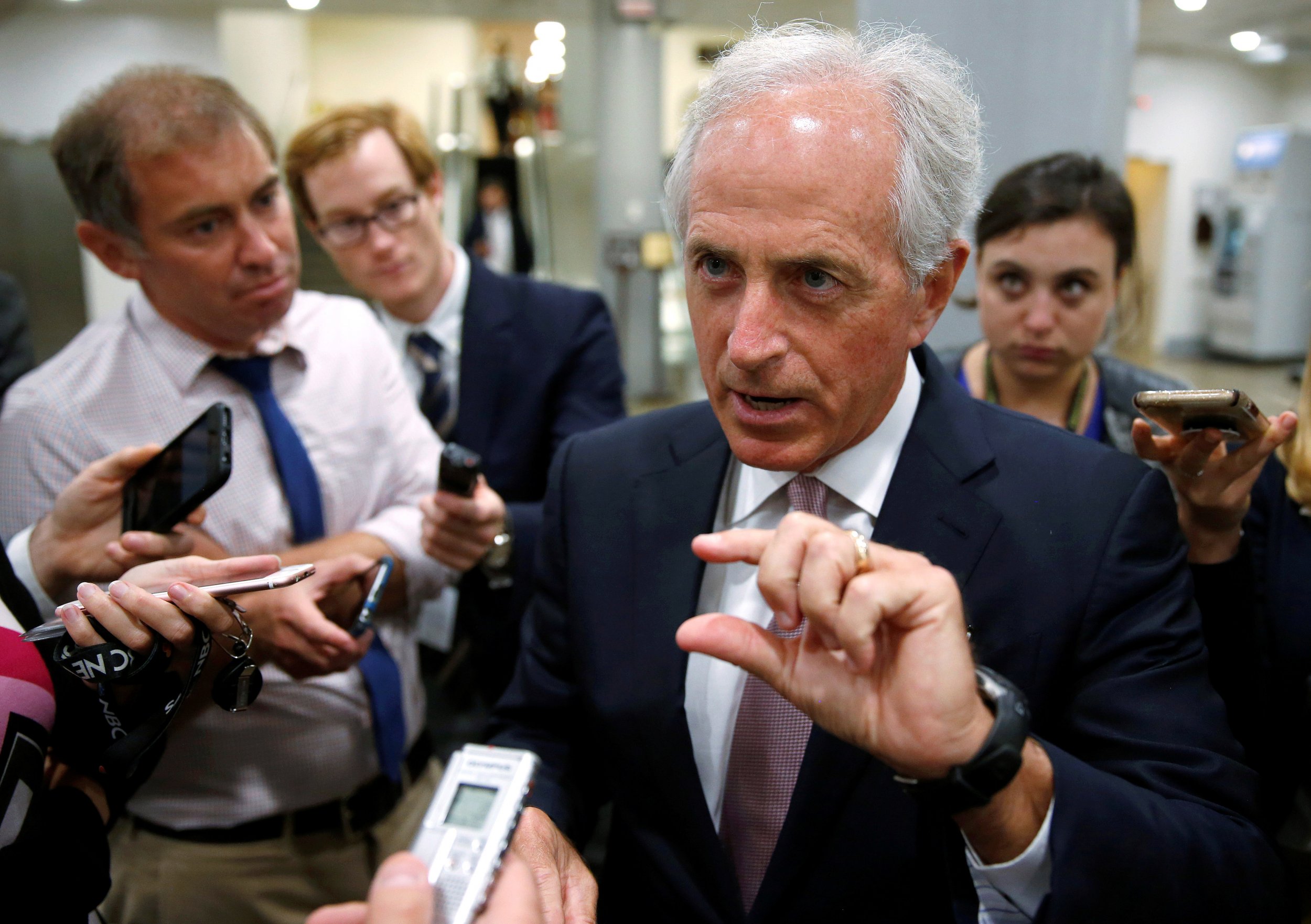 A top Senate Republican says key members of the Trump administration are the only thing standing in the way of complete "chaos" in the United States.
"I think Secretary Tillerson, Secretary Mattis and Chief of Staff Kelly are those people that help separate our country from chaos," said Republican Senator Bob Corker, Chair of the Senate Foreign Relations Committee, late Wednesday.
Corker's comments followed a hastily organized press conference earlier in the day where Secretary of State Rex Tillerson pushed back against an NBC News report he called President Donald Trump a "moron" and threatened to leave the administration over the summer.
After Tillerson's address, State Department spokeswoman Heather Nauert said Tillerson told her he'd never described Trump as a "moron."
During the summer CNN and Politico also reported Tillerson was considering leaving the administration due to his frustration with Trump. The president has repeatedly undercut his top diplomat and his foreign policy decisions.
When Tillerson met with Chinese officials in Beijing last Saturday he said the U.S. was seeking to resolve the issue rising tensions with North Korea over its nuclear weapons capabilities "through talks."
The following day Trump tweeted that Tillerson "is wasting his time trying to negotiate with Little Rocket Man," a nickname the president has given to North Korean dictator Kim Jong Un.
Talking about Tillerson's position, Corker told reporters that the diplomat "is in a very frustrating place" where "he ends up not being supported in a way I hope a secretary of state would be supported."
Read more: Did Rex Tillerson call Trump a moron?
Reporters asked Corker whether the chaos he said key Trump administration officials are protecting America from comes directly from the president.
"They work very well together to make sure that the policies that we put forth around the world are sound and coherent," Corker responded. "There are other people within the administration, in my belief, that don't."
Early this year, Tillerson, Kelly, and Mattis were left scrambling to do damage control after the administration implemented a ban on foreign travel to the U.S. from six Muslim-majority nations. All three reportedly complained that they were not fully consulted before Trump signed an executive order instituting the ban which—although it has since been revised—is part of a legal dispute headed to the U.S. Supreme Court this fall. At the time Kelly was Secretary of Homeland Security.
"I hope they stay because they are valuable to the national security of our nation. They've valuable to us putting forth good policies. They are very valuable as it relates to our citizens feeling safe and secure," Corker said of Tillerson, Kelly, and Mattis.
Corker has ramped up his criticism of Trump since he announced his retirement from the Senate in 2018 last week.
"The most important public service I have to offer our country could well occur over the next 15 months," Corker said in his September 26 statement announcing he will not run in the upcoming midterm elections. "I want to be able to do that as thoughtfully and independently as I did the first 10 years and nine months of my Senate career," he said.
In August Corker clashed with Trump over the president's response to a violent white supremacist rally in Charlottesville, Virginia, that left a counter-protester dead and 19 others injured after a man police believe to be a white supremacist sympathizer rammed a car into a crowd. Trump responded by saying "both sides" were to blame for the violence.
"The president has not yet been able to demonstrate the stability nor some of the competence that he needs to demonstrate in order to be successful," Corker said at the time, calling for "radical changes" in the White House.