Tillerson, Mattis and McMaster Present Trump With Plan to Stop Iranian Aggression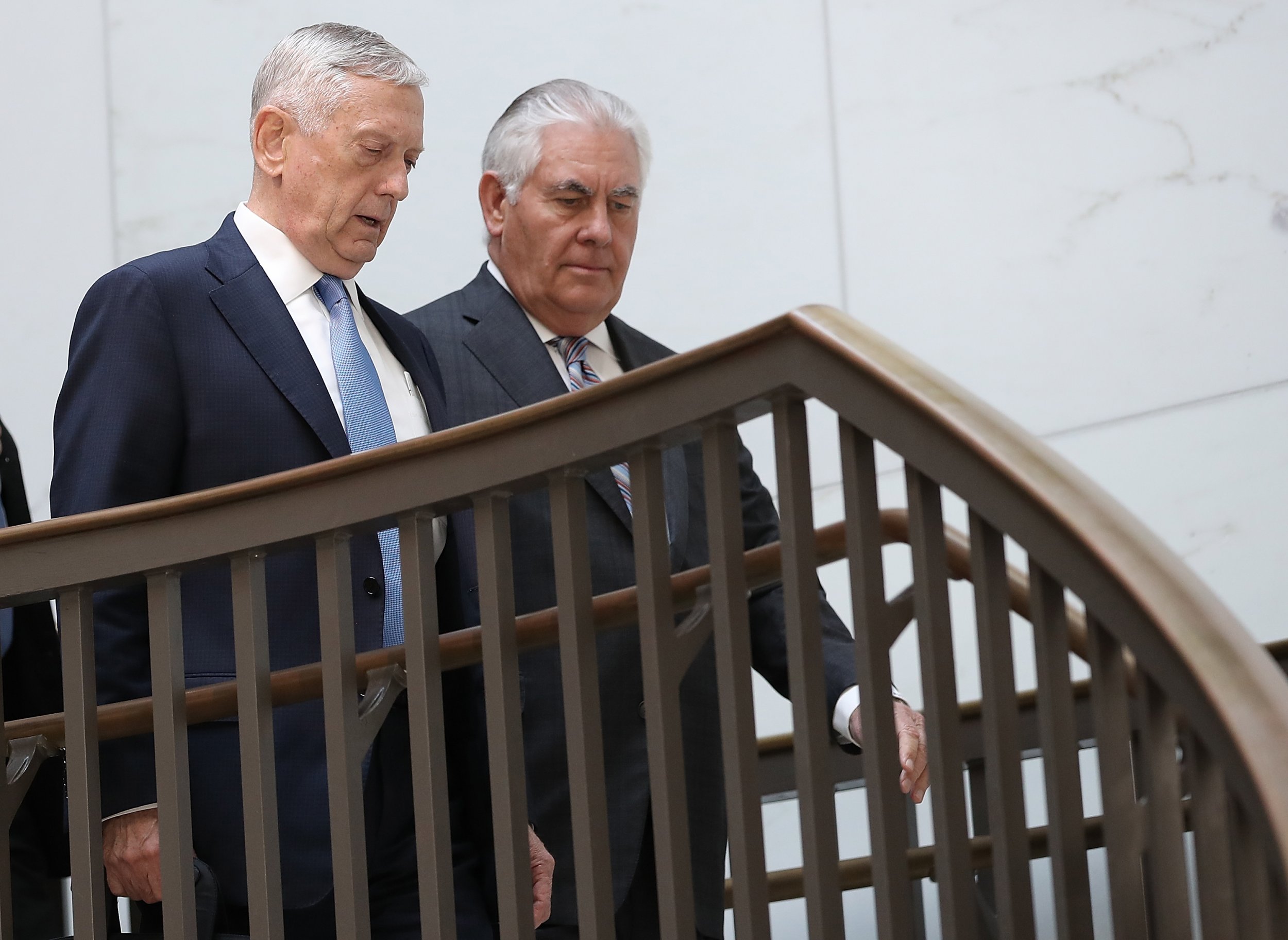 President Donald Trump's top security and foreign policy officials have presented him with a plan to allow a more forceful response to Iranian aggression at home and abroad in the Middle East, Reuters reported on Tuesday.
The proposal was given to Trump by his defense secretary, Jim Mattis, secretary of state, Rex Tillerson, and national security adviser, H. R. McMaster, six current and former U.S. officials told the news agency.
Trump is considering the draft strategy, and it could be announced by the end of September.
It would be aimed at curtailing Iran's ballistic missile program, as well as at hampering Iran's funding of Shiite proxy groups in the Middle East, including the Lebanese militant group Hezbollah, the Houthi rebels in Yemen and militias in Iraq that support the Shiite-majority government.
The sources said the strategy would also extend to Iranian deliveries to Sunni militant group Hamas, which rules the Gaza Strip and accepts Iranian financial and military aid to enhance its capability to strike Israel, with which it has fought three wars since 2008.
"I would call it a broad strategy for the range of Iranian malign activities: financial materials, support for terror, destabilization in the region, especially Syria and Iraq and Yemen," a senior administration official said.
The new strategy would not indicate an increase in military action against Iranian proxies in Iraq and Syria, where they are also battling the Islamic State militant group (ISIS) in Syria's eastern provinces, and in northwestern Iraq.
The sources told Reuters that the campaign against ISIS would remain a priority. Greater friction, and potential conflict, between U.S. forces and Iranian-supported forces would only serve to weaken the effort to eradicate ISIS from the remaining territory it controls after it lost the northern Iraqi city of Mosul, and is half-way toward losing the eastern Syrian city of Raqqa, which once acted as a de facto capital of the group's self-declared caliphate.
A Kurdish-Arab coalition known as the Syrian Democratic Forces has been battling ISIS in eastern Syria but has encountered hostile fire from Iranian-backed forces, as well as Syrian rebels backed by Turkey.
Trump has railed against the landmark nuclear deal signed in July 2015 between the Islamic Republic and six world powers, threatening on the presidential campaign trail to rip up the agreement that lifted sanctions in return for reining in the country's uranium enrichment program.
He has not acted on that pledge, but has continued to criticize it as a bad deal, one that gives Iran greater resources to fund extremism outside of the country.
The strategy he is considering would keep Washington in the agreement, and also keep up the pressure on Iran to not use for nefarious means the greater resources at its disposal from assets unfrozen by the deal.