Who Is Otto Warmbier? Trump Administration Gets U.S. Hostage Released From North Korea
Updated | Otto Warmbier, an American sentenced to 15 years' hard labor by North Korea for alleged "anti-state acts," has been released. Secretary of State Rex Tillerson announced Tuesday morning that Warmbier, 22, was on his way back to the U.S. to be reunited with his family.
Warmbier has apparently been in a coma since shortly after his trial, according to The Washington Post. He was sentenced in March 2016. A statement from his parents, Fred and Cindy Warmbier, dated June 13, stated: "Otto is on a medevac on his flight home. Sadly, he is in a coma and we have been told he has been in that condition since March 2016. We learned of this only one week ago. We want the world to know how we and our son have been brutalized and terrorized by the pariah regime in North Korea. We are so grateful he can finally be with people who love him."
Warmbier allegedly came down with a case of botulism after his trial, and after he was given a sleeping pill he never woke up.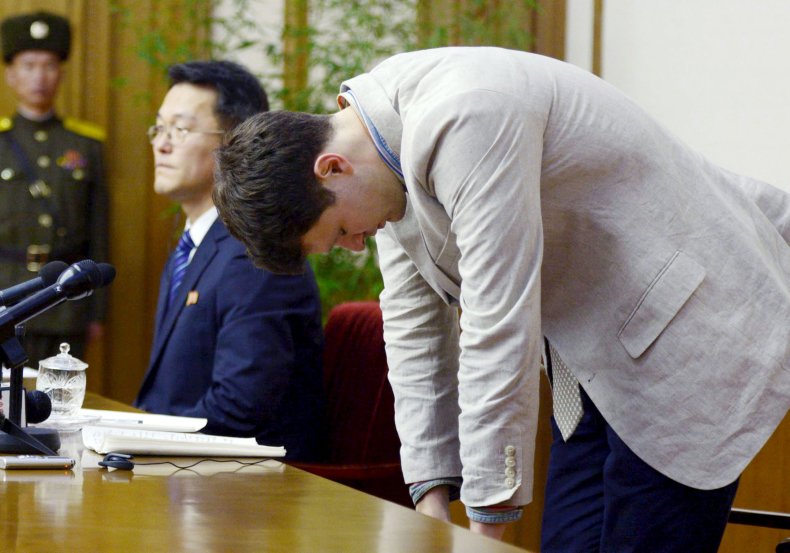 The State Department said it is continuing to work for the release of two more Americans detained in North Korea.
Warmbier was a student at the University of Virginia. He was arrested after trying to steal a propaganda banner and was forced to confess on television, in which viewers saw him teary, apologetic and stooped in front of the prosecution. His televised confession in February saw him admitting to "the worst mistake of my life" and begging for his release.
Warmbier was about to board a flight home when he was arrested. State news media said Warmbier visited North Korea with the intention of "bringing down the foundation of its single-minded unity."
His release coincided with the return of former NBA star Dennis Rodman, who is visiting North Korea this week on a trip the U.S. says is not a state-sponsored visit. Rodman has met North Korean leader Kim Jong Un several times before. This will be Rodman's fourth visit to the nation to meet with Kim, a basketball enthusiast.
"Our son is coming home. At the moment, we're just treating this like he's been in an accident. We get to see our son Otto tonight," Fred Warmbier told The Washington Post Tuesday morning.
Two other Americans remain incarcerated in North Korea: Tony Kim, a teacher at Pyongyang University of Science and Technology, and Kim Dong Chul, an American businessman. The latter was sentenced to 10 years' hard labor after confessing at a government-arranged news conference in March 2016.
This article has been updated with a statement from Fred and Cindy Warmbier.