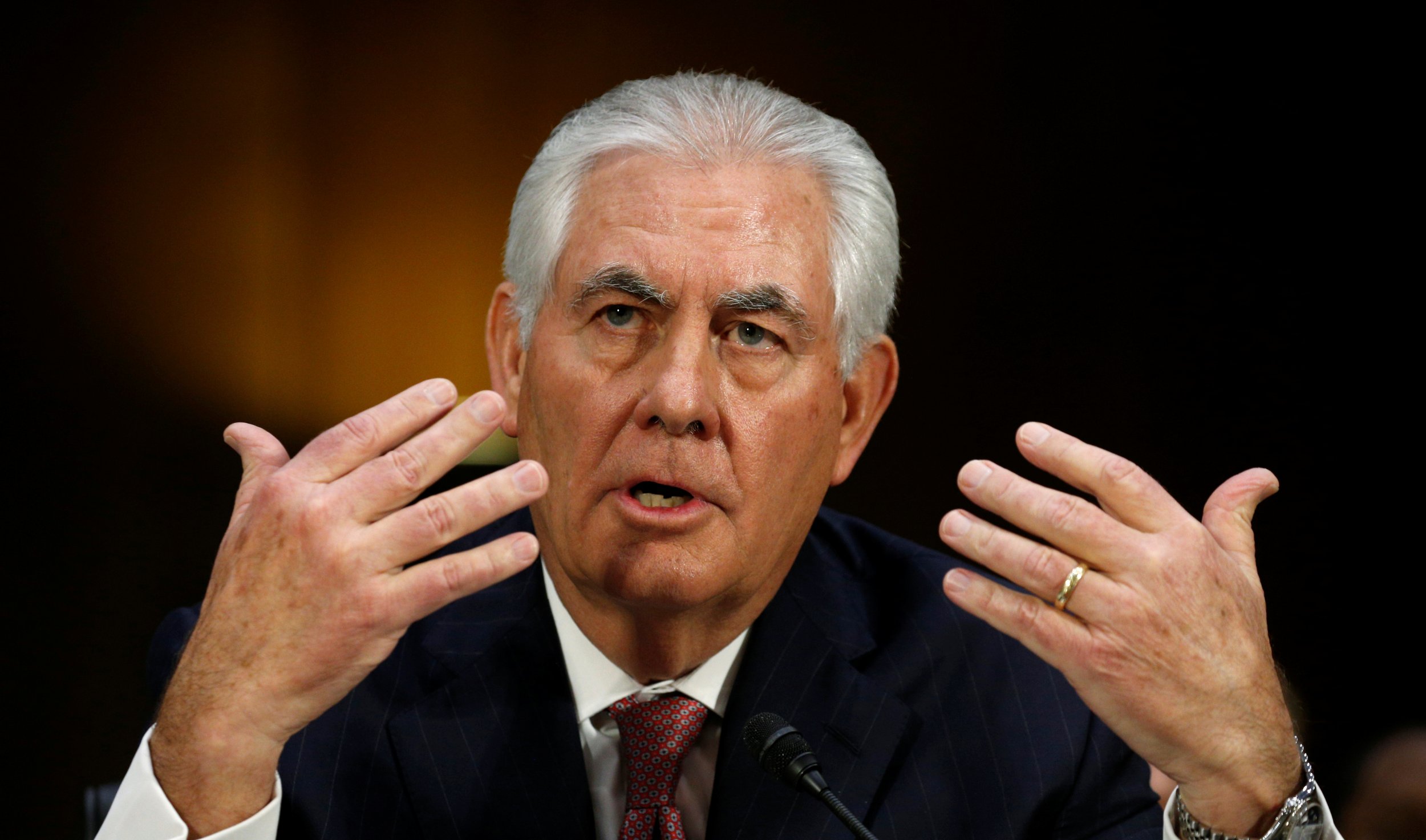 Updated | Donald Trump's secretary of state nominee argued during his Senate confirmation hearing Wednesday that neither he nor his company ever lobbied against U.S. sanctions against foreign entities. But the evidence suggests otherwise.
Related: Will Trump's State pick Tillerson serve the U.S. or Exxon Mobil?
Under questioning from Democratic Senator Robert Menendez, Rex Tillerson, former CEO of oil giant Exxon Mobil, stated point-blank, "I have never lobbied against sanctions, personally."
"The company you directed did," Menendez said.
"To my knowledge, Exxon never lobbied directly against sanctions, not to my knowledge," Tillerson replied.
Both statements, made under oath as part of his testimony before the Senate Foreign Relations Committee, appear to be false, although Tillerson later tried to parse his definition of what kind of lobbying he and Exxon did engage in.
Shortly after Tillerson's exchange with Menendez, committee Chairman Bob Corker spoke about a phone call he had with Tillerson during which they discussed sanctions policy. "It's my understanding, and I think you called me during this time, that your concern with the sanctions that were in place relative to Iran were not that they were put in place but that the Europeans had put them in a way that was different, and it caused an adverse situation for U.S. businesses relative to European businesses," Corker said. "Is that correct?"
Tillerson appeared to confirm that the discussion took place. "That was with respect to the sanctions for Russia, that's correct," he told Corker.
According to the Lobbying Disclosure Act of 1995, the definition of lobbying includes "any oral or written communication (including an electronic communication) to a covered executive branch official or a covered legislative branch official...with regard to the formulation, modification, or adoption of Federal legislation," as well as "the administration or execution of a Federal program or policy." As a member of Congress, Corker would qualify as a "covered legislative branch official."
Liberal advocacy group American Bridge quickly pointed out that Exxon did, in fact, report lobbying on Iran sanctions legislation in lobbying disclosure forms it filed in 2010, while Tillerson was CEO. And Politico reported in December that Exxon successfully lobbied against a bill called the Stability and Democracy for Ukraine Act that sought to put into law President Barack Obama's executive-order sanctions against Russia for its annexation of Crimea. Exxon itself confirmed it lobbied on the legislation in its July 2016 lobbying disclosure.
But when asked later in the hearing to square these lobbying records and reports that documented, among other things, how he repeatedly attended meetings about Russian sanctions at the White House, Tillerson did not back down.
"There's a host of material showing a widespread pattern of weighing in against these sanctions that were harming Exxon's interests," Democratic Senator Jeff Merkley noted. "Do you still maintain that Exxon did not lobby against these sanctions?"
"Exxon Mobil did not lobby against these sanctions but were engaged in how these sanctions were constructed," Tillerson maintained.
An Exxon spokesman emailed Newsweek to reiterate Tillerson's framing of what the company's lobbying entailed. "As our former chairman said, we provided information about the impact of sanctions but did not lobby against sanctions," Exxon spokesman Scott Silvestri said.
Corker's office and Trump's transition team did not immediately respond to requests to clarify the details of the two men's conversation on sanctions or Tillerson's statements on Exxon's past lobbying on sanctions.
This story has been updated to include a comment from an Exxon Mobil spokesman.