State Department Employees Will Complete Mandatory Sexual Harassment Training, Tillerson Says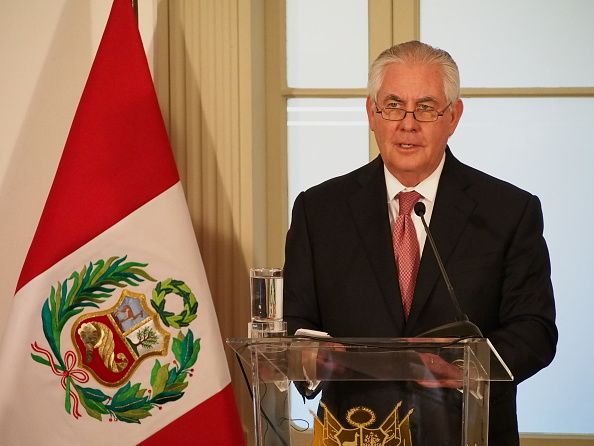 U.S. Secretary of State Rex Tillerson is mandating sexual harassment training for employees as related allegations permeate various government departments.
All State Department workers— about 75,000 in total—will have to complete the training by June 1, Tillerson told 150 U.S. embassy staff on Monday in Cairo, where he's started a Middle East tour. This requirement also applies to agencies and contractors abroad working with the department, a spokeswoman told Newsweek in an email statement.
"It's not okay if you're seeing [harassment] happening and just look away," Tillerson said. "You must do something. You must notify someone. You must step in and intervene." Tillerson similarly spoke out against sexual harassment in January.
The training, which is reportedly underway, includes: Defining harassment, outlining anti-harassment policies, providing information about sexual assault policies and bystander intervention, and supplying materials for supervisors on how to address improper conduct, the spokeswoman said.
The training, or something similar, will be required annually, she added.
Various allegations of harassment and assault involving government officials have surfaced in wake of the #MeToo movement. Senator Al Franken and Representative Trent Franks announced their resignations in December following alleged sexual misconduct, just days after Representative John Conyers retired amid sexual harassment claims. Two White House aides also stepped down in the past week as domestic abuse allegations swirled.
More than 200 women working in national security, including at the State Department, penned an open letter in November deeming sexual harassment policies "weak, under enforced" and favoring perpetrators. Suggestions included mandatory training, private channels to report abuse and data collection on reports.
A current Congress employment law from 1995 allows accusers to file lawsuits "only if they first agree to go through months of counseling and mediation," The Washington Post reported.
"These abuses are born of imbalances of power and environments that permit such practices while silencing and shaming their survivors," the letter read, noting that women in senior leadership positions in government are a minority.
The House and Senate passed mandates in November requiring sexual harassment prevention training for all members and staff, with a focus on employees' rights and protections as well as how to properly report claims. In late 2017, the Office of Compliance provided sexual harassment prevention training to more than 700 House and Senate employees in person and 4,000 online. In previous years, an average of 300 in person trainings were conducted annually.
As more sexual harassment and assault survivors come forward, there have been calls from across the isle to safeguard due process rights of the accused. President Donald Trump tweeted Saturday that "Peoples lives are being shattered and destroyed by a mere allegation."
Secretary of Education Betsy DeVos in September also rescinded Obama-era Title IX guidance for sexual assault cases that requested the lowest standard of evidence for investigations.