Rex Tillerson Response to Trump's North Korea Threat: Everything Is Fine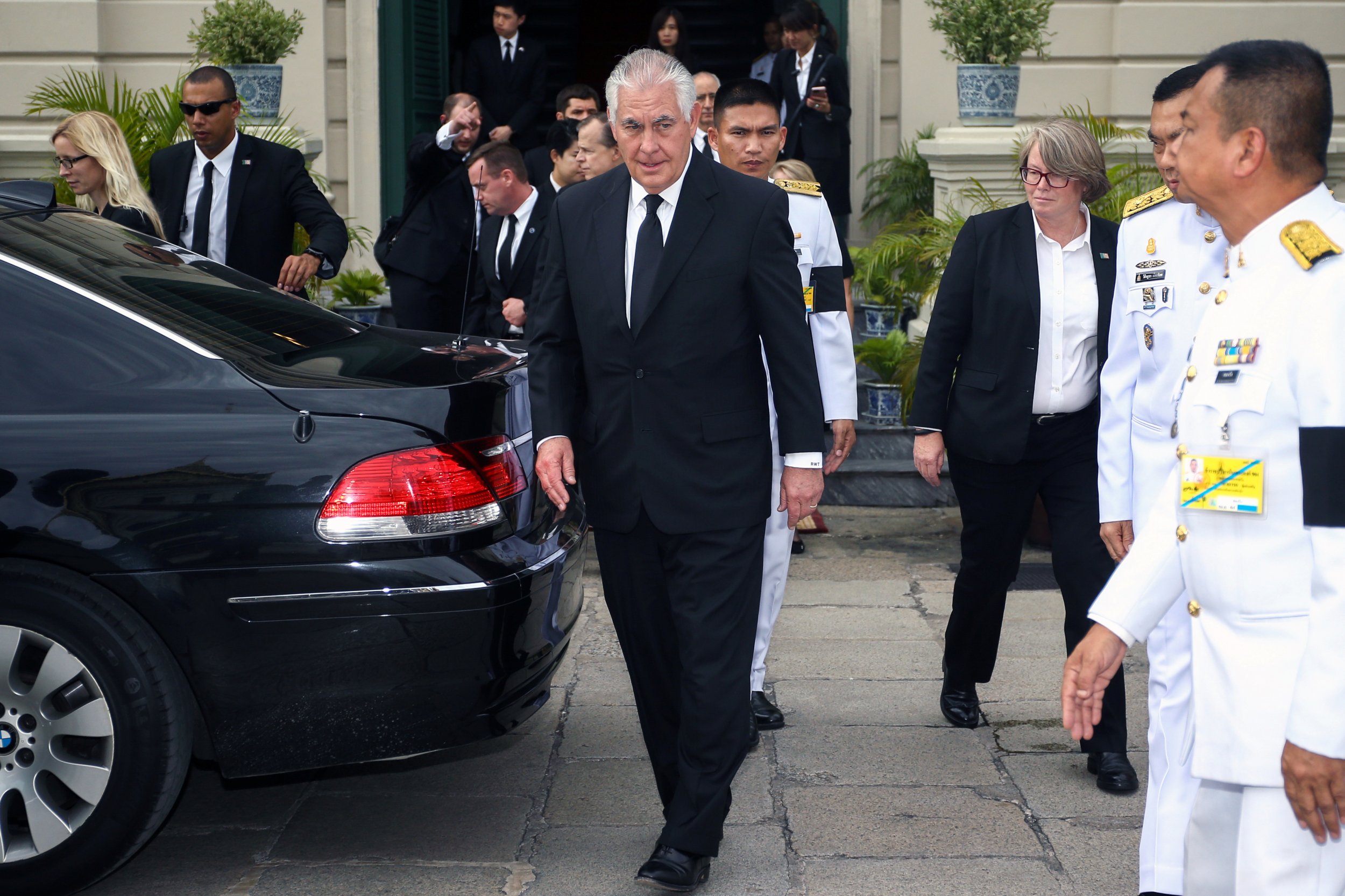 Secretary of State Rex Tillerson on Wednesday fully backed President Donald Trump's powerful message toward the North Korean regime, stating that the commander-in-chief's dark turn in tone was the best way to reach the volatile, authoritarian Kim Jong Un.
"What the president is doing is sending a strong message to North Korea in language that Kim Jong Un would understand, because he doesn't seem to understand diplomatic language," Tillerson told two pool reporters during a flight from Malaysia that had a scheduled refueling in Guam, according to The Washington Post.
That message from Tillerson followed Trump announcing Tuesday from his golf club in New Jersey that the North needed to stop threatening the U.S. or it could face "fire and fury."
"North Korea best not make any more threats to the United States," Trump said. "They will be met with fire and fury like the world has never seen. He has been very threatening beyond a normal state, and as I said, they will be met with fire and fury and frankly power the likes of which this world has never seen before."
Trump, who has received criticism for directly threatening one of the world's most unpredictable and volatile nations, made his comments following North Korea's latest threat in response to the United Nations Security Council voting unanimously over the weekend to create new economic sanctions that could cost Kim's government $1 billion a year.
Tillerson also said Trump wanted to make sure the North understood the U.S.'s military capabilities should Kim decide to act on his violent threats.
"I think the president just wanted to be clear to the North Korean regime that the U.S. has the unquestionable ability to defend itself, will defend itself and its allies, and I think it was important that he deliver that message to avoid any miscalculation on their part," Tillerson said.
The former Exxon Mobil chief was returning from a three-country jaunt in Southeast Asia, reaching Thailand, Malaysia and the Philippines beginning Saturday.
Tillerson said North Korea's increased missile testing, including two last month, and the government's hostile verbal responses to the U.S. and its allies conducting war games and drills in and around the South China Sea were signs that the North was getting the message.
"I think in fact the pressure is starting to show," he said. "I think that's why the rhetoric coming out of Pyongyang has gotten louder and more threatening."
Americans should not worry over the barbs the U.S. is now trading with Kim's government, Tillerson said.
"I think what the president was just reaffirming is that the United States has the capability to fully defend itself from any attack, and our allies, and we will do so," he said. "So the American people should sleep well at night."