Unlike Trump, Tillerson Still Wants Russian Sanctions Over Ukraine Annexation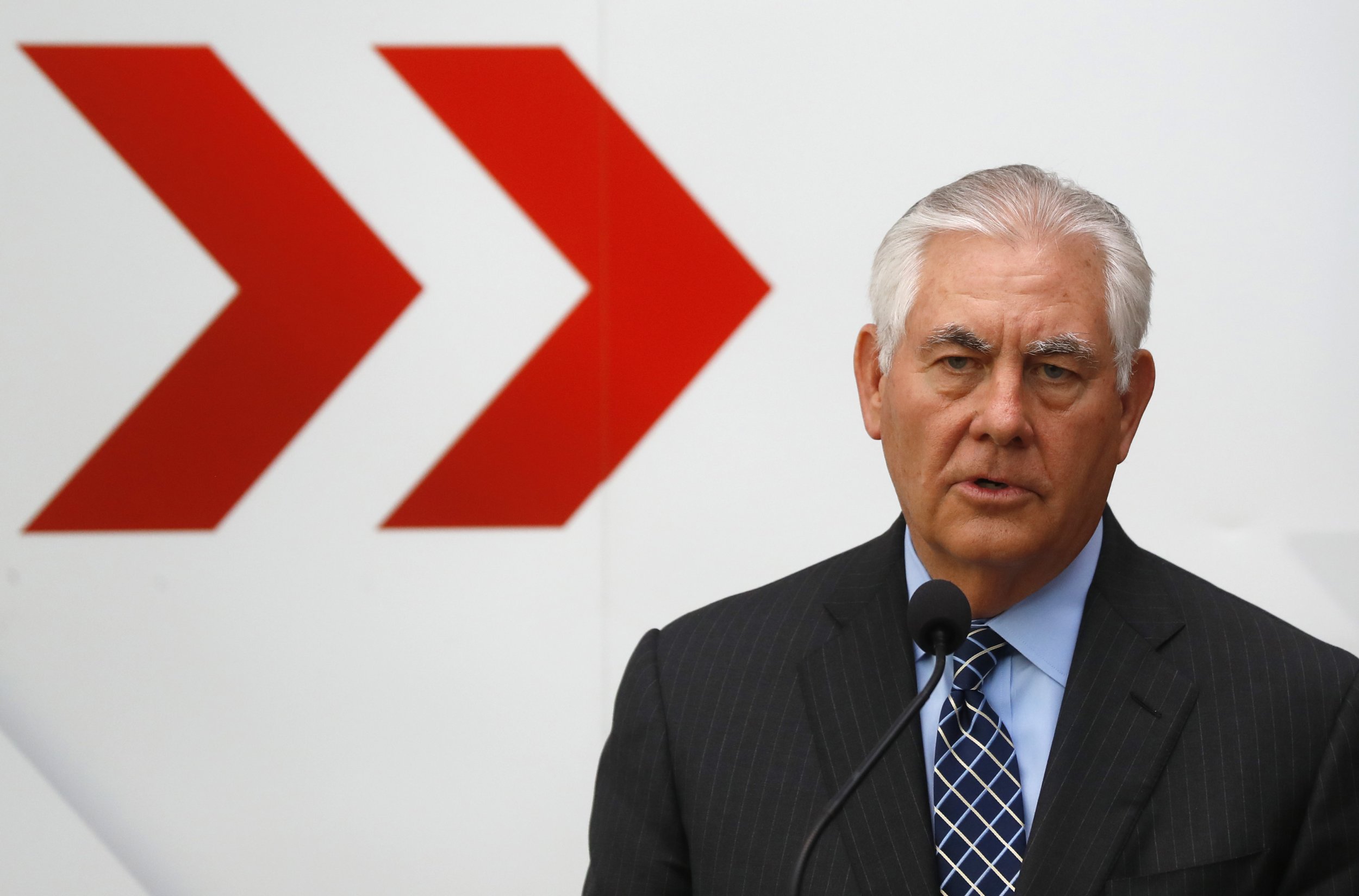 Secretary of State Rex Tillerson defied President Trump and hammered Russia Thursday for its annexing of Crimea from the Ukraine in 2014 and said current sanctions would stay in place until Russian forces pulled out of the Eastern European nation.
Speaking before the Organization for Security and Cooperation in Europe as part of a three-country, four-day European trek, Tillerson criticized Russia for violating a ceasefire agreement and for denying it has armed and funded separatists in the Ukraine for the last four years, according to Reuters.
"We should be clear about the source of this violence," Tillerson said about ceasefire violations that the security agency has observed. "Russia is arming, leading, training and fighting alongside anti-government forces. We call on Russia and its proxies to end its harassment, intimidation and its attacks on the OSCE special monitoring mission."
The tough talk from Tillerson contrasts with President Donald Trump's language on the matter. Trump has yet to criticize Russia, which has only fueled speculation about the billionaire Republican's alleged financial ties to the former Cold War rival, which meddled in the 2016 and helped Trump win the White House, intelligence agencies have concluded.
Trump has said he wants to improve relations with Russia, but Tillerson appears to have a different agenda. His remarks on Thursday were made in front of Russian Foreign Minister Sergei Lavrov, who's recently been critical of the U.S.'s foreign policy in regards to North Korea.
Russia has denied backing the separatists while more than 10,000 people have died since 2014 as Ukrainian and Russian-backed forces clashed in the region.
Tillerson also stood in unity with Europe to maintain sanctions placed against the Russian economy and businessmen by former President Barack Obama, who added even more sanctions last December over Russia's meddling in the U.S. election.
He stated Russia should stick to the Minsk agreements, a pair of peace deals forged in 2014 and 2015 that have often broken down during the conflict.
"In eastern Ukraine, we join our European partners in maintaining sanctions until Russia withdraws its forces from the Donbass [region] and meets its Minsk commitments," Tillerson said.
The comments come as Tillerson may or not be fighting for his job as the nation's top diplomat. Reports last month indicated Tillerson could be out and replaced by current CIA Director Tom Pompeo, who has a better, more personal relationship with Trump.
However, the Trump administration pushed back on those reports. The president directly challenged the reports as "fake news" but may have hinted at a conflict between him and Tillerson in a tweet posted last week about how Trump calls "the final shots."
Still, Trump's aversion to further sanctioning Russia put Congress into action earlier this year. A bill was passed to sanction Russia over its attempts to affect the election last year and set an October 1 deadline for the administration to release a list of Russian businesses and government agencies linked to the country's defense and intelligence apparatuses to be affected.
More than three weeks after the deadline, the administration released the list, but it does have to make them official or enforce them until early next year.
Unlike Trump, Tillerson Still Wants Russian Sanctions Over Ukraine Annexation | U.S.