Tim Burton on Dark Shadows: Even I Can't Explain It!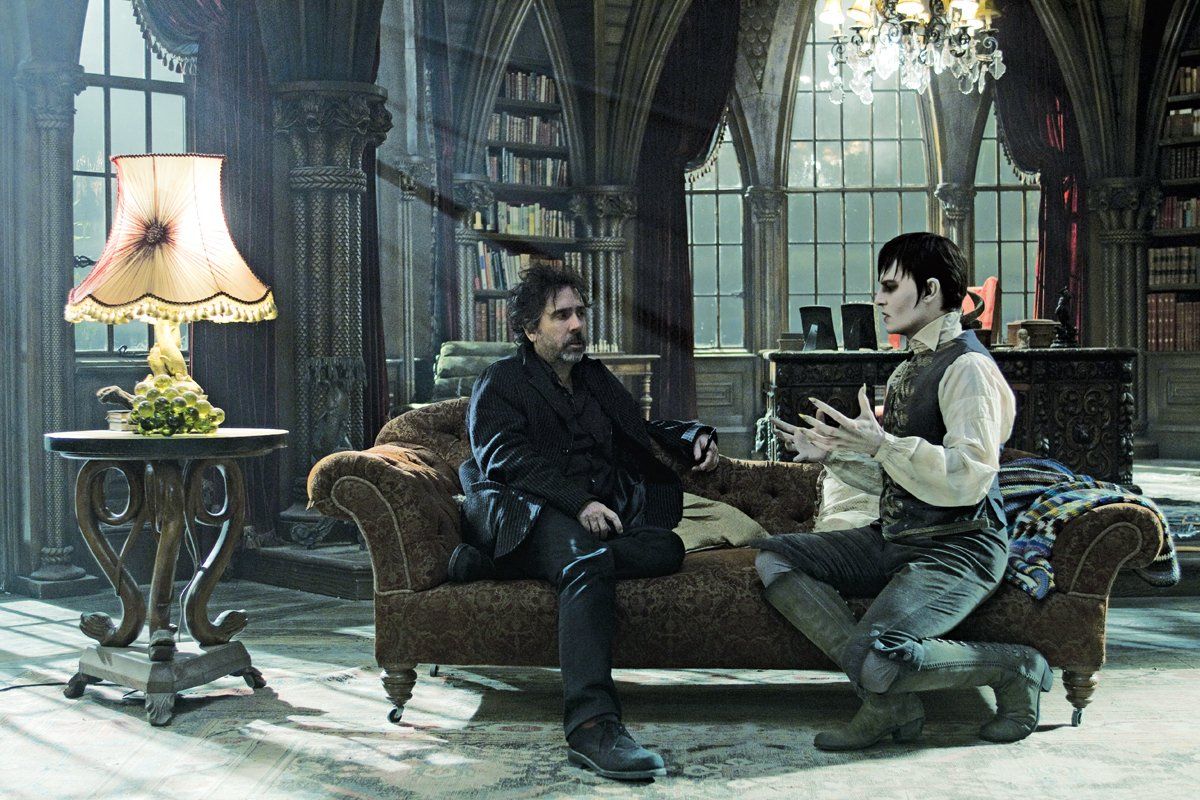 It's official: a Tim Burton sex scene is unlike anything you've ever seen. The director's new film, Dark Shadows, features some aerial fornication between reluctant vampire Barnabas Collins (Johnny Depp) and vengeful witch Angelique Bouchard (Eva Green) that not only makes the walls shake, they threaten to fall down. The two ricochet from ceiling to couch to wall, clawing each other's backs and smashing everything around them. Not bad for Burton's first time showing some sexytime action on screen.
His films always seem to exist in a parallel universe, a stylized realm of whimsy that can pack the visceral punch of an LSD hallucination. While Beetlejuice and Batman combined the director's untamed imagination with an unvarnished commerciality, adapting the '60s soap opera Dark Shadows created another challenge.
"This movie really felt like an experiment," Burton says, hunching forward on a sofa in a Las Vegas hotel suite. "Like, What is it? On the set, I never thought of it as a comedy, and when people saw the humor, it kind of surprised me. I never thought of it as a vampire movie, either. It's treading weird territory."
Unlike the film (in theaters May 11), the series played the melodrama straight, and evolved into a pop-culture phenomenon during its run from 1966 to '71. As a young boy growing up in Kentucky, Depp idolized Barnabas Collins, and five years ago, he optioned the rights for Burton to direct. "The tone was tough for the studio at first," says Dark Shadows producer Richard Zanuck. "But any project with Tim and Johnny—if they brought in the phone book, the studio would basically give them a green light to film it."
With a screenplay by Seth Grahame-Smith of the genre-blurring bestseller Pride and Prejudice and Zombies and this summer's Abraham Lincoln: Vampire Hunter, the film is a rollicking mashup— part Gothic romance, part horror sendup, and part macabre fish-out-of-water tale.
The drama kicks off in the late 1700s when aristocratic playboy Barnabas spurns the servant turned witch Angelique Bouchard. In turn, she ruins his family, kills his true love, and renders him a creature of the night; a mob buries the newly minted vampire in a coffin. Cut to 1972 when Barnabas is accidentally sprung by a construction crew. He returns to the Collins family mansion and sets out to restore his family's honor.
For months, Dark Shadows purists have complained about the seemingly jokey direction in which Burton has taken with their cherished soap—a not altogether unfamiliar predicament for him. "I remember when I did Batman and cast Michael Keaton, people thought it was going to be a cheesy comedy," he says. "Hardcore fans think I'm taking the piss out of the show, which is not the case. It's done with love and affection."
That required some loving mimicry of the show's soapy style. "He always said, 'Play it ultrastraight, ultraserious, ultramelodramatic,'" recalls Michelle Pfeiffer, who portrays the mansion's matriarch. "I would come in and say, So today, just how Dark Shadows am I going to be in this scene? It was a funny descriptive. If you asked us, we couldn't articulate what that meant. We just innately understood it."
Dark Shadows marks Depp and Burton's eighth movie together out of an oeuvre that ranges from art-house biopic (Ed Wood) to literary adaptation (Sleepy Hollow) to kid-friendly fantasy (Alice in Wonderland). For all of Depp's current cachet, it's easy to forget that in 1990 Burton gave the actor his breakthrough part in Edward Scissorhands. With that pancake makeup, wig, and ultramannered behavior, the character ushered in a new model of handsome men getting ugly for a role—and raking it in at the box office.
"Johnny is more like a Lon Chaney or a Boris Karloff trapped inside a leading man's body," Burton says. "That's why I admire working with him. He likes dressing up in weird things. He's not looking at the monitor going, I don't look so good. There's no vanity or pressure there. Just freedom. And spontaneity."
That kind of magical thinking also resulted in Dark Shadows, and the movie stands as Burton's most adult-skewing feature in half a decade. But even he acknowledges it doesn't scream blockbuster. Running a hand through his fusilli-curly hair, Burton takes a moment of consideration before saying, "I made the movie and I can't describe it!"