Tim Burton's 'Big Eyes' is a Portrait of an American Dystopia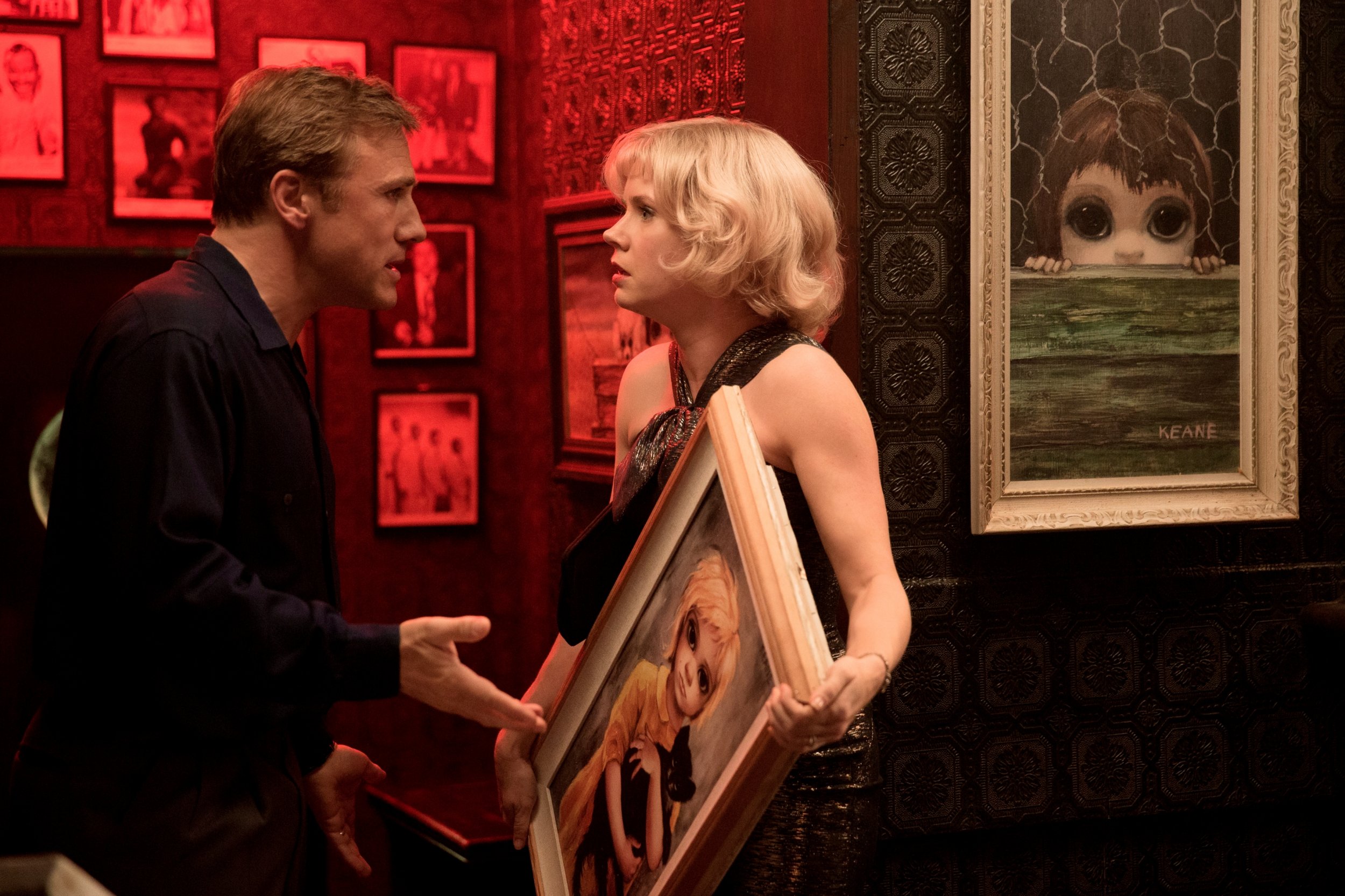 From Big Brother hovering over 1984's dystopian London to the NSA peeping on your last e-mail trail, someone's always watching. Even the television can seem like a two-way mirror (Survivor, anyone?). Smile, because you're always on someone's candid camera.
Maybe our fixation with surveillance can explain how America went gaga for a crop of garish paintings depicting sad, big-eyed children in the late 1950s and early 1960s. These portraits by Walter Keane adorned living rooms across our fair nation's new suburbia, in dentist's office waiting rooms and at the post office. Among the painting's admirers included celebrities like Natalie Wood and Dennis Wilson. They were so culturally pervasive, you'd guess people wanted eyes on them at all times.
Tim Burton's new film Big Eyes, based on the Keane phenomena, stars Tarantino darling Christoph Waltz as Walter Keane, and Amy Adams as his wife Margaret in an Orwellian nightmare. Despite taking credit for the big-eyed paintings, Walter was not the artist: Margaret was. As a talented young painter, she falls in with the manipulative Walter, who convinces her to help him execute one of the biggest frauds in art history: passing off her paintings as his.
Walter Keane was a failed artist who had gone to Berlin from the United States in the 1940s, post World War II, to learn how to paint. He had no artistic ability (Margaret tried and failed to teach him how to draw) but was a wizard at spinning yarns and conning people. He married Margaret in San Francisco in 1955 after meeting her at an outdoor fair, where she was selling portraits of peculiar, wide-eyed children. Later, she would say the paintings were a vehicle for her frustration: on their first date in the movie, Margaret tells Walter that she has "never acted freely, first as a daughter, then a wife and mother," in an eerie precursor to their abusive, decade-long marriage.
But years after their divorce, Margaret continued to insist that Walter was a marketing genius. Now 87, Margaret still credits much of her artistic fame to her former husband's ability to sell, sell, sell art, even though he isolated her from her only friend, De-Ann (played by Krysten Ritter), forced her to lie to her daughter Jane about the paintings, and eventually turned her into a Walter Keane™ producing machine. In preparation for the role, Amy Adams spent a few days with Margaret Keane, who is a devout Jehovah's Witness and continues to paint every day at her home in Napa Valley, California. Waltz says he chose not to study the real Walter Keane, who died in 2000, because it would "really cut my possibilities down to an uncomfortable level to do justice to the responsibilities of painting his portrait" on-screen. Waltz instead chose to only work with the script.
Big Eyes is Burton's least surrealist work to date, a case study in the perpetuation of silence in the most intimate of spaces — a marriage — and what causes people stay in abusive relationships. If you want a postcard from hell, look no farther than the palatial Northern California mansion the Keanes buy once the big-eyed cash trickles in: there Walter gets chummy with The Beach Boys in the backyard pool while Margaret is locked away in a nearby closet, painting for 16 hours a day to meet her husband's demands.
While it's not a biopic, the film is a period piece. Krysten Ritter plays a friend of Margaret's, Dee-Ann, whose rejection of staunch gender roles represents the prim-and-proper '50s evolving into the freewheeling '60s. Big Eyes was filmed in the summer of 2013 in San Francisco, paying meticulous attention to details that remembered the burgeoning Beatnik-led art scene in the city's North Beach; in Hawaii, where Margaret moved after leaving Walter; and in Vancouver, presumably because it's cheaper to film there.
Screenwriting duo Larry Karaszewski and Scott Alexander first conceptualized the Big Eyes story in 2003, and were originally slated to direct the film. The writers, who had previously collaborated with Burton on Ed Wood screenplay, said they were bound to the responsibility of doing justice to someone's life. "We wanted to work with Margaret and it became a little bit of a dance because she had certain requirements and things that were important to her," said Alexander. "When she read the script, she was touched and said, 'That's my life."" And the life behind the paintings is a wrenching tale of a woman who amasses the strength to leave her philandering husband after 10 years of abuse, then demanding the artistic credit that was rightfully hers.
Yet Walter, played by Waltz as a charismatic madman, was also a relentless entrepreneur. At first, the paintings were derided by critics, art dealers and gallery owners in San Francisco. In the film Jason Schwartzman plays Ruben, the finicky art critic who thought the paintings were too gauche for a high-end art gallery. "You're too literal," he tells Walter, when he brings portraits of the big-eyed children to his gallery. "They're like big stale jelly beans; it's not art!"
When no galleries would accept "his" work, Walter sweet-talked venue owners into exhibiting the children's paintings at the happening San Francisco comedy joint The Hungry i. While attempting to sell her paintings at the club, he then claimed them as his own; she only found out upon surprise-visiting him one day at the Hungry i. There, the paintings became a sleeper sensation and finally began to sell. She confronted Walter about the plagiarism, but he convinced her to focus on the success and money "she" was finally gaining from her art. Margaret then agreed to participate in the fraud. Walter then had the idea to mass-produce the wide-eyed children onto posters, postcards and coffee table books, a turn that opened up a new paradigm of pop art and commercialism that Andy Warhol and Thomas Kinkade would later emulate.
The film's producers perhaps took a cue from Keane and screened the film at the most visible intersection of highbrow art and kitsch in contemporary culture: this year's Art Basel Miami Beach. Like Keane's art, the sprawling annual event crashes high and low culture, commercialism and artistic integrity into an intriguing mess. It's easy to dismiss the big-eyed paintings as tacky. They're more kitsch, which is an artistic sensibility that modernist critic Clement Greenberg once described as "the epitome of all that is spurious in the life of our time." The paintings have lingered because Keane's art tapped into something deeper about the American conscious: the recognition that our every action was being measured, scrutinized and derided.
Tim Burton, whose films often dabble in what's kitsch and haunted, now collects the paintings. When we chat one December morning, Jason Schwartzman says he can appreciate the Keane paintings because he was a child of the '80s, and remembers when kitsch hit the mainstream. "There were novelty stores, you wore shirts with funny things on them. I love that shit," he says. But Waltz isn't a fan; he says he is "not an unreserved unenthusiast" of Keane's art. For him, the draw of Big Eyes is the dynamic between Margaret and Walter, and especially how America bought one man's delusions; after their separation, Walter sincerely believed that he, and not his wife, had painted thousands of paintings of these forlorn children.
Yet these alien eyes are now iconic although the tides and times are shifting socially and politically. The first words of Big Eyes remind the viewer that "the '50s were a great time, if you were a man;" and we get to see Margaret evolve from a docile co-conspirator to divorcing Walter to championing her rights. While it's often uncomfortable to watch, Big Eyes is a compelling portrayal of the American nightmare that can live behind the white picket fence and how one woman bested it. This alone is a feat, a testament to her quiet strength. But along the way, Margaret Keane also carved a new path for public art with a little help from a legion of big-eyed children. That is the stuff of an extraordinary mind, perhaps even genius.