Tim Cook Praises Parkland Shooting Survivors, 'Me Too' Movement In Duke University Graduation Speech
Apple CEO Tim Cook's commencement speech at Duke University Sunday offered graduates a "think different" strategy that praised the women of the "Me Too" movement as well as the Parkland, Florida shooting survivors.
Speaking at his alma mater Sunday morning, Cook told the Duke students technology has made today "the best time in history to be alive," despite wide divides in society. He touted the "fearless" behavior of a wide swath of leaders, including the Marjory Stoneman Douglas High School students-turned-gun control activists, as well as his former boss and mentor, Steve Jobs. Cook took over as Apple's CEO following Jobs's 2011 death, and has since overseen the company's rise to the largest publicly traded company in the U.S. with a $752 billion net worth.
"Fearless, like the students of Parkland, Florida, who refused to be silent about the epidemic of gun violence and have rallied millions to their cause," Cook told the Duke commencement attendees. "Fearless, like the women who say 'me too' and 'time's up.' Women who cast light onto dark places and move us to a more just and equal future," Cook continued. "Duke graduates, be fearless!"
A series of high-profile sexual misconduct cases helped jumpstart the "Me Too" movement and hashtag in October 2017. Cook, who graduated in 1988 with an MBA from Duke's Fuqua business school, also warned of the impending dangers of climate change and Americans' inability to listen to challenging opinions.
"Our country is deeply divided, and too many Americans refuse to hear any opinion that differs from their own. Our planet is warming, with devastating consequences, and there are some that even deny it's even happening. Our schools and communities suffer from deep inequality. We fail to guarantee the every student the right to a good education. And yet, we are not powerless in the face of these problems. You are not powerless to fix them," Cook told crowd.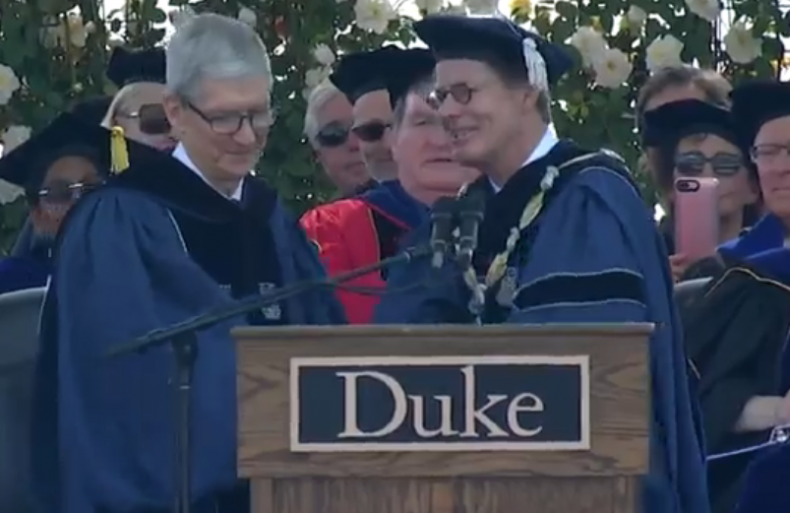 Cook also reiterated his belief that technology will continue to illuminate and expedite the graduates' future career paths.
"No generation has ever had more power than yours. And no generation has had a chance to change things faster than yours can," said Cook. "The pace at which progress is possible has accelerated dramatically. Aided by technology, every individual has the tools, the potential and reach to build a better world."