Apple's Tim Cook Fears Music Losing 'Humanity,' Touts Human Curators Over Algorithms
Apple CEO Tim Cook expressed his disdain over algorithms and mechanical processes taking over the music business, saying he worries the "humanity" is being sapped from today's music.
Speaking from Apple's Cupertino, California, headquarters, Cook took an implied swipe at Spotify's primarily algorithm-driven method for suggesting and exposing users to music. The Apple CEO's comments were used to provide a balancing voice to a wide-rangingFast Company profile about Spotify founder Daniel Ek. Cook said that while music is one of his most impassioned motivators, he fears the consumption of music may become a joyless, non-spiritual process if algorithms push out human curation.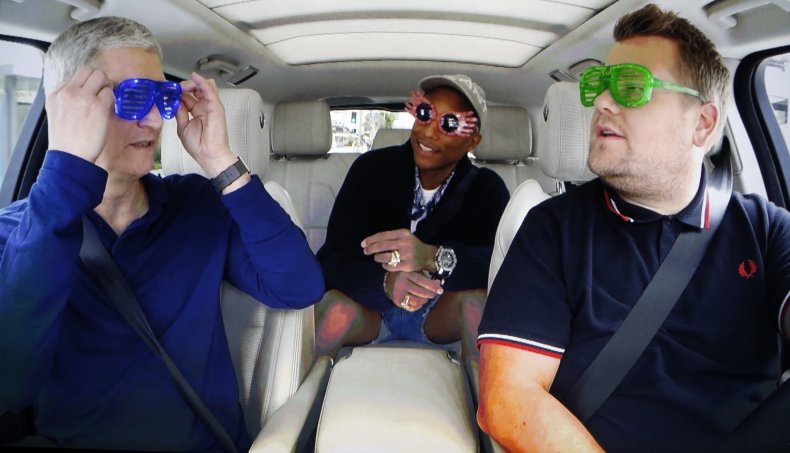 "I couldn't make it through a workout without music," Cook told Fast Company's Robert Safian. "Music inspires, it motivates. It's also the thing at night that helps quiet me. I think it's better than any medicine." Although Cook did not mention the Stockholm, Sweden–based streaming service by name, he did claim Apple is "not in [music] for the money," and has repeatedly touted Apple Music's focus on human curation in past interviews.
"We worry about the humanity being drained out of music, about it becoming a bits-and-bytes kind of world instead of the art and craft," he added.
Although Apple overwhelmingly dominated the download era of digital music in the aughts, Spotify currently has more paid subscribers and more listeners. Spotify boasts 170 million users in more than 60 countries, with 75 million of those people being paid subscribers to the streaming service.
Spotify is among the companies credited with helping to reboot music industry revenue that sagged between 2001 and 2014. Launched in 2008, the company amassed 250,000 paying subscribers and millions of users in just its first year of existence. Spotify has grown by $3 billion in the past three years, and the company's April IPO ended its first day with a $26 billion valuation on the market. As Fast Company notes, the streaming service's massively popular playlists—created by a mix of human curators and algorithms—has placed Spotify at center stage in both the music business and culture.
"What motivates me is impacting culture," said Spotify CEO Ek, who detailed his plans to defeat Apple, Amazon and Google in the music world. "Music is everything we do all day, all night, and that clarity is the difference between the average and the really, really good."
Cook's preference for human curators carries over to Apple's other massive service, Apple News. Speaking in front of fellow Silicon Valley giants at June's Fortune CEO Initiative, Cook said "we felt that the top stories should be selected by humans...Apple has always stood for curation. We've always believed in quality, not quantity."