Tim Cook Says Trade Wars Won't Make Apple's iPhones More Expensive
Apple CEO Tim Cook has said he is optimistic that Donald Trump's rhetoric on tougher trade regulations won't make his company's flagship iPhone smartphone more expensive.
Fears emerged earlier this year that fresh taxes imposed on China could have a knock-on effect on U.S. technology companies. It was estimated at the time, in March, that the additional tariff of 25 percent on around $50 billion of Chinese imports could boost the price of an iPhone X from $1,000 to around $1,250. Other products, including the MacBook, would also be impacted, experts said.
But in an interview with CNN this week Cook didn't predict change. "I am very optimistic because no one will win from that [a trade war]," he noted. "It will be a lose-lose. I think that when the facts are so clear both parties will see that and be able to work things out. I don't think that iPhone will get a tariff on it, is my belief based on what I have been told and what I see. I just don't see that."
Trump has been outspoken about heightened trade action against Beijing, but recently took steps to soften the blow to Chinese tech firm ZTE, which was previously banned from buying products from U.S. suppliers in the wake of alleged sanction violations over dealings with North Korea and Iran. China-based phone maker Huawei has been also been blasted by U.S. officials over espionage concerns.
The Apple iPhone, despite the company itself being based in Cupertino, California, relies heavily on components built overseas. Reacting to Trump's threats, China has threatened to "fight to the end" with its own charges by placing billions' worth of tariffs on U.S. products, including cars, food and planes.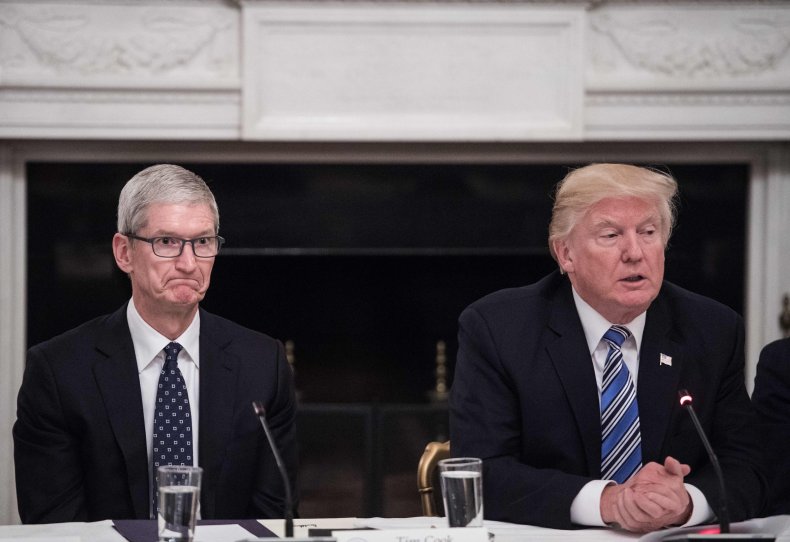 In April, as noted by Axios, Cook met with Trump to discuss the potential trade war escalation. This week the Apple CEO spoke to media on the same day as the firm's annual developer conference, WWDC. In an interview with National Public Radio (NPR), he pushed for global cooperation on trade.
"Countries that have a significant level of openness…are the [countries] that thrive over time," Cook said, adding: "Trade brings people closer together and I think that's true about countries as well.
"It helps a set of broader issues when there's trade going on."
It is believed that Apple is set to release at least three new iPhone models this year. During this week's software-focused WWDC, it revealed a slew of enhancements to its mobile operating system iOS, touting FaceTime with a group of up to 32 people and improvements to voice assistant Siri.
But the Financial Times reported this week, however, that a $100 billion trade war between the U.S. and China was "on track to commence" after recent high-level negotiations ended without much success.