British Election: Anti-Brexit Liberal Democrat Leader Tim Farron on His Party's Comeback Fight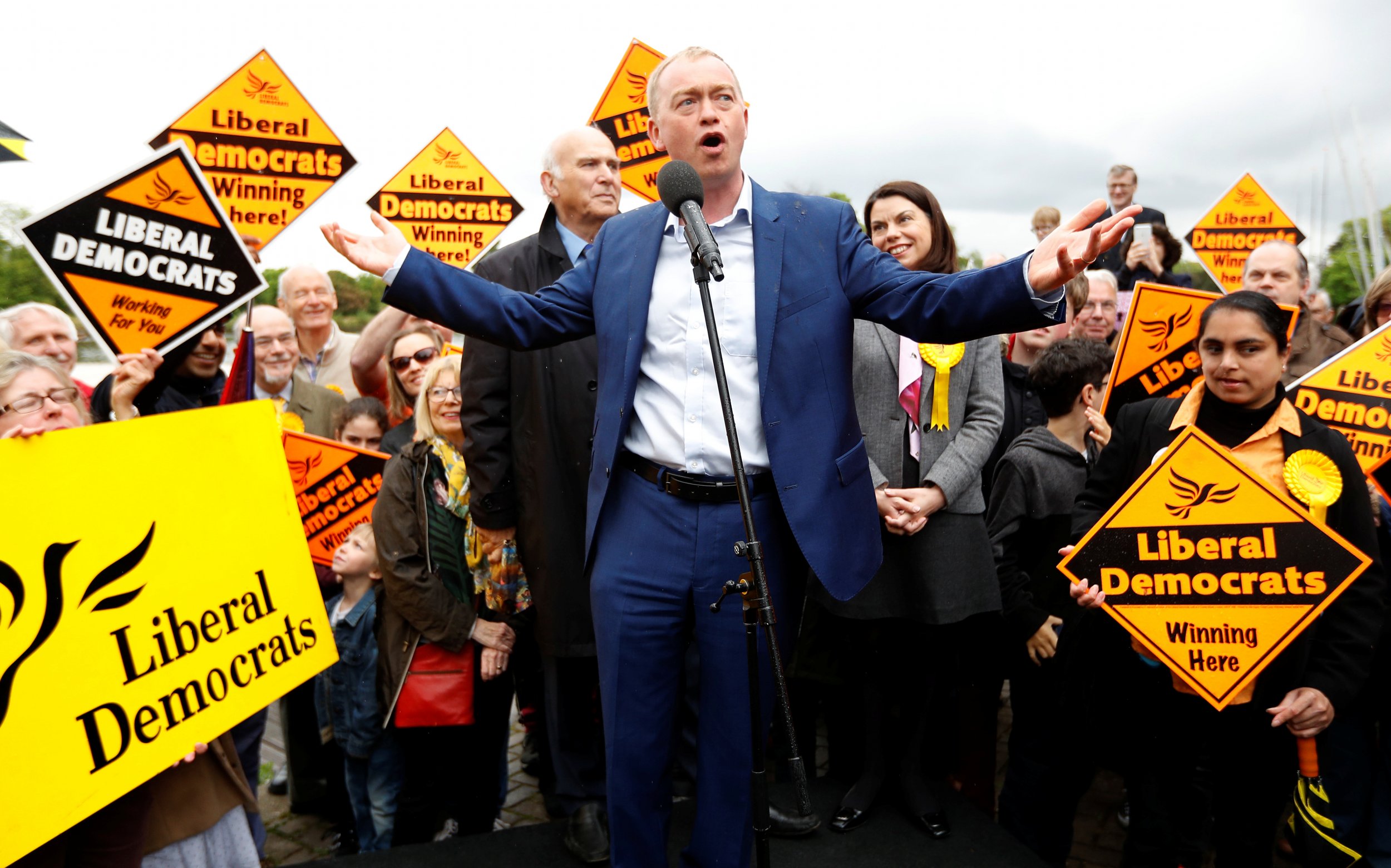 Britain's centrist Liberal Democrat party leader Tim Farron doesn't embody stereotypical European sophistication. He speaks with the chirpy accent of his native north-west England. His manner can be more like a children's entertainer than a politician — out on the campaign trail you'll usually find his smile fixed in a megawatt beam, his speech peppered with "brilliants!" and self-deprecating jokes. What places him furthest from continental élégance is probably his shoes: sturdy, black and sensible with round toes and thick soles, like you'd buy for an energetic child to last them a whole school year.
But as Britain races towards a June 8 general election, Farron and his party—relatively small, but still the third largest U.K.-wide party by number of lawmakers—have emerged as the main champions of the European Union in post-Brexit U.K. While other parties treat the referendum result as a mandate to leave the bloc and and whatever ties they choose, Farron's party's manifesto includes pledges to push for continued membership of the "single market" free trade area, and to campaign for a second referendum, in which the public would get to approve or reject the terms of any Brexit deal.
The question for the party, and for those who want Brexit averted, is whether this is enough to bring people to the ballot box to oppose Theresa May's Conservative party, which is predicted to win big. Can continuity Remain—the side that took 48 percent to Leave's 52 percent in the June vote—drive a Liberal Democrat surge ? Or has Britain moved on already?
Speaking to Newsweek on his campaign bus between the northern English city of Liverpool and Birmingham in the Midlands, Farron lays out the stakes as he sees them. "I am convinced," he says, "that the next several months will be choppy, and the more Theresa May wins this election by, the more she can ignore whole chunks of the country; so the bigger the majority, the worse deal [from the EU] I think we're likely to get." Farron's proposed plebiscite on the Brexit deal, which he says the party would seek to push through by Autumn 2018, represents a slim but concrete chance to stop Brexit—pretty much the only one remaining.
Related: Immigration, not education—How Britain changed between Tony Blair's 1997 win and 2017
Farron's party could make a dent in May's majority. Before Brexit, Britain was a different place, with only hard-right UKIP pushing for a referendum on European Union membership for many years. The party was small in the U.K. parliament, but Britain's largest in members sent to the European chamber. The Lib Dems had always been a given as the third party in the U.K.'s "first past the post system"—until the last general election in 2015.
Farron's predecessor, Nick Clegg, led the Liberal Democrats into a massacre. People angered at Clegg's decision to join a coalition with the Conservatives in 2010 punished him by voting elsewhere. The party slumped from 57 MPs in parliament to eight, while the Conservatives gained a majority—allowing them to call the Brexit poll.
Since 2015, the Liberal Democrats' popularity has partly recovered. Post-Brexit, there are now a lot of constituencies, for example in its traditional stronghold of south west England, where a resurgent party could in theory bounce back and retake seats it once lost to the Conservatives. It has form for this: In Richmond, a remain-voting London seat that changed from Liberal Democrat to Conservative in 2010, the Liberal Democrat Sarah Olney beat the incumbent, Leave campaigner Zac Goldsmith, in a December by-election.
In some ways, focusing on Brexit was a no-brainer for the party. As Mark Pack, a political commentator and former Liberal Democrat official puts it: "One of the problems that in British politics the Lib Dems have always faced is very often being seen by the public as being neither one party or the other party; as somewhere in between." The European issue gives the party a chance to carve out a more distinct, practically single-issue identity—not unlike a UKIP that since achieving its EU-leaving dreams has faded into Britain's political background.
And the likeable Farron is an engaging—if not conventionally prime ministerial—spokesperson, without the elitist appearance of some pro-European politicians. For most of the last weeks of the Brexit campaign, he says, he expected his side to lose. Farron recalls one pre-referendum speech by then-finance minister George Osborne, who campaigned for a Remain vote: "He talked about how…if we leave the European Union, 'your job's at risk, your savings are at risk, your pension's at risk, your foreign holiday's at risk.' And there's a whole bunch of people who had been utterly let down over the previous 20 or 30 years who just looked at that and said: 'I've got none of them. stuff you!' And I have some dark sympathy with that," Farron says.
Read more: Dinner party gossip reveals the Brexiters' deep delusions about striking an easy deal with the EU
But the party is placing all its bets on Brexit to drive this revival, and that's a risk. Farron has ruled out entering another coalition with either Labour or the Conservatives, since both of them are committed to leaving the EU. That means that the party will likely never get to enact a slew of eye-catching domestic policies it has announced during the campaign, from legalizing cannabis to a £6 billion funding boost for the Britain's public health care system (the National Health Service). A vote for the Liberal Democrats will get you an advocate for a second Brexit referendum and a close relationship with Europe, and not much more. Asked about this directly, Farron admits that Brexit is a "key plank" of the party's offer, but insists it is a valid strategy to, "create a vision beyond that [election] campaign; that actually we can be a Britain that's outward looking again."
This focus on Europe above all else means that the party could be set to do well in places like Bath, a genteel west England city packed with streets of beautiful Georgian townhouses, ancient Roman ruins, and droves of former Remain voters. But it might have a harder time in, say, Cornwall, a wild and rocky county in the far south west, traditionally a bastion of freethinking liberal politics, but also a poor area that mostly voted to leave the EU. Matthew Goodwin, a senior fellow at the London-based think tank Chatham House, has pointed out that UKIP averaged nearly 14 percent of the vote across the south west at the 2015 election. Polls suggest that many former UKIP voters will move to the Conservatives in June, which would deliver the party a big boost just where the Liberal Democrats are hoping to hit them hard.
The Liberal Democrats' campaign didn't get off to the best start. In the early days after May called a vote, Farron got bogged down in a series of awkward encounters with journalists about his evangelical Christian faith, and specifically whether he considers gay sex to be a sin (he eventually confirmed that he does not). Religion and politics can sometimes mix in agnostic Britain (May, with her huge poll lead, is a proud Christian). But when you're gunning for lots of young, liberal votes, it's a bad hole to dig, and it took up valuable time that Farron could have spent hammering home his message.
His religion, Farron says, does also have upsides while campaigning: "It makes you realize that this is very, very important, but it's not all-important," he says. The concern for him and his party is that voters will feel the same about Brexit: while 48 percent of the country voted to remain in the EU last year, 69 percent of Britons now believe that the government has a duty to get on with leaving the EU, according to YouGov. In other words, they've moved on, and that remaining 31 percent may not be evenly distributed around Liberal Democrat target seats.
As Farron himself admits, the timing of this election is inconvenient for the Liberal Democrats: Any instability that will come from Brexit negotiations won't arise until after May is (most likely) safely back in Downing Street. But at the same time, there won't be another general election until 2022, making this Britons' last chance to kick back against Brexit. As the tension builds ahead of polling day, Farron hopes enough of them seize it to trouble Theresa May and her Tories.