Tim Gannon, the Brooklyn Center, Minnesota, police chief, resigned on Tuesday, just one day after he said he had no plans to give in to calls for him to step down.
The City Council passed a resolution in support of relieving Gannon, who's been police chief for about five years, on Monday. He was criticized for the police department's response to people who turned out to protest the death of Daunte Wright, a 20-year-old Black man who was fatally shot by an officer on Sunday.
Brooklyn Center Mayor Mike Elliott confirmed Gannon resigned on Tuesday morning, as well as the resignation of officer Kim Potter, who fired the fatal shot. Officer Tony Gruenig, who was with the department for 19 years, was appointed acting police chief.
On Monday, Gannon told reporters that he had no plans to step down if there were calls for his resignation and stood by his department's response to the protests. The department deployed tear gas on Sunday night amid civil unrest that was sparked by Wright's death. When pushed about the response, Gannon confirmed he wouldn't have done anything differently.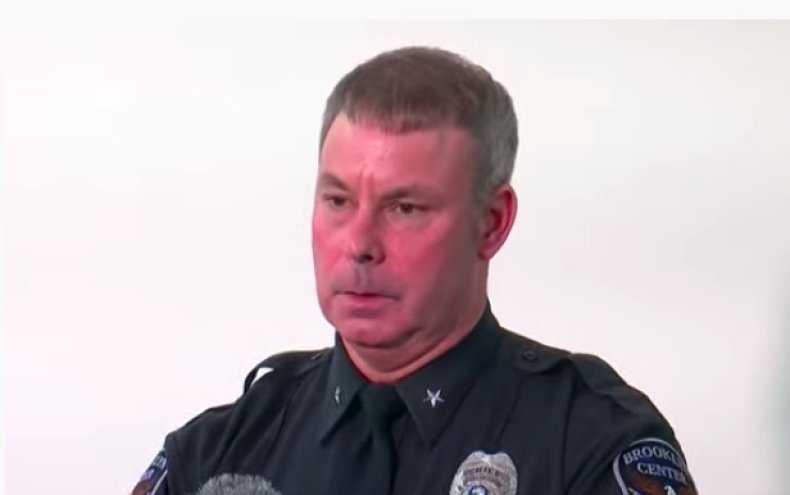 The former police chief was also criticized at Monday's press conference for labeling the previous night's unrest as a "riot" and not a protest.
Officers pulled Wright over on Sunday for a traffic violation and attempted to apprehend him when they found there was a warrant for his arrest. During the apprehension, Wright tried to reenter his vehicle, at which point Potter fired her weapon.
Body camera footage from the shooting showed Potter repeatedly yelled "Taser" before she fired. She then told a fellow officer, "Oh, s***, I shot him."
Given what he saw on the body camera footage, Gannon believed the shot was an "accidental discharge," he told reporters on Monday. He added that he believed the officer intended to deploy her Taser but shot Wright with a single bullet instead.
Elliott was quick to call for Potter to step down, saying that the police department can't "afford to make mistakes that lead to loss of life." Gannon wouldn't comment on whether he thought the officer should resign but said people could ascertain if she'd be returning to duty by watching the video.