Tim Griffin Exits Arkansas Gov. Race, Suggesting 'Tsunami' of Support for Sarah Huckabee Sanders
Arkansas Lt. Governor Tim Griffin announced his withdrawal from the state's governor race on Monday, signaling that former White House Press Secretary Sarah Huckabee Sanders has strong support in the race, according to a polling expert.
"Since announcing my campaign for governor last year, I've been overwhelmed by the incredible support I have received from all corners of the state. While I believe Arkansans are ready for my message of bold, conservative leadership, my conversations with friends and supporters have persuaded me that at this time, I can do more for Arkansas in a different capacity. I have prayed about this decision with my family and I have listened," Griffin's campaign said in a statement.
His statement went on to announce his campaign for attorney general of Arkansas, saying, "We need an Attorney General who will back law enforcement, stand for law and order by cracking down on crime and corruption, and fight the liberal agenda of the Biden/Harris Administration in court."
In the state's Republican primary for governor, Griffin was set to challenge Attorney General Leslie Rutledge and Sanders.
Sanders' entry into the race brought a surge of national attention, and she also received an endorsement from former President Donald Trump.
While there have been no public polls conducted for the state's governor race, Janine Parry, director of the Arkansas Poll at the University of Arkansas, told Newsweek that the announcement by Griffin "is a strong signal that [Sanders] is polling as well as we've all expected for months."
"I polled [Sanders] actually a couple years ago when we first heard she was likely to come home and get involved in the race, and she polled comparable to Trump, and Trump finished here of course well over 50 percent," Parry told Newsweek. "So, I fully expect [Sanders] to track with his popularity for the foreseeable future."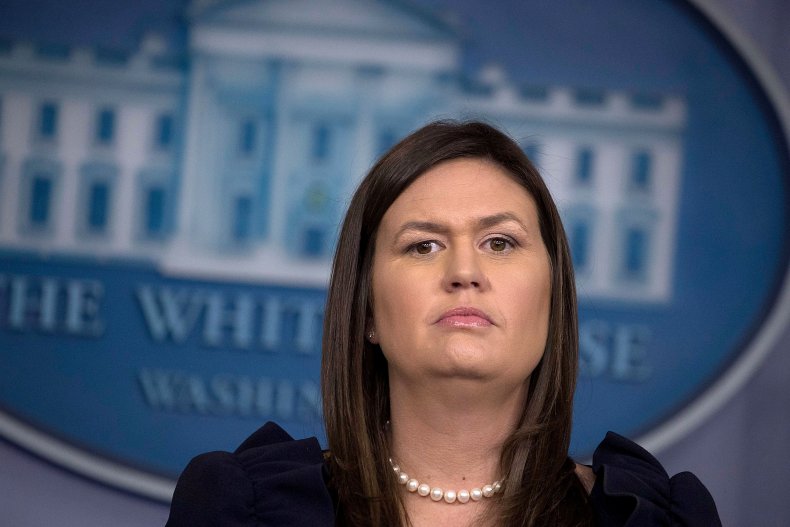 Parry also told Newsweek that despite the fundraising efforts by Griffin and Rutledge, as well as their past political experiences, the state of politics in Arkansas "are so Trumpian, they just haven't been able to get any traction with the voters."
While Griffin's decision to withdraw from the race leaves just two Republican candidates for the primary, Parry suggested that Sanders continues to have the edge due to her ties to Trump and Arkansas residents' support for the former president.
"Mathematically it would seem make things easier for Rutledge, both in terms of fundraising where she's been behind Griffin and in terms of still trying to increase her profile," Parry told Newsweek. "She's done everything she can to increase her profile in a way that connects her to Trump, but against Sarah Sanders, who was the actual mouthpiece for Trump for two years, it's just been almost impossible to hitch herself to that wagon."
She continued, "I think realistically there's just almost nothing any other candidate can do against the tsunami that is Sarah Huckabee Sanders at this point."
In an email sent to Newsweek, Sanders' campaign wrote, "Tim Griffin has been a strong voice for Arkansas and I look forward to working with him to unite our party and make our state better. I wish Tim and his family the very best."
Newsweek reached out to Griffin's office for comment but did not receive a response in time for publication.