Fast-Food Chain Issues 'Sincere Apology' Over 'Gross' Sign to On-Duty Staff
A sign in a fast-food chain telling workers they can only speak English while on duty has been slammed online, after it was shared to Reddit.
The piece of paper recently went up in a Tim Hortons, thought to be in Scarborough, Ontario, Canada. It read: "There will be no speaking of any language other than English while on duty."
The words "no speaking," "English," and "duty," were in capitals, and underlined, for emphasis.
The printed note was on a noticeboard, above Tim Hortons-branded signs saying "Here's how we're supporting health and well-being," and "We're in this together," in reference to COVID-19 measures.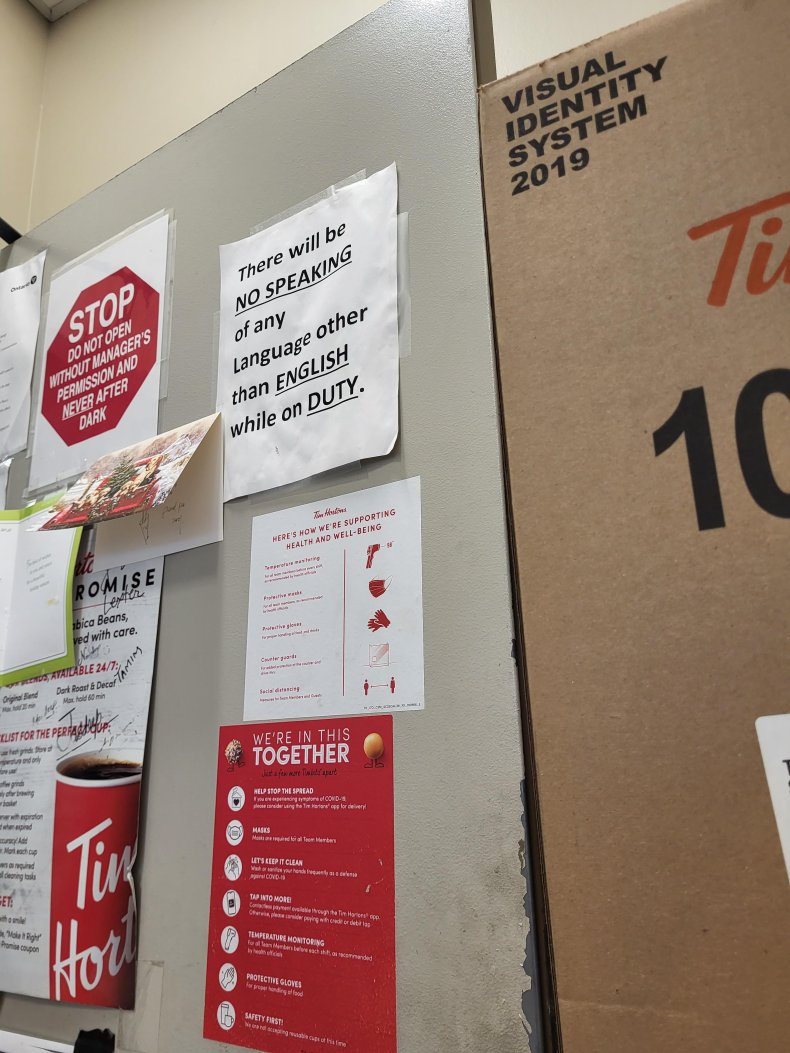 The snap was posted to Reddit's r/Antiwork sub by user Grilledcheese2332, real name Samantha, on Sunday, It has since amassed more than 12,000 upvotes.
Speaking to Newsweek, Samantha claims she believes the workers at the restaurant speak a "mix of Hindi and Tagalog," alongside English.
Explaining how she saw the sign, the former customer confirmed: "I don't actually work there, they just left the door open.
"There is always at least 7 people crammed back into a really tiny space because it's a gas station location."
Samantha, who previously ate there at least once a week, vowed: "I won't be going back for sure," adding: "I think it's pretty gross.
"Like someone else said it in the comments they take advantage of these people and then tell them can't speak to each other in the language they are most comfortable."
A spokesperson for the chain told Newsweek they offered staff a "sincere apology" for the sign.
They said: "At Tim Hortons, we work hard to foster inclusive and diverse restaurants where guests and team members are treated with respect and kindness.
"We have been in communication with the restaurant owner, who removed the sign today, and has offered a sincere apology to their team members."
Numerous Redditors were equally outraged by the note, as Cam52391 thought: "Every restaurant kitchen in America would shut down if this was a rule everywhere."
Chaosengel pointed out: "Best part is, using French is a protected right in Canada."
GingerMau said: "Ya... isn't that actually illegal in Canada! (Someone needs to scrawl on this: pas francais?)"
Jesterpest advised: "Learn sign language and unionize under their noses."
Ritabook84 commented: "Oh it's a human rights complaint waiting to happen."
Worldly_Car3545 replied: "In a bilingual country or all places."
ZealousidealOven4188 joked: "We're in this together... but you must speak English. Lol at the cognitive dissonance."
While TheLemonDome added: "Well besides the blatant ignorance; it's illegal."
As many people pointed out, Canada has two official languages: French and English.
Website EduCanada, which supports the international education offerings of Canada's provinces and territories, explained: "Canada has 2 official languages, French and English.
"Across Canada, you'll hear many other unofficial languages in restaurants, on buses and at school.
"In fact, more than 200 languages from around the world are spoken. Canada also has 60 Indigenous languages."
Tim Horton's hit the headlines recently due to their recent collaboration with Canadian-born Justin Bieber, Biebs Brew.
Launched in 1964, the chain has restaurants across Canada, the U.S. and recently launched in the U.K.