Tim Kaine Among Many Drivers Stranded On Virginia Highway for Hours Due to Thunder Snow
Roads and highways continue to be clogged in the wake of major snowstorms on Monday. In Virginia, several notable names have reported being stuck in their cars for several hours as of Tuesday morning.
Tim Kaine, the Democratic Senator from Virginia, tweeted about his predicament at around 8:30 a.m. on Tuesday. Kaine, who was Hillary Clinton's presidential running mate in 2016, claims to have been stuck since starting his commute to Washington, D.C., on Monday afternoon.
"I started my normal 2 hour drive to DC at 1pm yesterday, 19 hours later, I'm still not near the Capitol." Kaine tweeted, alongside an image of several tractor-trailers ahead of his vehicle. "My office is in touch with @VaDOT to see how we can help other Virginians in this situation. Please stay safe everyone."
Interstate 95 in Virginia remains closed as of Tuesday, contributing to the significant traffic backup. WFXR reported that part of the reason for the closure was a tractor-trailer that jackknifed in an accident that involved powerlines. Virginia was also one of the states to report instances of thunder and lightning in the midst of its snowstorm.
Outgoing Virginia Governor Ralph Northam also tweeted about the situation on Tuesday morning, assuring the public that he is working to clear the roads and get traffic moving again.
"My team has been working throughout the night alongside [the Virginia State Police], [the Department of Transportation], and [the Department of Emergency Management] to respond to the situation on I-95," Northam wrote. "State and local emergency personnel are continuing to clear downed trees, assist disabled vehicles, and re-route drivers. An emergency message is going to all stranded drivers connecting them to support, and the state is working with localities to open warming shelters as needed. While sunlight is expected to help @VaDOT clear the road, all Virginians should continue to avoid 1-95."
Alongside Kaine, another notable public figure was also stuck on the highway in Virginia: NBC News White House correspondent Josh Lederman. Appearing via video on Today, Lederman said that, as of Tuesday morning, he remained roughly 30 miles south of Washington and had been there since around 8 p.m. the previous night. His dog is also stuck in the car with him.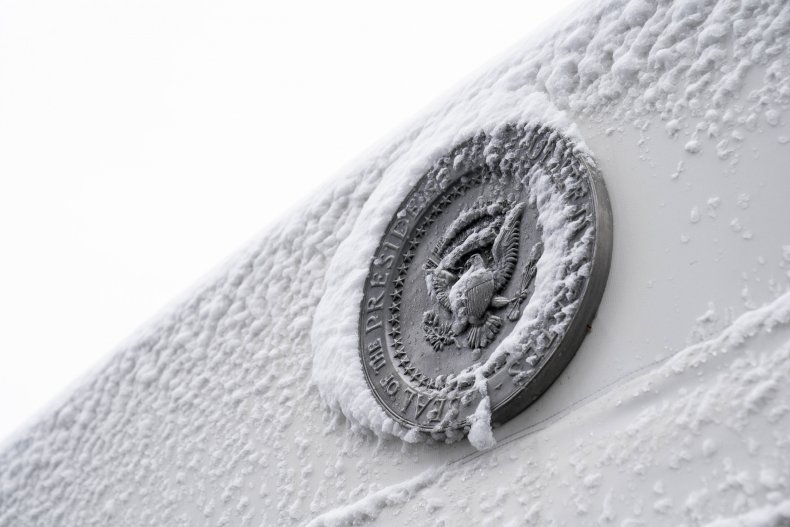 "I try not to tweet about daily inconveniences, but this experience has been insane," Lederman wrote at the start of a Twitter thread. "For the last 7+ hours, I've been stuck in my car, not moving, in a total shutdown of I-95 northbound about 30 miles south of DC... The interstate is absolutely littered with disabled vehicles. Not just cars. Semis, everything. Nobody can move. People are running out of gas or abandoning vehicles."