Tim Kaine 'Everything Trump and Pence Are Not:' Clinton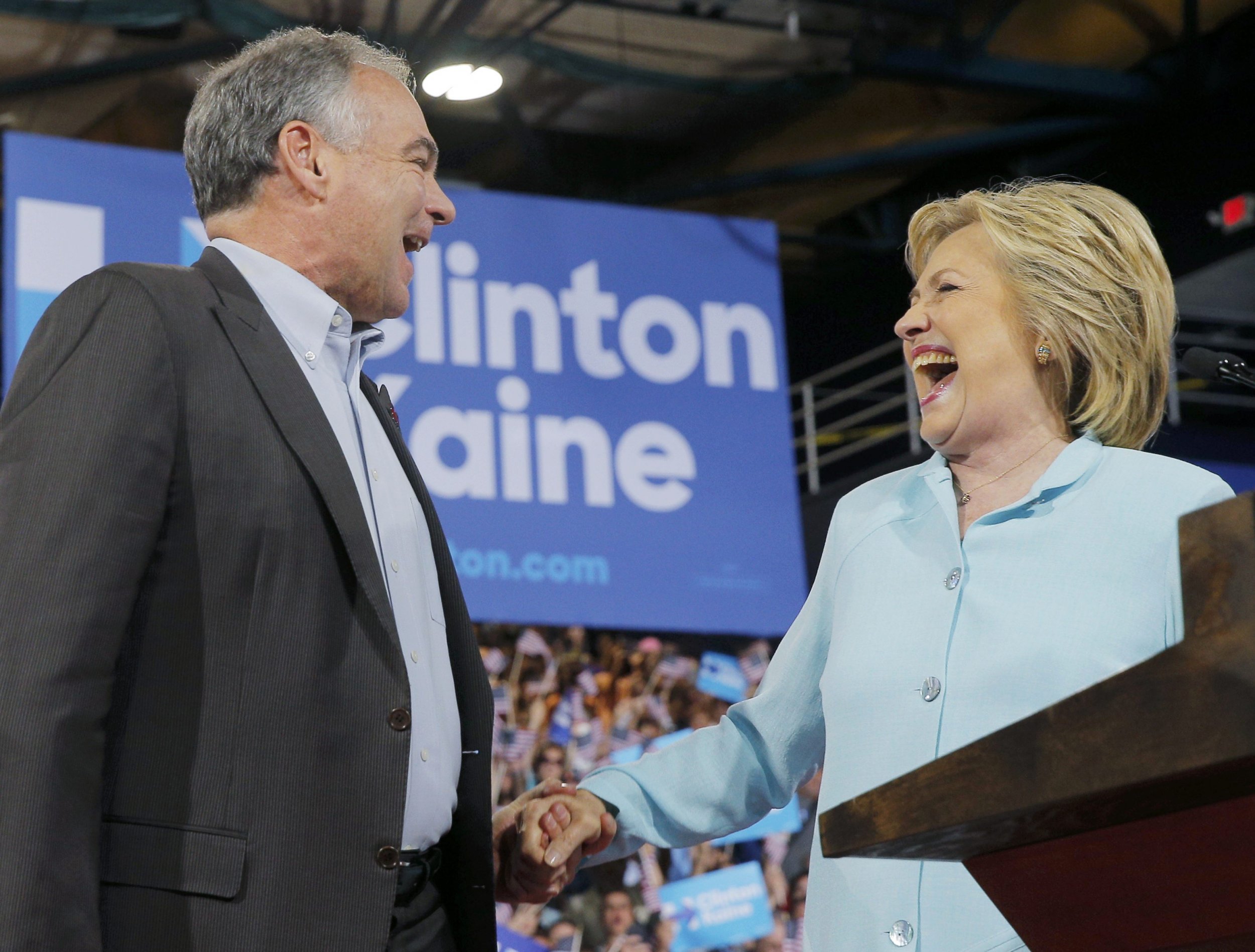 Hillary Clinton and Tim Kaine on Saturday offered a sharp rebuke of Donald Trump's vision of America during their first appearance together since Clinton announced the Virginia senator as her choice for vice president.
Kaine is "everything Donald Trump and Mike Pence are not," Clinton said on Saturday, as both Democratic contenders sharply criticized Trump's address at the Republican National Convention. "When someone says I alone can fix it, that should set off alarm bells...that is not a democracy," Clinton said. The GOP hopeful has "left a trail of broken promises and lies" throughout his business career, Kaine said. "When Donald Trump says he has your back, you better watch out.
"Hillary Clinton doesn't trash our allies, she respects them. She'll always have our backs...Hillary knows we're stronger together," Kaine said, referencing a report in the New York Times in which Trump questioned whether he'd defend NATO allies from Russian aggression. The troops "deserve a commander in chief with the experience and temperament to lead," he said.
Clinton introduced Kaine, a former mayor, Virginia governor and current senator, as an experienced and eminently qualified vice presidential hopeful as both laid out a progressive vision in contrast to Trump's law-and-order pitch.
Kaine is a leader who "cares more about making a difference instead of making headlines," Clinton said. He's "qualified to step into this job and lead on day one."
The Democratic hopefuls promised the crowd in Miami that they'd fight for job creation, a higher minimum wage, affordable college, paid family leave and "comprehensive immigration reform that includes a path to citizenship," among other progressive causes.
"We're going to make the American economy work for everybody," Kaine said.
Kaine, 58, who repeatedly addressed the crowd in fluent Spanish, described growing up in Kansas and attending a Jesuit boys school, learning that the proper approach in life is to "do all the good you can." That credo led him to volunteer as a missionary in Honduras, where he learned Spanish, and pursue a career as a civil rights lawyer before winning the Richmond, Va. mayoralty. The governor's mansion followed, where he described fighting for education and open space despite being in a deep recession.
"I believe in doing everything I can to make a positive difference in peoples' lives," Kaine said.
He described Clinton as a fighter who's "always delivered...she never backs down." Kaine contrasted Clinton with Trump with a series of questions: "Do you want a you're-fired president or a you're-hired president? Do you want a trash-talking president or a bridge-building president? Do you want a me-first president or a kids and family president?"
Clinton promised to "offer a very different vision...one that is about building bridges, not walls," when the Democratic National Convention opens Monday in Philadelphia.
"We solve problems together. And if Donald Trump doesn't understand that, he doesn't understand America."