Tim Kaine and Joe Manchin Backed Amy Coney Barrett in 2017. Here's Why They've Changed Their Minds
Senators Tim Kaine and Joe Manchin have both pledged not to vote for the confirmation of Judge Amy Coney Barrett if the motion is put to them before election day, warning that the move would be divisive.
The Democrats from Virginia and West Virginia said any Supreme Court nominee vote held before November 3 would be a "reckless" move that could "only fan the flames of division" already witnessed across the U.S.
Both lawmakers voted to confirm Barrett as U.S. Circuit Judge for the Seventh Circuit on October 31, 2017—putting them at odds with the majority of their party colleagues in the upper chamber.
Releasing a statement on the upcoming SCOTUS vote, Sen. Kaine (VA) said the vacancy had to be filled by the winner of the 2020 presidential election.
"I intend to follow that precedent and will not support anyone's confirmation until we know the election results," Kaine said. "There are less than 40 days between now and Election Day, and voting is already underway in Virginia and other states.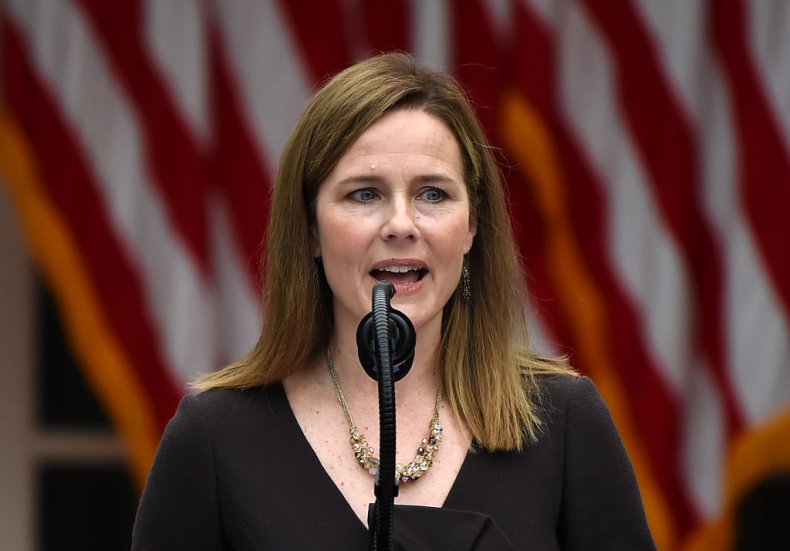 "Given the stakes—health care, fundamental rights, the integrity of the Court—rushing a confirmation vote before the American people have weighed in would be reckless."
His Democratic colleague Senator Manchin (W. VA) took similar issue with the plan to "rush" the confirmation of a new Supreme Court nominee ahead of polling day on November 3.
"Rushing to confirm a Supreme Court nominee weeks before a presidential election has never been done before in the history of our nation and it will only fan the flames of division at a time when our country is deeply divided," he said.
"I cannot support a process that risks further division of the American people at a time when we desperately need to come together. I will not vote to confirm Judge Coney Barrett or any Supreme Court nominee before Election Day on November 3."
Earlier in his message on the planned Supreme Court vote, the West Virginia Democrat said he would still "review Judge Coney Barrett's legal qualifications and judicial philosophy" as he had done with previous nominees.
The pair released their statements shortly after President Donald Trump nominated Judge Barrett to the Supreme Court in the White House Rose Garden on Saturday. Speaking to gathered media, the president said Barrett was one of the "most gifted" and "brilliant" legal minds in the U.S.
"She is a woman on unparalleled achievement, towering intellect, sterling credentials, and unyielding loyalty to the Constitution," Trump added before introducing his third Supreme Court nominee.
Accepting her nomination from the president, Judge Barrett said: "I have no illusions that the road ahead of me will be easy, either for the short term or the long haul. I never imagined that I'd find myself in this position.
"But now that I am, I assure you that I will meet the challenge with both humility and courage."
Republican Senate Majority Leader Mitch McConnell has committed the GOP-controlled upper chamber to vote to fill the vacant seat of late Supreme Court Justice Ruth Bader Ginsburg with Trump's nominee.
Senate Judiciary Committee Chairman Lindsey Graham of South Carolina told Fox News on Sunday that his committee would approve her nomination on October 22.