Tim Kaine Says 'Most Shocking Revelation' of Trial Involves Trump Tweet Attacking Pence
Democratic Senator Tim Kaine said Saturday that the "most shocking revelation" of Donald Trump's second impeachment trial so far has involved Trump's tweet attacking former Vice President Mike Pence during the January 6 Capitol riot.
"Most shocking revelation from trial thus far: Pence taken from chamber to protect his life at 2:13 pm. Trump sends tweet trashing Pence to millions, then calls Tuberville while Senate is under lockdown. He asks Tuberville for help to delay—or stop—calling the election," Kaine tweeted Saturday.
Kaine's statement refers to new questions that have emerged surrounding Pence's safety on the day of the violent insurrection, and how much Trump knew about the attack.
During a lengthy question-and-answer session on Friday, senators questioned whether or not Trump's actions on January 6 directly put Pence's life in danger.
As the violence unfolded, Pence was ushered to safety away from the Senate chamber at 2:14 p.m. Roughly 10 minutes later, Trump tweeted an attack on the former Vice President, pressing him to find the "courage" to reject the election outcome for Joe Biden.
"Mike Pence didn't have the courage to do what should have been done to protect our Country and our Constitution," Trump's tweet read.
On Wednesday, Alabama Republican Senator Tommy Tuberville stated that he had informed Trump that Pence was being escorted to safety in a phone call around the same time that Trump sent that tweet.
During the call, Tuberville said that Trump asked him for help in delaying the Senate's confirmation of Joe Biden.
"Well, I don't know if you've ever talked to President Trump. You don't get many words in, but he didn't get a chance to say a whole lot, because I said, 'Mr. President, they just took the vice president out, I've got to go,'" Tuberville said.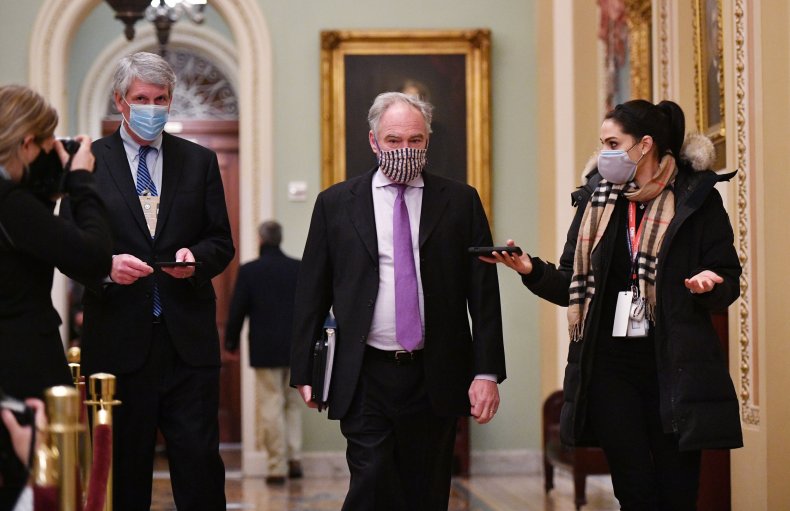 That information prompted senators to question whether or not the then-president was aware of the severity of the Capitol breach while he was still issuing attacks against those who disagreed with his false claims that the election had been stolen due to voter fraud.
On Friday, Trump's defense team denied allegations that the former president was aware that Pence was in danger.
"The answer is no," Michael van der Veen said on the Senate floor. "At no point was the president informed the vice president was in any danger."
But Democratic senators have vehemently disagreed with that statement.
"How could the president of the United States—watching what was going on, knowing that his vice president was in the chamber, being notified that he'd been removed by Secret Service—not know that [Pence's] life was in danger," Senator Chris Coons, a Democrat from Delaware, told reporters Friday.
"How could you miss that? My family—just watching the riot unfolding [on television]—were out of their minds with worry. How could the president of the United States not know that there was an angry mob assaulting the Capitol?"
On Saturday, the Senate approved a last-minute vote to call witnesses to the impeachment trial as new evidence emerged accusing Trump of siding with the mob of his supporters as they stormed the U.S. Capitol.
The January 6 insurrection left five people dead, including one Capitol Hill police officer.
Newsweek contacted Kaine's office for additional comment, but did not hear back in time for publication.