Tim Kaine Would Not Be a Boring Vice President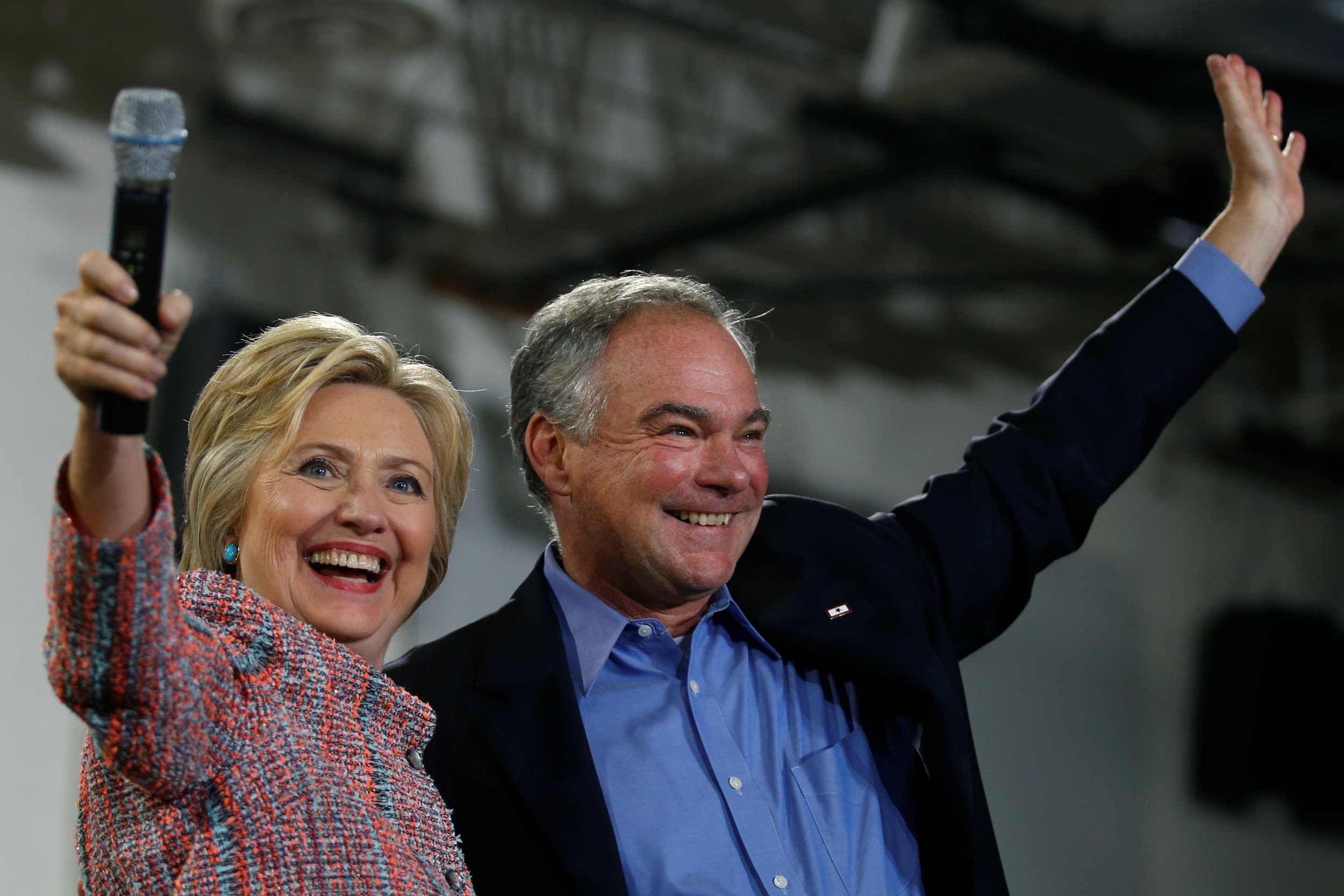 Tim Kaine does not thunder. While introducing presumptive Democratic presidential nominee Hillary Clinton at a rally on Thursday afternoon, the Virginia senator lit into her likely Republican opponent rhetorically, but with a delivery that was more Sunday school teacher than fire breather. "I'll tell you one that gets me steamed," Kaine said, pointing to one of Donald Trump's myriad controversial statements—but he didn't really sound at all that "steamed."
Being seen as a nice guy is usually a handicap for those competing to become vice president. Presidential candidates tend to choose attack dogs, people who can go after the opposing nominees while they keep their hands clean. Being a white guy could also work against Kaine, given the Democratic Party's increasingly diverse makeup. At 58 years old, Kaine is significantly younger than Clinton, but he is still a baby boomer, with the receding hairline and burgeoning paunch to show for it. It's hardly an image that screams "fresh face," particularly compared to other potential VP picks like Housing and Urban Development Secretary Julian Castro or New Jersey Senator Cory Booker, minorities in their mid-40s.
Yes, Kaine checks all the boxes a presidential candidate could want in a VP. Ivy League pedigree? Graduated from Harvard Law School. Executive experience? Served as mayor of Richmond and governor of Virginia. From a swing state? These days, Virginia is as purple as it gets. But while those are all solid resume builders, they're hardly the sort of activist profile that's going to make the Democratic base to swoon. That's something Clinton is no doubt weighing as she prepares to make her vice presidential pick in the next week.
"It's true," Kaine admitted on NBC's Meet the Press last month, "I am boring." Personable but unassuming, he's not the type who, like Massachusetts Senator Elizabeth Warren, will engage in Twitter wars with Trump. In Virginia, he built a reputation as a consensus-builder, not a bold thinker, while governing as a Democrat in a traditionally conservative state. Dig beneath the surface, however, and another picture starts to emerge, one that's a lot more colorful than the vanilla first impression. It turns out that this career politician actually has a pretty radical streak running through him: a fierce, Jesuit-inspired commitment to social justice and racial equality that was very much at odds with the consensus in his Southern state at the time he was building his career.
Kaine declined to be interviewed for this article, but in the past he has credited his deep Catholic faith and a life-changing year as a missionary in poverty-stricken Central America for his foray into public service and politics. Speaking to Charlie Rose in 2008, Kaine said the year he took off during law school to volunteer with Jesuit missionaries in rural Honduras "really reenergized my faith, it gave me a role model…it gave me a sense of mission generally and specifically and it taught me a lot about our country."
He harkens back to the experience regularly, including on Thursday. Speaking at a community college in Northern Virginia with Clinton looking on, Kaine recounted, "When I lived in Honduras, the best compliment you could make to someone…was to say that they were 'listo,' to say that they were ready"—a reference to the Clinton campaign slogan "Ready for Hillary." Showing off his fluent Spanish, he explained, "What ready means is more than just on time, it means well-prepared, it means they're ready to get on the ballot!" The crowd roared.
Kaine's time in Honduras also pointed the way toward the civil rights work he did in Richmond. It was there that he read the famous Martin Luther King Jr. line: "the most segregated hour of the week is 11 o'clock Sunday morning."
"When I read that, you know, my experience growing up in a very white suburb of Kansas City, and not really knowing many people different from me, boy the scales really fell from my eyes," he recounted to Rose. "I just decided whatever I did I was always going to try to make racial reconciliation a core of what I did."
Kaine upbringing in that working class Catholic home is belied in his lingering hint of a nasally Midwestern accent. His future wife, Anne, brought him to Richmond after law school in the early 1980s, at a time when racial divides were still carving up this onetime capital of the Confederacy. Her father, former Virginia Governor Linwood Holton, made national headlines in 1970 by sending his daughters to a predominantly black school as part of a push to desegregate Richmond's public education system.
Tim and Anne embraced a similar ethos in the life they built together in Richmond. They joined St. Elizabeth, a Catholic church in the low-income Highland Park neighborhood, at a time when few white people were part of the parish. Even now, the neighborhood is "mostly black folks," says Rev. James Arsenault, St. Elizabeth's pastor. The Kaines play an active role in the church, with Tim even being known to sing with the gospel choir from time to time. "I know they've been godparents for some kids from the parish and go to graduations and wedding anniversaries," Father Arsenault says. "They're friends, people call them Tim and Anne."
Not long after he moved to Richmond, Kaine sought to join Virginia civil rights icon Henry Marsh's law firm. "He was interested in being a civil rights lawyer," recalls Marsh. But "I couldn't afford him, so I referred him to another law firm that had more resources." Kaine had been practicing law for only a short time when he agreed to take on a death row inmate's appeal. Richard Lee Whitley had already confessed to sexually assaulting and murdering a 63-year-old widow and Kaine didn't have any experience with death penalty cases. But he did have a fierce, faith-driven aversion to the death penalty.
"You read about the crime and you think, why would anybody defend this guy, just a horrible, horrible crime," says Thomas Wolf, who helped Kaine with the Whitley case and would later become his law partner. "And then you read about his life and you realize that he never had a chance."
Kaine "recognized that there are more death row cases that deserve having a good lawyer take a look at them and represent the person who is on death row than there are lawyers to do it," says Wolf. So despite his inexperience, and the horrible nature of the crime, for Kaine it was "an easy call."
Much of Kaine's legal career in Richmond was focused on fair-housing law and working with nonprofits in the housing sector. In many of his cases, payment was contingent on the outcome of the trial, which was uncommon for the firm, says Wolf. "Almost all the firm's work was by the hour," says Wolf, which is how most lawyers in the private sector get paid. "But most of Tim's work was not that way." Kaine also did regular pro-bono work. He was a founding member of the Virginia Coalition to End Homelessness and was a board member of the Virginia chapter of Housing Opportunities Made Equal, which he represented in a landmark discrimination lawsuit against Nationwide Mutual Insurance practices in Richmond.
The Nationwide case was settled while Kaine was the city's mayor. He'd risen to the position after being elected to the city council in 1993. At the time, the mayor was selected by the city council, from among its ranks. Though divided on racial lines, the council members united to tap Kaine as mayor of the majority-black city in 1998. Kaine's bid got a boost with an endorsement from Marsh, who had served as the city's first African-American mayor in the late 1970s.
Kaine's political career took off from there. Between 2002 and 2009, he leapfrogged from mayor to lieutenant governor to governor of Virginia. Like Clinton this year, Barack Obama in 2008 vetted Kaine as a possible vice presidential pick, after Kaine came out as one of the Illinois senator's early endorsers. Obama tapped Senator Joe Biden instead, but he installed Kaine as chairman of the Democratic National Committee, where the Virginian served between 2009 and 2011. In 2011, Kaine decided to run for Virginia's open U.S. Senate seat, winning comfortably that fall.
Kaine's religious values at times have forced him to walk a tricky political tightrope. During his 2005 run for governor, Kaine was hit repeatedly by his Republican foe over his opposition to the death penalty in a state where the vast majority of voters support it. Kaine pledged to respect state laws and the will of the public, and executions took place on his watch. "Absolutely, it weighed on him as governor," says Wolf. "But he also recognizes that it is not appropriate for a leader to impose his views on the electorate, to supplant the law with his own personal views."
Kaine takes a similar approach to abortion. "I'm kind of a traditional Catholic, personally I'm opposed to abortion," he said on Meet the Press. "But I deeply believe, not just as a matter of politics, but a matter of morality, that matters of reproduction and intimacy and relationships and contraception are in the personal realm…and the last thing we need is government intruding into those personal decisions." That's not likely to be enough to win the embrace of the abortion-rights movement, especially given that he supported abortion restrictions like 24-hour waiting periods and parental notification in Virginia. "In some of those areas where I've supported restrictions on abortion, not all of the Left have appreciated that," Kaine told Rose in 2008. "But I think it's been important to do that because there's a moral gravity to abortion as an issue that has to be respected."
That's an example of the centrist, compromise-oriented approach Kaine took as a statewide leader in Virginia—a very different one from the social crusader role he played in Richmond in his early years. He did what was necessary for a Democrat running in a traditionally Republican state, but it's not necessarily what the Democratic faithful are looking for in a 2016 election fueled by populist upheaval. And Republicans are already going after Kaine for gifts he took while lieutenant governor and governor of Virginia, which is legal under the state's infamously lax ethics laws. Kaine's successor as governor, Republican Bob McDonnell, was convicted of corruption in 2014 for taking gifts in exchange for political favors, a ruling that was overturned by the Supreme Court on Monday.
A Politico report last month tabulated that Kaine disclosed $160,000 worth of gifts while in office, most of which was for travel to political or state-related events. But he also reported staying at the West Indies island home of Charlottesville-area investor James B. Murray Jr. on a family vacation in 2005, which his office estimated was worth $18,000. There are no indications, however, that there was any sort of quid pro quo. And friends and former colleagues of Kaine's describe him as deeply unpretentious, with little regard for the trappings that come with high public office.
That kind of everyman appeal could help Clinton with one voting bloc she's desperately trying to make inroads with: white men. Right now, polls show Clinton losing to Trump among male voters by double-digits, and among white men by even more. Kaine clearly has a side to him that can win over moderate white voters—he did it multiple times in Virginia. Kaine's less visible side—the social justice crusader—could be just as powerful, if people outside his home state ever learned about it. The question is whether Clinton will take that chance.