Why Tim Kaine Was A Game-Changing Choice for Me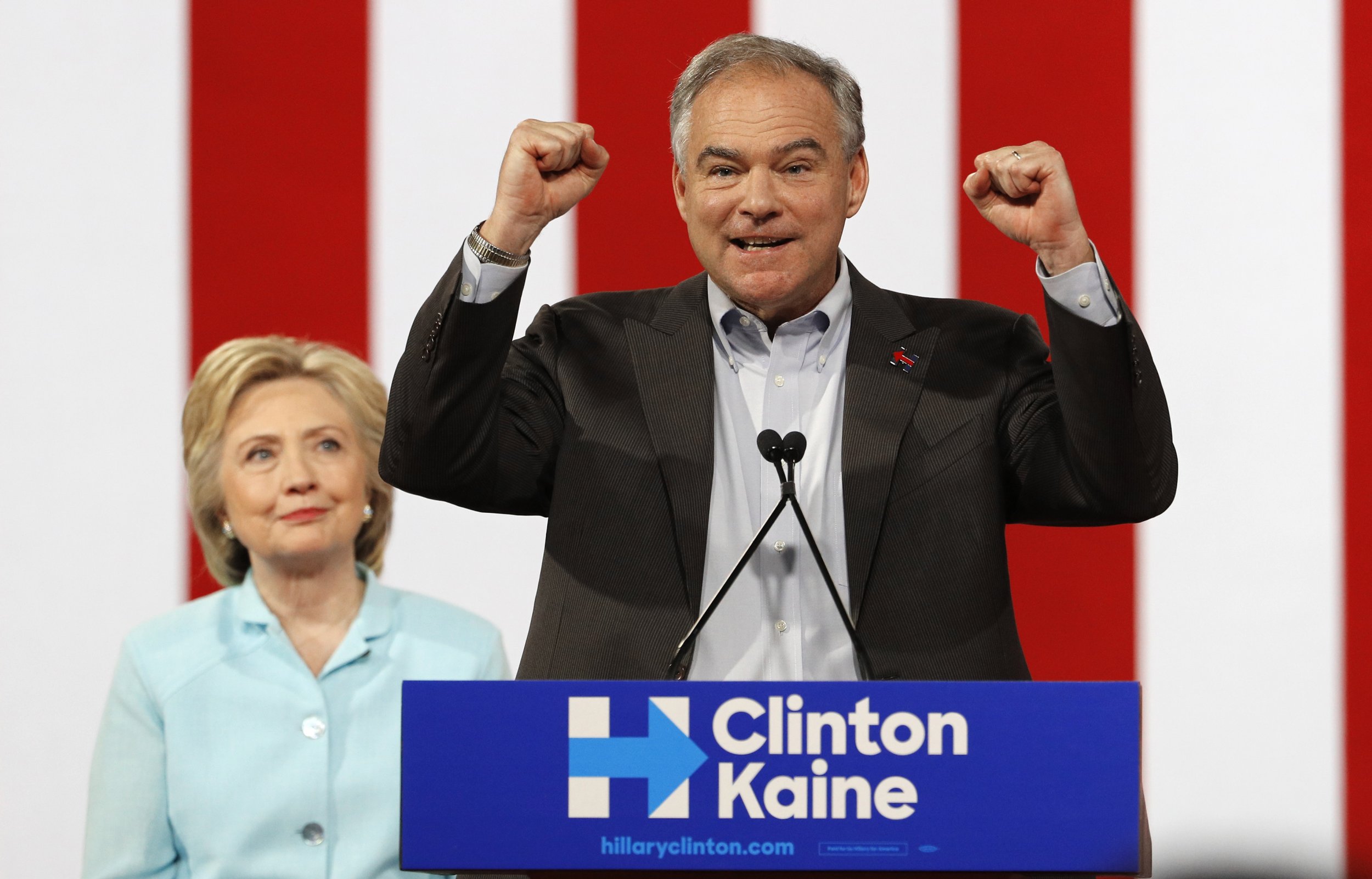 A version of this piece appeared on the website Voices 4 Hillary
To be honest, I haven't always been "with her." I was among those who wanted a more crowded Democratic primary field, an earnest and engaging competition among diverse, well-qualified candidates. I never doubted Hillary Clinton's commitment to public service or questioned whether she had the energy or intelligence to do the job. But like many people I know, I wondered about her judgment.
And then with one decision—perhaps the single most consequential decision for her race —Clinton allayed my concerns and won my admiration and trust. She chose Senator Tim Kaine as her running mate.
I have known and supported Tim Kaine ever since he was mayor of Richmond, in my home-state of Virginia. I supported him too when he became lieutenant-governor in 2002, governor in 2006 and senator in 2012.
Years before, when I left Virginia to go to college, I had said "good riddance" to a state that was racially-polarized, economically stagnant and socially conservative to an extent most accurately described as intolerant. But thanks to the governorship of Tim Kaine, and his predecessor, Mark Warner, the profile of the state has changed so much and so much for the better, that I no longer mumble when asked where I grew up.
If you have heard any of Tim Kaine's speeches, you've probably heard him refer to what he achieved in Virginia: boosting employment, expanding and improving education opportunities, ensuring access to public services, advancing civil rights, protecting the environment and advocating responsible gun control. These accomplishments—finessed with a GOP-dominated state legislature—are impressive enough. But wait: there's more.
Here are three things Senator Kaine has not and will not say in a stump speech.
When Tim Kaine was running for his first term in the senate my husband and I agreed to host a fundraising dinner for him and offered him a room in our home for the night. He arrived via train from Paris. Our son, then aged 17, met him at the station, and together they took public transportation to our house in west London. No entourage, no private car.
More than 65 people attended the event, and by the end of the evening, Tim Kaine had spoken to each of them. It had been a suit-and-tie affair, and after the last guest had gone, he went to his room, returning in jeans, shirt sleeves rolled up. When he saw me unloading the dishwasher, he said, "Diana, let me do that." I told him that he should sit down and relax—he'd been traveling for days, doing up to four events in each place. But he wouldn't back off, so I stepped aside to let him get on with it. And then he took the dirty dishes that I had piled next to the sink, and reloaded the washer for me.
In my kitchen, I told Tim Kaine about my time at junior high school. While I was a student, the then-governor of Virginia, Linwood Holton, helped desegregate Virginia's public schools. (Kaine has paid tribute to Holton, his father-in-law, during both his convention and stump speeches.)
I had just moved to Charlottesville, Virginia at the very time integration was enforced. It wasn't easy. At my school, there were knife fights and ambushes, lockdowns and locker searches. For the next two years, security trumped academics, and few lessons proceeded without disruption.
But, I told Kaine, six years later things had settled down and my younger brother Daniel had an altogether different experience at the school. In fact, Daniel became best friends with Boyd Tinsley, the African-American violinist for the Dave Matthews Band. (During my time at school, interracial friendships rarely occurred.)
It happens that the Dave Matthews Band has performed at a number of events with and for Tim Kaine. He asked me whether my brother had stayed in touch with Tinsley, and I said no—he had worried that Tinsley would think he was trying to cash in on his fame.
Less than two weeks later, I received a note from Tim Kaine telling me that Tinsley had urged him to have my brother get in touch. While running for the Senate in what was then a one-point race, Tim Kaine had had the grace and heart to reunite two friends.
My third example of Tim Kaine's generosity and kindness comes from April last year when my father suffered a traumatic brain injury. Through mutual friends, word of my father's condition soon reached Senator Kaine. During the fraught days of my father's recovery, I received a personal note of concern from the senator.
My vignettes don't stand alone. Everyone who has the privilege of knowing Senator Kaine has similar stories, stories that attest to an inbred humility, a reverence for friendship and an animating compassion for family and friends.
This is why, aside from Senator Kaine's proven progressive policy positions; his commitment to responsible stewardship of our nation's fighting force; and his insistence on honoring the constitution even when it diminishes the power of the executive, I felt newly confident in our nation's future with his designation as vice-presidential nominee.
Diana Shaw Clark has lived in London for 17 years. She has spent her time in the British capital organizing Americans living abroad in support of Democratic party candidates.